Falcon Super Bowl Memes Are Tearing Up Twitter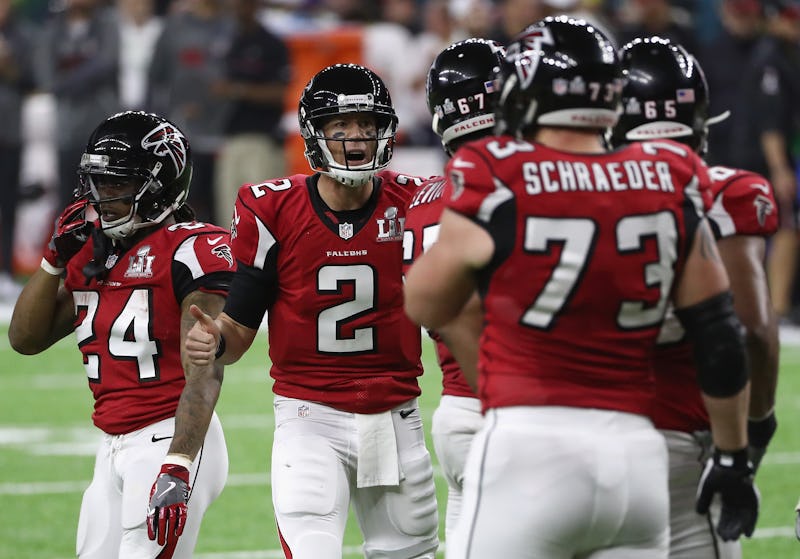 Elsa/Getty Images Sport/Getty Images
The Atlanta Falcons took a surprise lead early on in Super Bowl LI, leading the New England Patriots 21-3 midway at halftime. This shocked just about everybody, given that the Patriots were the heavy favorites to win as the game kicked off, and surprised Falcons memes quickly spread on Twitter like wildfire.
The Vegas odds pegged the Patriots were three-point favorites to win the Super Bowl when the game began, with an over-under of 58.5; this would imply an expected final score in the vicinity of Patriots 31, Falcons 28.
But by halftime, that seemed increasingly unlikely: Thanks in part to a pair of turnovers, both recovered by Robert Alford and one of which resulted in an 82-yard touchdown, the Falcons catapulted to an 18-point lead midway through the game, with a stunning 9.9 yards per play on average. Two minutes into the second half, ESPN gave the Falcons a 95.5 percent chance of winning the game — odds that would have seemed laughable at the beginning of the day.
Sports Twitter immediately responded in kind, and quickly produced loads of colorful commentary about the Patriots' unexpected collapse, and the Falcons' unexpected dominance, in the first half of the biggest game of the year.
Like Taking Ice Cream From A Kid
Hotline Bling
Too Soon
Atlanta Getting Pumped
Running Interference
And The Award Goes To...
If This Game Was A Commercial
A Setback for the Falcons
Thanks, US Fish & Wildlife Service
You Knew It Was Coming
The Game In One Image
There's still time for the Patriots to turn this around — but time is running out.