How The Families Belong Together Protests Previewed The Next Big Immigration Battle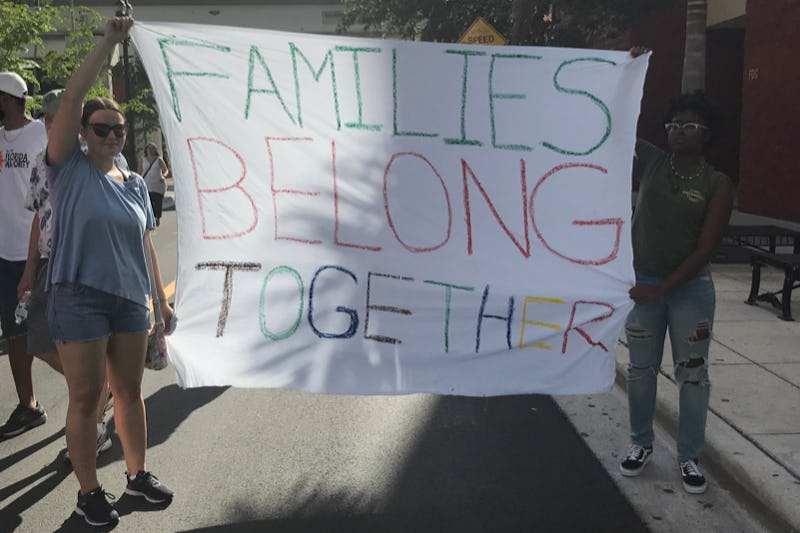 Alicia Menendez
On Saturday, hundreds of protesters gathered outside Miami Dade College's Wolfson campus, rallying for hours under the sun. Their gathering was one of over 750 Families Belong Together protests nationwide, and had a singular purpose: To voice opposition to the Trump administration's "zero tolerance" policy on immigration, which includes the separation of adult asylum seekers and their children. While President Trump recently signed an executive order effectively ending the practice of family separation, his administration has yet to reunite the thousands who were previously separated, and court statements reveal that the government never had a plan in place to reunite family members.
The rallies in cities big and small were organized by several progressive groups under the banner of Families Belong Together, and were pulled together in a matter of days following a call to action from Democratic Congresswoman Pramila Jayapa on June 18. In Washington, D.C., at the central protest, organizers estimate that 35,000 people attended, and hundreds of thousands more joined rallies in Chicago, New York, San Francisco, and Los Angeles.
While family separation at the border has caused nationwide outrage, the messages at Saturday's protest foreshadow what some progressives hope will be the next round of fights: abolishing ICE and putting an end to family detention. Both calls pre-date the Trump administration, but among Democrats, these ideas have become increasingly mainstream. In New York, congressional candidate Alexandria Ocasio-Cortez, a vocal proponent of dismantling ICE, delivered a Democratic primary upset. Democratic Senator Kirsten Gillibrand, often mentioned as a 2020 presidential contender, has also called for the agency to be replaced.
At the Miami rally, protesters included a mix of organizers, students, and families who chanted "free the children" and carried signs in support of migrant rights. Natalie Marcelin and Ella Bojanic, both students at the University of South Florida, carry a large sign between them that reads, "Families belong together." It's both women's first protest since Trump was elected. "This administration has been getting away with lots of things," Bojanic tells Bustle, "but this issue is too important."
For many in Miami's immigrant-rich community (a majority of Miami-Dade residents are Latino), a cultural connection to the issue has created a sense of proximity to the crisis. "We're Hispanic," Rita Martinez, a Hialeah resident explains, gesturing to her three children who she brought to the march. "We were lucky to be born here. Just a little twist of fate and it would have been us in this situation."
"My parents were immigrants," adds another attendee of the rally, Regla Cuan, whose parents are Nicaraguan. "They came through the same border."
"Enough is enough," says Yanisbel Ordaz, who attended the rally with Cuan. Ordaz holds a sign that asks, "Where's the empathy?"
"I'm a mom, so it hits home for me," explains Maria Torres, who also attended the rally with Ordaz and Cuan. "I don't think it's fair that we got a shot and these kids don't."
Like many of the women speaking with Bustle, Saturday's rally to keep families together was the first act of protest Cuan, Ordaz, and Torres had attended since Trump took office.
Asked why family separation has emerged as an inflection point, organizers say that the images and stories of children being separated from their parents have crystallized the issue for many Americans.
"The administration crossed the line and it put our country at stake," Lorella Praeli, deputy political director and director of immigration policy and campaigns for the ACLU, one of the co-chairs of the protests, tells Bustle. "They decided to use children to coerce parents and to send a message to potential asylum seekers. It took over the airways. There was no escaping it. Wherever you looked, whether it was Facebook or television, it was there: the Trump administration had kidnapped children. The cruelty of that action reverberated around the country. It was a choice moment for a lot of people and America rose to the occasion."
"It feels like the moment when people realize how far the Trump administration is willing to go," adds Jess Morales Rocketto, director of the Families Belong Together Coalition that organized the nationwide protests.
It's not just the family separations specifically that brought protesters out, though. Rebecca Fiori attended the Miami rally — a stroller with her 15 month-old daughter in tow — with a sign propped on top of the stroller that reads, "I like my country like I like my whiskey ... no ICE!" She is already looking past the current crisis and on to the larger questions of how to reform the United States' immigration system.
"I think it's completely unjust that children are separated with their families," Fiori tells Bustle, tearing up. "But I also think it's unjust that people are detained at all."
Praeli argues that questions about ICE and Customs and Border Protection (CBP), which monitors and apprehends immigrants at and between ports of entry, are a natural outgrowth of the family separation crisis.
"If you've never paid attention to any of this, and you've come in through this crisis, you're now asking yourself who takes a child from her mother's arms? Where does the child go? Where does the parent go? When are they brought together?" Praeli says. "This moment is exposing the broader system. It's bringing to light the practices and tactics that ICE and CBP utilize, how rogue the agency is and its functions."
Health and Human Services (HHS) has provided vague plans for family reunification, but the last official numbers, released last week, revealed that more than 2,000 children were still separated from their families. As of today, the agency is no longer disclosing the number of migrant children in its custody as a result of the family separation policy, and it has refused to provide updated numbers on those who have been reunited with their families. In a statement to Bustle, HHS acknowledges that there are currently 11,800 minors in its custody — a number that includes both minors who arrived unaccompanied and those who have been separated from their parents. It did not respond to the specific request for numbers on those who have been reunited with their family.
Morales Rocketto emphasizes that those who care about migrant rights must also keep the pressure on the administration to address the immediate crisis. "We want to reunite families immediately," Morales Rocketto says. "We need a clear and transparent process for how families will be reunited, and we need to make sure this never happens again."
Organizers hope that that pressure, along with calls for broader change, will be an outgrowth of the forthcoming midterm elections. "Our rights are on the line this fall and in 2020," Praeli says. "A tangible action that people can take is to register to vote and show up to vote. It's not just a rebuke to Trump and Trump's allies. The vision we have for our country is on the ballot."