You Have To See 'BB 20' Houseguest Faysal's 'American Ninja Warrior' Audition Tape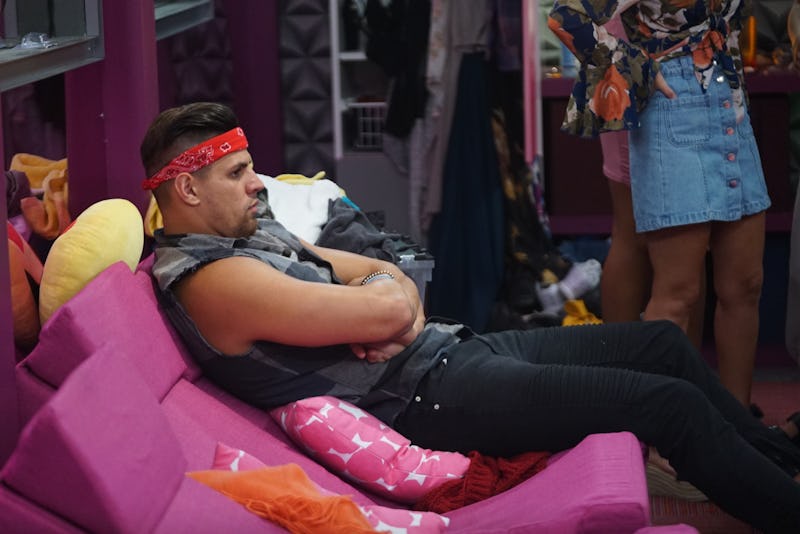 Sonja Flemming/CBS
Season 20 of Big Brother is still in its early days, but Faysal has quickly proven to be one of the most influential houseguests in the game and a major threat when it comes to competitions. His athletic skills makes him a great Big Brother player, but before he moved into the house he had different reality tv ambitions, as proven by the fact that Faysal from Big Brother 20 auditioned for American Ninja Warrior.
There's an argument to be made that Big Brother is the ultimate reality show. It combines the drama of a Real World-style co-habitation show and the social cunning of competitions like Survivor while throwing in goofy physical challenges that would be right at home on Double Dare. The challenges on Big Brother pale in comparison to the difficulty of what is expected of competitors on American Ninja Warrior, which means that Faysal has an impressive physical advantage compared to other houseguests.
Faysal's audition tape for the popular physical competition was good enough to earn him a slot at the Daytona Beach qualifying round for Season 9 of the competition series, but despite making it past the first obstacle, Faysal did not end up qualifying for later Ninja Warrior rounds, and unfortunately did not get to have his run featured on television.
But his audition tape is still online, and features an impressive display of upper body strength, as he practices on mock-ups of dreaded American Ninja Warrior obstacles like the Salmon Ladder and the Warped Wall, in addition to doing push-ups with a giant tire on his back. However, American Ninja Warrior Nation reports that of the 115 athletes who attempted the course during the Daytona Beach qualifiers, Faysal was not one of the 38 competitors who made it to the television broadcast. This probably has much to do with the fact that despite his training, Faysal got out on the second obstacle of the course.
In Faysal's defense, the Daytona Beach qualifiers of Season 9 were the first ever appearance of the Rolling Pin obstacle, meaning he couldn't have possibly trained for it. The obstacle involves jumping to and grabbing onto red padding wrapped around a metal bar, which is connected to two rings that slide downward towards the next obstacle like an extremely precarious zipline. American Ninja Warrior Nation reported that Faysal was one of 25 competitors who did not manage to survive the new obstacle, making his American Ninja Warrior experience all too brief.
He did not come through when it counted on American Ninja Warrior, but it's not likely that anyone else on Faysal's season of Big Brother would have done any better. This is his second chance for reality television glory. And though it takes a variety of skills to win out in a season of Big Brother, it's more profitable, at least in the short-term, to win American Ninja Warrior.
The grand prize for completing the show's final obstacle, Mt. Midoryama, is one million dollars — twice as much as Big Brother's half-million dollar prize. However, that million dollars isn't easy to win, and in the history of American Ninja Warrior only one person has ever taken home the cash prize since not every season of American Ninja Warrior produces a winner.
However, Faysal has a one-out-of-sixteen chance on taking home the half-million dollar Big Brother prize, and he's getting far more screentime on this series than he got on American Ninja Warrior. So it seems that Faysal has finally found the reality TV project that suits him.
Fans may never see his ANW run, but at least they still have his audition tape to refer to. And he'll possibly have the chance to bust out some of those skills the rest of the season brings more demanding physical challenges.