FBI Raids Michael Cohen's Office & Seizes Trump's Lawyer's Documents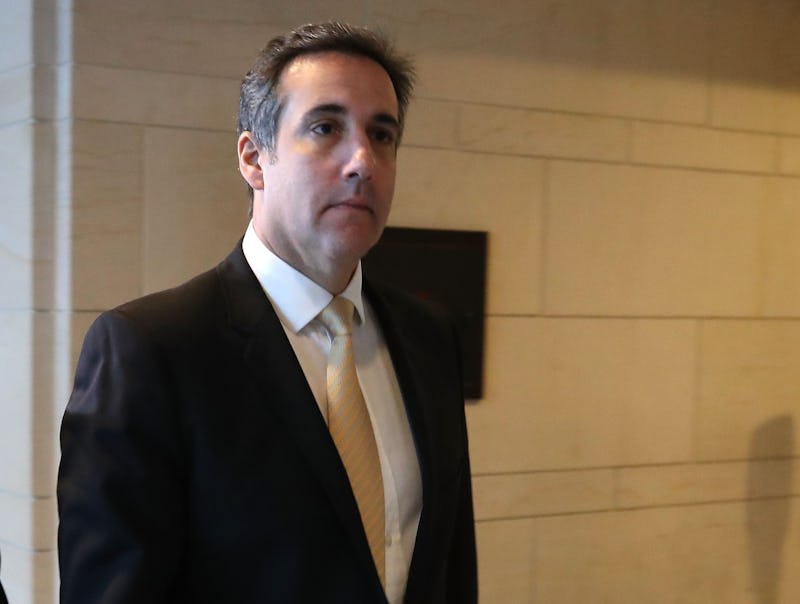 Mark Wilson/Getty Images News/Getty Images
As reports of the president's alleged former affair with adult film actress Stormy Daniels continue to dominate headlines, it appears that another group has gotten involved. On Monday, The New York Times reported that the FBI raided Trump's personal lawyer, Michael Cohen's, office, seizing documents related to several topics, including Stormy Daniels.
"Today the U.S. Attorney's Office for the Southern District of New York executed a series of search warrants and seized the privileged communications between my client, Michael Cohen, and his clients," Cohen's laywer, Stephen Ryan, said in a statement. "I have been advised by federal prosecutors that the New York action is, in part, a referral by the Office of Special Counsel, Robert Mueller." Ryan Continued:
The decision by the U.S. Attorney's Office in New York to conduct their investigation using search warrants is completely inappropriate and unnecessary. It resulted in the unnecessary seizure of protected attorney client communications between a lawyer and his clients. These government tactics are also wrong because Mr. Cohen has cooperated completely with all government entities, including providing thousands of non-privileged documents to the Congress and sitting for depositions under oath.
Stormy Daniels' lawyer, Michael Avenatti, immediately responded to the news on Twitter. "An enormous amount of misplaced faith has been placed on [Michael Cohen's] shoulders [in my opinion]," Avenatti wrote. "If he does not hold up, this could end very very badly for [Donald J Trump] and others."
The Times reports that while Ryan believes the raid partly resulted by a referral from Mueller's office, it was not believed to be related to the Russian investigation, which currently examines whether Russia interfered with the 2016 presidential election. Instead, the Times reports, Mueller may have discovered other information, which he ultimately handed over to New York prosecutors, resulting in the raid.
In February, Cohen acknowledged that he payed $130,000 to Daniels in the week's leading up to the 2016 election, though he said he did so out of his own pocket. Daniels has maintained that the payment was "hush money," and part of an agreement to keep Daniels from publicly speaking about an alleged affair she had with Trump from 2006 to 2007. Cohen, Trump's personal lawyer, has consistently denied the affair on Trump's behalf.
Until early April, Trump did not acknowledge rumors of the affair. However, earlier this month he said he didn't know about the $130,000 payout, the first time he has publicly nodded to the controversy. When reporters pressed him on the topic last week, Trump reportedly referred the journalists to Cohen. "You'll have to ask Michael Cohen," Trump said. "Michael is my attorney. You'll have to ask Michael."
Some, including Daniels and Avenatti, have contended that the $130,000 payment amounted to an unreported in-kind donation to the Trump presidential campaign, because they believe the money was intended to affect the outcome of the 2016 election. They aren't alone. The watchdog nonprofit Common Cause also believes the payment is warrants looking into, and as such, filed complaints with the Department of Justice and the Federal Election Commission. They requested that the groups investigate any alleged rule-breaking.
CNN reports that Trump tuned into coverage of the raid. CNN also reports that Trump was aware of the raid before the media was.
Whether the FBI was looking for anything specific is unclear. The Times report indicates that the agency also seized tax and business documents, as well as emails. Records documenting communications between Trump and Cohen were also reportedly taken.
Cohen has been Trump's private lawyer for years, and is considered by many to be one of his close friends. Trump has not yet publicly responded to the raid.