Federal Judge Chews Out Trump's "Inhumane" Immigration Policy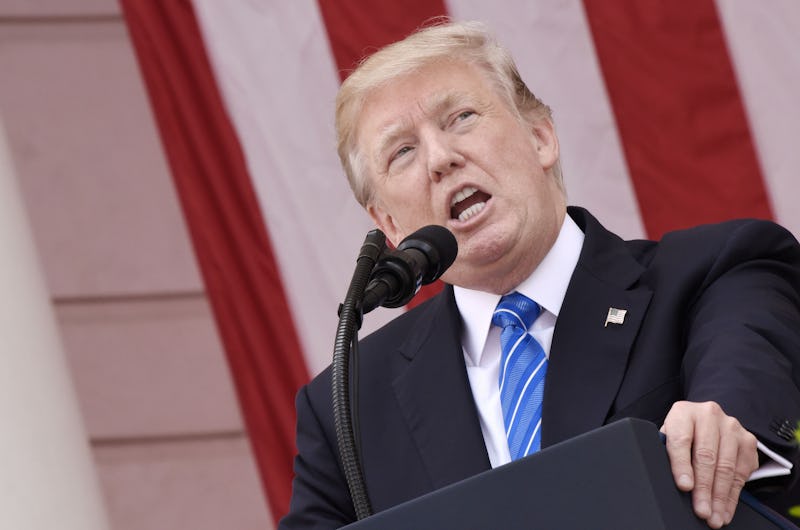 Pool/Getty Images News/Getty Images
In a stern rebuke of the administration's harsh immigration policies, Stephen Reinhardt, a federal judge responding to a request for a stay of removal, slammed Trump's "inhumane" decision to deport a father of three.
Andres Magana Ortiz, an undocumented immigrant who was in the process of obtaining legal status through his American wife, is set to be sent back to Mexico. A Hawaii resident, Ortiz has lived in the U.S. for 28 years without papers. He had requested for a stay of removal from the U.S. 9th Circuit Court of Appeals.
Reinhardt, a Carter appointee, wrote in the opinion concurring with the denial of Ortiz's appeal. However, he noted that while the court didn't have jurisdiction to do grant Ortiz's request, it didn't stop him from criticizing the administration's stance on cases like this one.
We are compelled to deny Mr. Magana Ortiz's request because we do not have the authority to grant it. We are not, however, compelled to find the government's action in this case fair or just.
The decision put forward arguments against Ortiz's deportation, including his family and the age he arrived in the U.S. (15 years old), Ortiz has established himself in the Hawaii coffee industry and has even collaborated with the USDA to study pests that affect the crop. According to the decision, even the Trump administration conceded "there was no question as to Magana Ortiz's good moral character."
That led Reinhardt to fully excoriate the deportation order, focusing on the separation from of a father from his children. "Subjecting vulnerable children to a choice between expulsion to a foreign land or losing the care and support of their father is not how this nation should treat its citizens."
Then came the strongest passage:
President Trump has claimed that his immigration policies would target the "bad hombres." The government's decision to remove Magana Ortiz shows that even the "good hombres" are not safe. Magana Ortiz is by all accounts a pillar of his community and a devoted father and husband. It is difficult to see how the government's decision to expel him is consistent with the President's promise of an immigration system with "a lot of heart." I find no such compassion in the government's choice to deport Magana Ortiz.
Immigration arrests have gone way up since Trump signed executive orders in January that widened the scope for deportations further than under President Obama. But while those harsh stances remain, the courts have stopped other pieces of Trump's immigration policy, ruling on issues including the travel ban and funding for sanctuary cities. On both these issues, the government has lost.
Reinhardt's commentary on this decision shows the resistance among the country's judiciary. He said that the Ortiz family is not the only victim of the deportation order.
Judges who, forced to participate in such inhumane acts, suffer a loss of dignity and humanity as well. I concur as a judge, but as a citizen I do not.