Federal Workers Are Suing The Government For Making Them Work Without Pay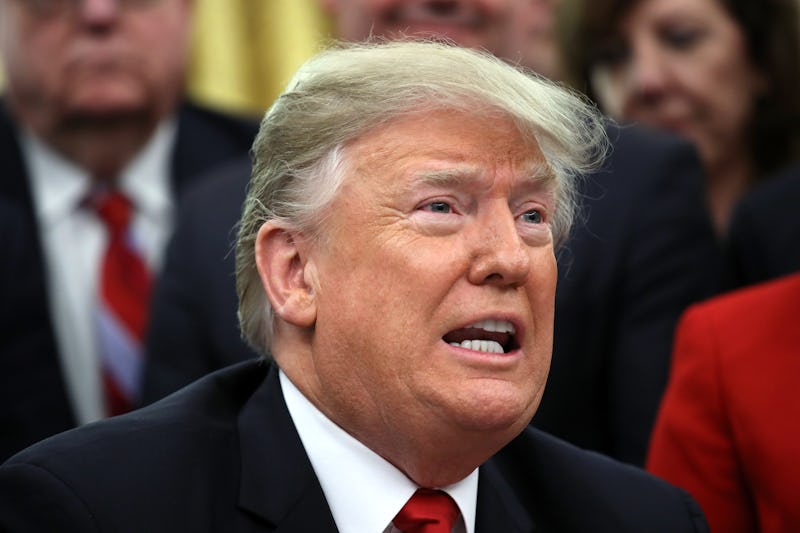 Win McNamee/Getty Images News/Getty Images
A partial government shutdown is now in its 11th day, with more than 400,000 workers from numerous federal agencies working without pay. In response, federal workers are suing over the government shutdown, arguing that the U.S. government is violating the Fair Labor Standards Act.
The American Federation of Government Employees — one of the country's largest unions representing federal workers — announced on Monday that it was filing a lawsuit against the Trump administration. According to The Hill, the AFGE is arguing that it is illegal for the government to require federal employees to work without pay.
"Our members put their lives on the line to keep our country safe," AFGE President J. David Cox Sr. said in a press release published on the union's website. "Requiring them to work without pay is nothing short of inhumane. Positions that are considered 'essential' during a government shutdown are some of the most dangerous jobs in the federal government."
The U.S. government currently requires workers deemed "essential" to work through a shutdown even though it cannot pay them, sparking outrage from federal workers. Among the federal employees affected by the shutdown are transportation security officers and correctional officers, and across various government agencies, CNN reported that roughly 380,000 federal workers will be furloughed, while 420,000 'essential' workers will work without pay.
The partial government shutdown has been going on since Dec. 22, after Democrats and Republicans were unable to agree on an end-of-year government spending bill. A key point of contention between both parties is the funding that Trump has demanded for his border wall; Democrats have refused to grant this funding, while Republicans have refused to approve any funding plans that they know Trump won't sign.
On Monday, House Democrats announced that they would call for a vote to end the shutdown when they take control of the chamber on Thursday, NBC News reported. They also unveiled multiple funding bills to fund the Department of Homeland Security on a short-term basis as well as to fund numerous other government agencies until the end of the fiscal year. None of these bills contained border wall funding, however, and as a result, Republicans are not likely to provide their approval.
Trump suggested on Monday that the ongoing shutdown was Democrats' fault, accusing them of being on vacation instead of giving Republicans "the votes necessary for Border Security, including the Wall."
"A lot of people are looking to eat their paycheck, so I'm ready to go anytime they want," Trump reportedly told Fox News, calling on Democrats to return to D.C. and agree to fund his border wall. "We are not giving up. We have to have border security, and the wall is a big part of border security. The biggest part."
House Speaker-designate Nancy Pelosi and Senate Minority Leader Chuck Schumer responded to Trump in a joint statement, in which they argued that it would be "the height of irresponsibility and political cynicism" for Senate Republicans to reject Democrats' proposed short-term funding bills. The Hill reported that if the government shutdown continues for much longer, many federal workers will see reductions in backpay and delayed paychecks that may cause them to seek different employment.