Yes, Female Juggalos Exist — And They Want You To Know Why They Marched On Washington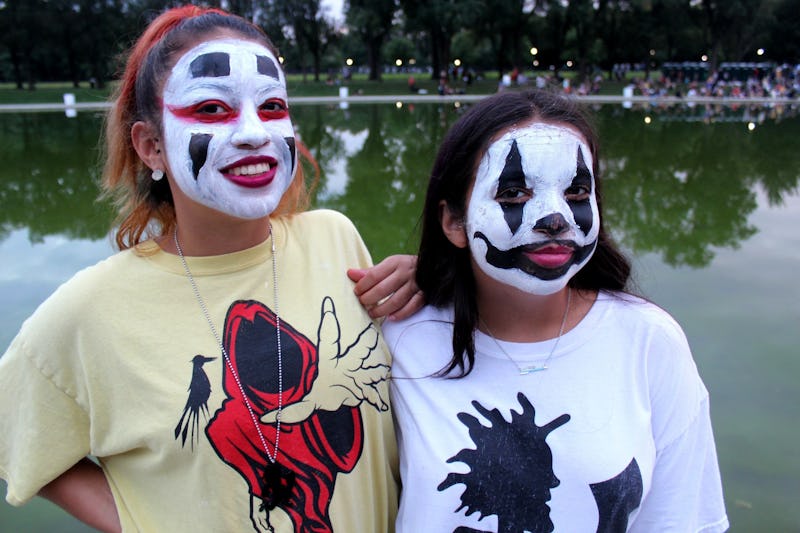 Melina and Tiffany/ Elijah Watson
On September 16, around 1,500 Juggalos gathered in front of the Lincoln Memorial. They weren't there for a concert, though — Juggalos, fans of the rap group Insane Clown Posse, marched on DC on Saturday, protesting the FBI's 2011 assertion that they are not a fan group but a "loosely organized hybrid gang." However, the ralliers in D.C. claimed that, far from being a violent gang, Juggalos are actually a supportive and inclusive community — a community where, as the women of the Juggalo march showed, female fans can thrive.
Though the term "Juggalo" was first coined in 1994 by ICP member Violent J, Juggalos — known for their love of ICP as well as their tendency to don face paint and wear clothes bearing the logo of ICP's record label, Psychopathic Records — remained a largely underground phenomenon until 2009. In that year, ICP's viral hit song "Miracles" led to a several Saturday Night Live parody skits, as well as mainstream interest in the Gathering of the Juggalos, an annual festival devoted to the music of ICP and associated acts. In 2011, the FBI classified Juggalos as a gang — putting them in the same category as violent crime organizations like the Bloods and the Crips — and though ICP and the ACLU filed a lawsuit in 2014 protesting the classification (which was dismissed, and then reinstated in 2015), it still stands.
The Juggalo community, however, maintains that they are dedicated to peace, inclusion, and diversity. The Juggalo March website notes that its goal is to "show America and the world that we are not a gang, public menace, [or] cult…We must collectively show them that we truly are a family that is united by a shared love of music and fellowship." It was a sentiment echoed by Kevin Gill, a Juggalo and speaker at the protest, who stated in a speech: "We made the name 'Juggalo' to represent all of us: men, women, black, white, brown, yellow, fat as f***, skinny as a broomstick, gay, straight, bi, trans, young, old and folded and loopy, rich, poor."
This message was borne out by the Juggalettes (female Juggalos) I spoke to at the march. While much media coverage in the past decade has painted the Juggalo community as comprised primarily of white working class men, these Juggalettes felt not only like they were at home in the community, but that they were an essential, valued part of it.
Many of the female marchers I spoke with were proud to call themselves Juggalettes because of a single word, one they believe embodies what ICP is about: family. "It's about being accepted and being loved no matter what — plain and simple," Meagen Tabor, a Juggalette from Plymouth, Indiana, tells Bustle. "I can stand next to somebody here or at the Gathering [of the Juggalos] or any other concerts, and they're going to have my back, and I'm going to have their back as a family." Both Tabor and her daughter, Alyssa, have attended the Gathering together on numerous occasions.
Tabber wasn't unique in making the protest a family affair — throughout the rally, mothers could frequently be spotted with their children, listening to the speeches or just bonding with other Juggalos. Jaclyn, a Juggalette and nursing assistant from Norfolk, Pennsylvania, was was attending the rally with her baby girl, Skylar, who was wearing a handmade "Jugga Baby" t-shirt.
"She loves the music," Jaclyn tells Bustle. "My other daughter, she's two, she'll start headbanging, she'll start moshing with her brother." Jaclyn saw the march as a way to support not just her own freedom, but the freedom of future generations: "I'm here for my kids, because I don't want them to grow up and not be able to express themselves [in regards to] what they want to do and what they want to be a part of."
Michelle, a self-proclaimed "Juggalo mom" from Blacksburg, Virginia, shared a similar sentiment. "It's really important that I can be there for my kids — to be here with them, for them, representing," she tells Bustle.
"This situation where they're [viewed as] a gang member is unacceptable and it needs to stop," Michelle notes. "So it's a really great opportunity for everybody to get together and say, 'Look at these people, this is not a gang, these are just people who appreciate a certain style of music and love their family.'"
Aliyyah Vinson and Yasmine Rahman, sisters from Minneapolis, Minnesota, have built a bond through ICP. Though Vinson introduced her sister to the group's music in middle school, "My sister is actually the Juggalo," Vinson tells Bustle. "This is my first time getting my face painted."
"I went to an ICP concert a few years ago and it was just so inclusive. I had never felt a place where I could be myself and be carefree like that before."
Like many others, Vinson came to the rally to show her support not just for the band, but for freedom of expression: "I just feel as if Insane Clown Posse and Juggalos have the right to be who they are and I'm just here to support."
Melina and Tiffany Baker, sisters from Clinton, Maryland, also voiced their support of the rally. "Being a Juggalette or Juggalo is about being yourself," Melina tells Bustle. "We have nothing to do with a gang. My sister is 12 years old, she's not in a gang."
Both the Bakers, as well as Vinson and Rahman, are women of color — a group often under-represented within the Juggalo community, but one with a notable presence at the rally.
Kristin, a black Juggalette, tells Bustle, "I don't see a lot of us out there obviously, but when I go to a Gathering or concert, I don't even feel different. It's really not about skin color, it's about family."
But the march wasn't just about the FBI classification and inclusion; with a pro-Trump rally occurring simultaneously on the National Mall, Kristin says she also came out to stand alongside fellow Juggalos frustrated with the country's current political climate.
"That's why I thought it was even more important to show my face today and come down here," Kristin says. "I wanted to be a number against [the pro-Trump march] and have a bigger crowd." In the end, the Juggalo crowd was bigger, with reports stating that it had several hundred more marchers than the Trump rally.
Vinson echoes the anti-Trump sentiment: "I don't care what Donald Trump thinks or what he has to say. It's important this march is taking place here because it shows Trump that we don't give a damn."
In the end, the Juggalettes are about showing all the people who hate you or try to oppress you that you don't give a damn — because you can count on love and support from your community. "I went to an ICP concert a few years ago and it was just so inclusive," says Kristin. "I had never felt a place where I could be myself and be carefree like that before."