These Feminist Halloween Costumes Will Remind Your Friends Who Run The World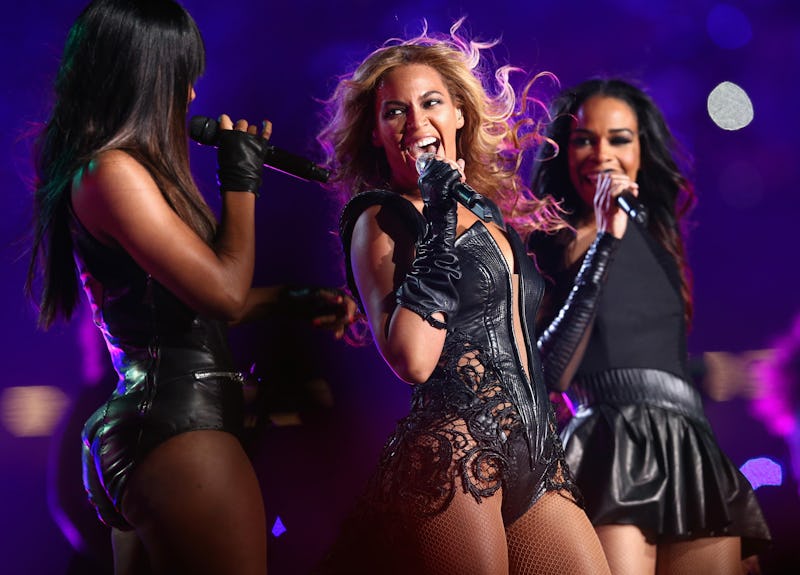 Christopher Polk/Getty Images Entertainment/Getty Images
Halloween is an evening for gatherings, wicked amounts of candy and ... sending socially conscious feminist messages through the medium of costume. As we get older it's not all about playing dress up; it can also be about respectfully celebrating those who have paved and continue to pave the way for gender equality. Want to get in on the action but need a spark of inspiration? Don't worry, here are some awesome feminist Halloween costume ideas for 2017 to get you started.
You don't have to be pigeonholed by whatever costumes are available on websites, or by what people expect you to conform and wear. For one Halloween in pre-school I dressed as Batman, complete with a plastic six pack. The next year I was the Pink Power Ranger. The next? A Yankees player. And after that? A Renaissance Princess. Women can be superheroes, firefighters, sexy, tough, and even presidential.
There is an elaborate list of influential women through history and today who deserve celebration and recognition. All these women, their art and the messages, should be heard and appreciated because of the strides they made or are making toward social, economic, and political equality across gender and race. Here are some women and concepts to respectfully represent this Halloween.
Rosie the Riveter
Super Soft Open Front Shirt, $42, Miss Selfridge | We Can Do It! Pinback Button Pin Quote Saying Rosie the Riveter, $2, Amazon | Converse Chuck Taylor All Star Festival Embroidered Ox Women's Shoe, $53, Zappos | Washed Bandana, $13, Nordstrom
She's the cultural icon of working women. During World War II the increasing number of men enlisting in the army created a space for women to enter the workforce. The percentage of women in the workforce grew from 27 percent to 37 percent between 1940 and 1945. And ever since Rosie flexed, women have been continuously exceeding and excelling in the conference room.
Michelle Obama
Oasis Ava Embroidered Dress, $40, John Lewis | Sophie Black Suede Heeled Stiletto, $13, Pretty Little Thing | 8MM Simulated Pearl Necklace/16", $10, Saks Fifth Avenue | Deerskin Women's Gardening Gloves, $50, Frontgate
Her intelligence, grace, and encouragement embodies the powerful versatility of a woman. She's a lawyer, a former First Lady, a badass mom, and the careful steady hand behind the now internationally known vegetable garden at the White House, promoting locally-sourced, ethical, and healthy eating worldwide. Grab your gardening gloves and best shift dress this Halloween to celebrate a woman who is dedicated to making the world a better place in every arena she operates in.
Martha Rosler's Semiotics of the Kitchen
Jersey Turtleneck Top, $50, The Outnet | Kate Rowland Tattoo Style Feminist Heart Brooch, $10, Trouva | J.K. Adams Co. Rolling Pin, $17, Crate & Barrel | Branden Vintage Apron, $35, Joss & Main
As described from her website, Martha Rosler "works in video, photography, text, installation, and performance. Her work focuses on the public sphere, exploring issues from everyday life and the media to architecture and the built environment, especially as they affect women." Her 1975 performance Semiotics of the Kitchen challenges the oppression of women confined to domestic space. As she demonstrates all the tools of the kitchen, Martha's movements grow more violent with frustration. Give the performance a watch and your friends a little lesson in feminist art when they think you're dressed as "just" a baker or "just" a housewife.
Gloria Steinem
Stretchy Turtleneck Ribbed Sweater, $25, Zaful | Commando Tights, $36, Title Nine | Faux Suede Buttoned Front Skirt, $13, Make Me Chic | The Playa, $43, Revolve | Sharpie Permanent Marker, $9, Amazon
Gloria Steinem is a feminist, activist, journalist, and author. She led the way to feminist magazine Ms., created and published in the 1970s, which printed pieces on topics including domestic violence. Grab a blank poster board, a permanent marker and write your favorite Steinem quote in bold.
Beyoncé
Kale Sweatshirt, $25, Etsy | Vintage Levi High Waist Shorts, $29, Etsy | Bridalvenus Wedding Crown and Tiara Flower Bridal Princess Queen Crown, $33, Amazon | Nike Adult Streak Volleyball Knee Pads, $25, Academy Sports + Outdoors
Beyoncé asks, "Who run the world?" And before we can even shout it, answers for us, "GIRLS!" The singer-goddess-queen is a strong figure in pop culture and empowers women of all ages to be their flawless selves, stick up for each other, and never give up on their dreams even if they're defeated at a talent show by a band called Skeleton Crew. There are many ways to go Beyoncé, but whichever you choose always add a crown.
Hilary Clinton
Faux Pocket Embellished Lapel Blazer, $34, Zaful | Cherry Wide Leg Palazzo Trousers, $19, Wear All | Ankle Strap Sandal, $39, Venus | Pearly Great Lengths, $47, Bling Jewelry
Since the election, Hilary Clinton has remained a beacon of strength, sanity, and hope in a world that now seems decidedly more chaotic than it was before then. She represents an image of woman that is resilient and strong, and deserves a Halloween costume that will do her strength justice. Now is the time that Pantsuit Nation can really shine.
Barbara Kruger Art
Women's Shaped Layering V-Neck Tee, $10, Land's End | Petite Navy Stripe Tie Waist Wide Leg Cropped Trousers, $36, New Look | Colico Suede Peep-Toe Pumps, $50, The Real Real | Sharpie Permanent Marker, $9, Amazon
Barbara Kruger is a conceptual artist who typically takes black and white photographs and covers them with red, bold statements in a collage-like fashion. Her early collages focused a spotlight on the feminist commentary on topics such as "politics, racial and gender stereotypes, sex, and power." Take poster paper and decorate yourself in one of Kruger's provocative statements. Maybe about the male gaze, perhaps?
Ruth Bader Ginsberg
White High Neck Frill Sleeve Top, $30, River Island | Black Longline Blazer Jacket, $47, Wallis | Dorothy Perkins Tall Trousers, $29, Zalando | Gold-Tone Jet Crystal & Green Stone Drop Earrings, $28, Macy's | Yokote Matte Burgundy Eyeglasses For Women, $22, Eye Buy Direct
Ruth Ginsberg is a Supreme Court Justice and a self-proclaimed feminist. In a predominately conservative court, Ruth advocates for women and liberal causes fiercely. She is a woman who reminds us that we can be whatever we want, that there is good in this world, and most importantly, that we have to fight for that good.
Oprah
Vintage Plunge Work Wrap A-Line Dress, $20, Rose gal | Frozen Hoop Earrings, $38, Bloomingdale's | Wallace Thick Flat Top Clear Non-Prescription Glasses, $35, Popmap | One Hundred Years of Solitude by Gabriel García Márquez, Gregory Rabassa, $11, Barnes & Noble
Oprah rose above extreme circumstances to become quite possibly the most respected and loved personality on television ... ever. Her contagious positivity, generosity, and empathy are both inspiring and deserve celebration. Don't go promising everyone that they all get cars, but do tote an official selection of Oprah's Book Club around.
Broad City
Mesh Top by Oh My Love, $29, TopShop | Strappy Bralette, $5, Charlotte Russe | Light Blue Floral Embroidery Acid Wash High Waist Chic Jeans, $37, With Chic | Girl Gang Hoop Earrings, $17, Nordstrom
The women of Broad City represent modern women who are sex positive, in charge of themselves, and support other women. They're a perfect representation of what it is to deeply treasure your best friend, build them up, and put all their greatness in the spotlight. It's that kind of girls supporting girls action we need to see more of. Get out there this Halloween and applaud the women in your life.
Your Period
Round Neck Long Sleeve Skater Dress, $27, With Chic | Red Rib Wool Tights, $38, Bona Drag | Pleat Textured Scarf, $13, M and Co | Tampax Pearl Unscented Super Absorbency Tampons, $8, Amazon
Terrifying to many, but natural to women everywhere. There is nothing to fear when it comes to your period. It's just your menstrual cycle regulating every 28 days. Time to normalize this bodily function once and for all.
Check out the entire 'What's Up, Boo?' series and other videos on Facebook and the Bustle app across Apple TV, Roku, and Amazon Fire TV.