This Feminist Minnie Mouse Jacket Is The Official Uniform To Smash The Patriarchy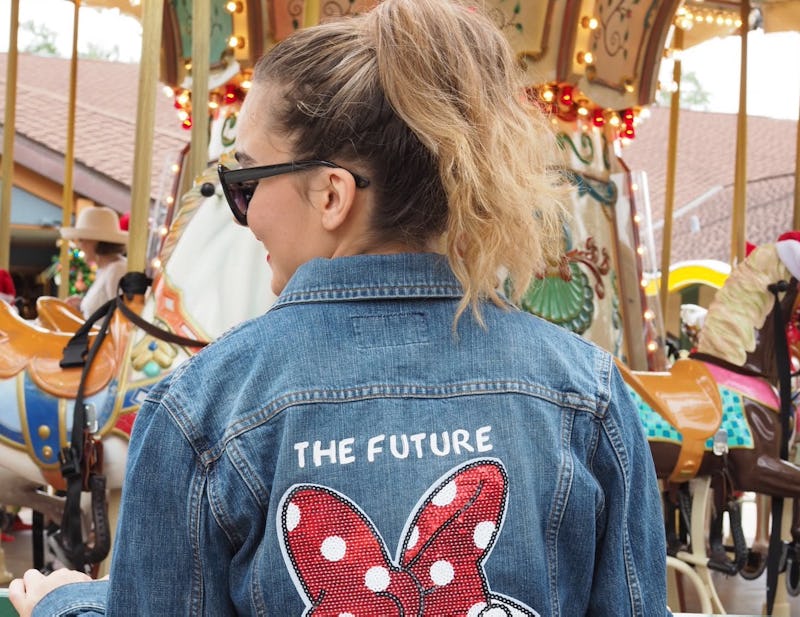 Rita Lane Vintage
The future is female, and Minnie Mouse knowsit. It's no longer just human women, supportive allies, and cute toddlers wearing that iconic phrase emblazoned across their white tees. The bow-wearing Disney matriarch is also jumping onto the feminist bandwagon, and not a minute too soon. The Etsy seller Rita Lane Vintage is selling "The Future is Female" Minnie Mouse denim jackets to round out your fall wardrobe this year, merging together a love for upcycling with a love for smashing the patriarchy.
Since Etsy specializes in vintage, thrifted, and had-crafted pieces, the jacket has some handmade elements to it. The Minnie Mouse bow is actually a patch made out of sequins, giving the denim staple a hit of razzle-dazzle that you just don't really see anymore. The mantra is then painted over and underneath the image, transforming a thrifted jacket into a memorable statement. For the actual coat, Rita Lane Vintage uses upcycled, unisex Nautica jean jackets, meaning this piece isn't just for the ladies. Anyone can claim it to be a part of their wardrobe. That and you're saving unloved jean jackets from thrift stores, and giving them a new lease on life.
The Future Is Female Vintage Minnie Bow Sequin Jacket, Etsy/ Rita Lane Vintage
Everyone loves a good slogan staple, and if you're particularly fond of fighting for women's rights and equality, this is a playful way to share that side of yourself. It brings together a millennial's love for nostalgia with their commitment to social justice. That and it's really stinkin' cute.
As of right now the jacket is currently sold out, so while you wait for the shop to restock, here are some more Minnie Mouse inspired fashion pieces. Go wild!