Rihanna Created The Perfect Liquid Lipstick In Only One Shade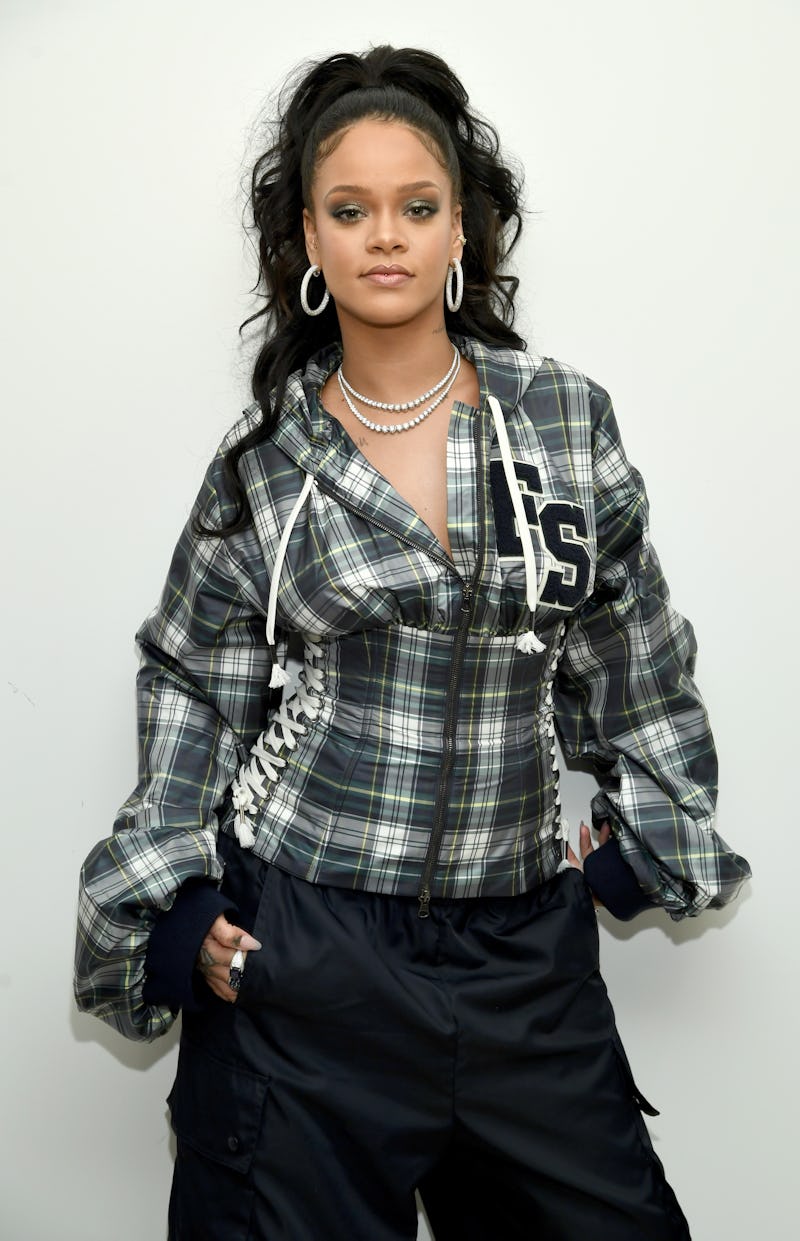 Dimitrios Kambouris/Getty Images Entertainment/Getty Images
Please make sure you're sitting down, because some major Fenty Beauty news just dropped and your knees might buckle. Rihanna is releasing a brand new red liquid lipstick, and it's coming to us in the form of Stunna Lip Paint. I'll give you a moment to locate that brown paper bag, so you can begin breathing steadily again.
Has the fainting spell passed? Great, let's jump into the details.
As of right now, Rihanna has only one lip product available in her line, and that's the Fenty Beauty Gloss Bomb — a shimmery, pigmented nude gloss that's meant to fit all skin tones. But what's a beauty lover to do if they rather rock a bold lip than a demure nude? After all, sometimes you just want to get a little loud with your look.
Ri understands the struggle, and she has decided to launch the most glorious, eye-catching red imaginable. According to Fenty, it's the most "perfect" red, and it was hand-picked by Rihanna herself, so you know it won't let you down.
Stunna Lip Paint, $24, Sephora
Rihanna dropped the news on her Instagram page, where she posted one product image (making us all drool,) and then one picture of her wearing the red. And oh my god. After seeing this photo, you will want to take all your other lippie shades and just chuck them out the window because you won't be wearing them anymore.
Let the squirrels take them away. They're of no use to you anymore.
Stunna Lip Paint, $24, Sephora
Coming in a geometric, octagon tube with a rose gold cap, you immediately get the feeling you're playing with something high end. From the snapshot, you can see it's a vibrant — rather than a deep or dark — red color, and there appears to be a slight shimmer to the hue. But while seeing it in a tube is exciting, all you can do is conjecture about the color. These shades always swipe on differently once they connect to lips, after all.
Well, Rihanna wasn't going to leave us hanging. She posted a picture wearing it.
Already getting the trashcan ready for your past lippies? You still have a couple of weeks to wait, so maybe hold off on the cleanse for a bit longer. According to the brand, Stunna will hit stores on Nov. 23. It will be available online at Fentybeauty.com, Sephora.com, and Harveynichols.com, and in-stores at Sephora and Harvey Nichols.
Fans and followers are overjoyed, of course. Scrolling through the comments, you'll notice A LOT of caps. "PRAISE BE LORD," one shouted. "HOLIDAY RED VIBEZ," another pitched in. "I need this in my life!" a third agreed.
But another was slightly dismayed at the news, saying "I AM BROKE STOPPPP." A second person agreed with that sentiment, writing, "YOUR GIVING US NO BREAK TO COLLECT COIN SIS! WAIT!"
Regardless, get your lips primed and ready to rock this bright, ruby red shade.
Whether you wear it with all your silver outfits for the holidays or wear it to make you feel like the boss you are, have at it. And you can thank Rihanna for the look.