People Want To Buy Fenty Beauty's New Lipsticks Just For The Bizarre Names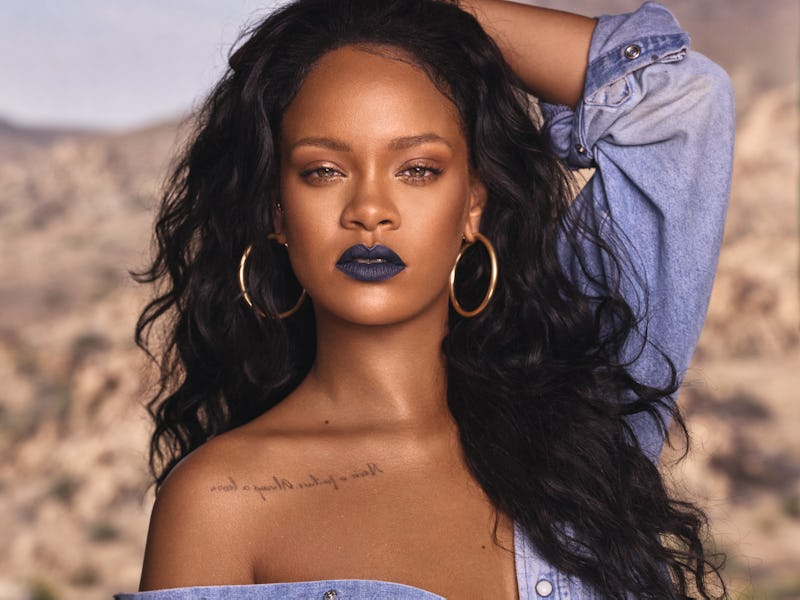 Courtesy Fenty Beauty
Fenty Beauty is back with a brand new product and people are already obsessed. The brand is following up its holiday makeup launch with classic lipsticks, proving that the line is here to stay. Despite the lipsticks not actually being out yet, fans are loving the quirky names of Fenty Beauty's Mattemoiselle. Each hue is based on a different mood, and the names are just as bold as the shades.
As soon as Fenty Beauty launched, it was clear to see that it was like no other brand on the market. Not only did the line shock everyone with its wide range of shades, but the names of the products were just as quirky as the packaging. When it came time to launch a classic item — bullet lipsticks — Rihanna stuck with the same tactic.
Fenty Beauty's matte lipsticks are called Mattemoiselle. The name is just as witty as the product names that came before it, like Killawatt highlighter and Stunna liquid lipstick. The Mattemoiselle lipsticks comes in 14 different shades that have equally as quirky names.
According to the press release, each shade was named with a different mood in mind. Some of them are obvious — like the "moody brown" PMS or the bright orange Up 2 No Good hue. Others are a little more creative, like Ma'Damn and the deep green Midnight Wasabi.
"Lipstick is all about having fun and expressing your mood at any given moment," Rihanna says in the press release. "This collection makes it easier than ever because there's a color for everyone."
It's not just the individual names of the shades that are catching people's attention. The products might be classic, but the name Mattemoiselle shows instantly that these lipsticks have a twist. People are obsessed with how creative Rihanna gets with her names, and this time is no different.
It's a genius name, really. You can tell that it's a matte lipstick right away. According to the press release, it's a weightless formula that is meant to be highly pigmented with one pass. Fans are loving the individual shade names as well. From One Of The Boyz to Spanked, people are picking their favorites just based on the names. Because, well, it's just fun.
Each shade will be available on the Fenty Beauty and Sephora website as well as in-store on Dec. 26 at 9 a.m. EST. The colors will be $18 each and are all permanent, so you can save up for all of your favorites.
Here's a look at what people have to say about the shade names, so you can chose your color accordingly.
Who are these people and how are they so smart?
These shade names are the definition of extra, but people are loving it.
Even on the worst days, the world still has Rihanna's PMS lipstick.
Everything about this line is just too good. I'm not sure what's better — the colors or the names.
I bet you never heard someone say that they want PMS before. Well, prepare to see a lot more PMS floating around.
This is not an understatement. Who wouldn't want a lipstick called Clapback?
All caps, because these shade names deserve it.
Name another brand that has quirkier names than this. I'll wait.
This will go down as one of the most iconic lipsticks in the history of Rihanna.
Whether you're shopping for the shades or the names, you really can't go wrong. There's no word on whether or not the Mattemoiselle will expand in the future, but I'd say that people are more than happy with the first 14 shades. Just when you think it can't get an quirkier, Rihanna comes through.