Watch Finn & Logan's 'Gilmore Girls' Reunion Bring The Life & Death Brigade To 'The Resident'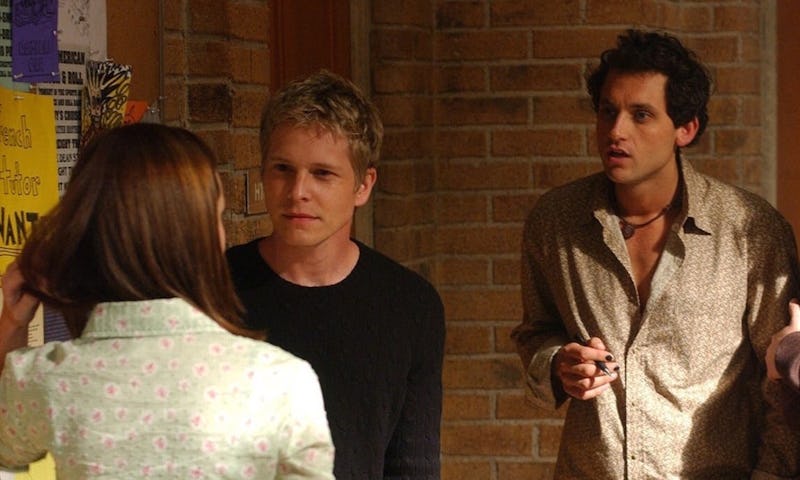 Warner Bros. Television
Sure, Gilmore Girls may have ended, but fans will soon have a good reason to cry "In omnia paratus!" once more. Matt Czuchry and Tanc Sade — who played Logan and Finn, BFFs and members of the Life and Death Brigade on Gilmore Girls — have reunited on the small screen for an upcoming episode of Czuchry's new show, The Resident. And the clip from Finn and Logan's Gilmore Girls reunion on The Resident proves their friendship really is eternal.
The sneak peek of Monday's episode previews Czuchry's Conrad and Sade's Josh Robinson's first meeting. And by the looks of it, it seems like Sade's character would fit right in with the adventure seeking Yalies that Rory Gilmore (Alexis Bledel) hung out with in college. As Josh, Sade (who has traded his trademark Aussie accent for an American one) plays a free-spirited professional adventure guide who shows up at Chastian Park Hospital after he's caught in a stampede during a music festival in the park. While Conrad checks him out in his hospital room, Josh proudly shows off the many scars he accumulated over the years, thanks to dangerous hobbies that will sound familiar to any Gilmore Girls fan. Hobbies like free diving and death dropping.
"Someone knows how to use their vacation time," Conrad quips, before the two bond over their shared habit of marking their life experiences with tattoos and scars, basically proving that no matter what fictional universe they're in, Logan and Finn were always meant to be friends.
Of course, that potential friendship could be tested by the fact that Conrad and Nic (Emily VanCamp) start to get more concerned for Josh with every question they ask, but hey, what's a medical show without a little drama and a whole lot of intriguing and adventurous patients?
Thankfully, Czuchry and Sade's off-screen friendship appears to be just as strong as ever, and the latter has shown off quite a bit of their behind-the-scenes antics. In the months leading up to his Resident debut, Sade shared some sneak peeks of the episode on Instagram. In early September, Sade posted an adorable photo of himself and Czuchry hanging out in between takes, which really sent Gilmore Girls fans into a tizzy when he revealed that he and Czuchry have been close friends for over a decade now.
"A friendship that has spanned over a decade. Deep in conversation with my mate #MattCzuchry," Sade captioned the candid snap. "The star of @theresidentonfox. Second season premieres September 24th. Like and repost if you can't wait to see us back together again!"
And after a few weeks of teasing fans with the promise of more photos alongside Czuchry, Sade posted a second photo of Finn and Logan's reunion, which he captioned "The boys are back," adding the hashtag "#lifeanddeathbrigade."
Finn, of course, was a supporting character, designed mostly for comedic relief, on Gilmore Girls. Both he and Logan made their debuts in Season 5, when Rory first discovered the Life and Death Brigade. Over the course of his run on the show, and, of course, the Brigade's over-the-top return in the Netflix Gilmore Girls revival, A Year in the Life, fans became connected to Finn and his friendship with Logan, which has made them eager to see the two actors reunite once again on the small screen.
However, it seems that Sade is possibly more excited than anyone else, if the sheer number of behind-the-scenes photos the Aussie actor shared on Instagram is any indication. Clearly, being a member of the Life and Death Brigade was just as unforgettable for the people on-screen as it was for the rest of us watching at home. And no doubt Sade and Czuchry's reunion on The Resident will be just as memorable.