A 'Fire & Fury' TV Show Is In The Works, So Brace Yourself For More Trump Drama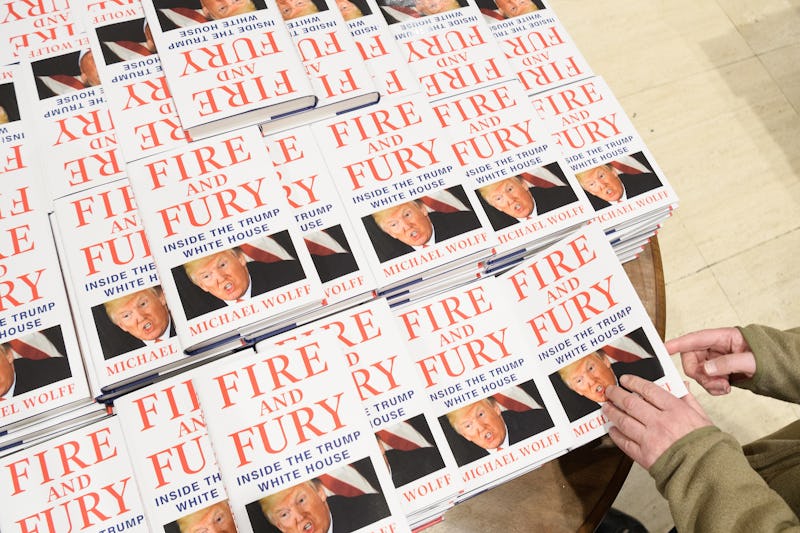 Leon Neal/Getty Images News/Getty Images
A bestseller on multiple lists within a week of its early publication, Michael Wolff's controversial White House tell-all has already become 2018's most-talked about book. Soon, it will also become the most-talked about thing on television, because Fire and Fury is becoming a TV series. Break out the wine and the popcorn, this is one political drama you won't want to miss.
According to The Hollywood Reporter, Endeavor Content has purchased the film and television rights to Wolff's #1 bestseller about the first year of Donald Trump's presidency in a major deal that is rumored to be worth at least seven figures. The company, which is a sales arm of sister companies William Morris Endeavor and IMG, has announced plans to adapt Fire and Fury into a TV series. Currently, no network is attached, but Wolff has already signed on as an executive producer. He will be joined by Michael Jackson, the CEO of Two Cities Television, an indie production company.
Originally scheduled to hit shelves Jan. 9, Wolff's scathing exposé was released by publisher Henry Holt & Co four days early due to increased interest in the book after the The Guardian ran controversial excerpts wherein former White House advisor Steve Bannon called an infamous 2016 Trump Tower meeting between Donald Trump Jr. and Russian officials "treasonous." Within days of its release, Fire and Fury was sold out in physical bookstores and online. According to NPD Bookscan, Wolff's hotly contested account of Trump's first year in office sold 29,000 physical copies last week alone. John Sargent, CEO of Macmillan Publishers under which Henry Holt Co falls, has said digital sales have exceeded 250,000 copies, an unheard of number for timely nonfiction books.
Fire and Fury: Inside the Trump White House by Michael Wolff, $18, Amazon
Fire and Fury has been a steady fixture in the headlines over the past two weeks, not only for the major publishing records it has broken — it sold one million orders within days of its release — but for its controversial content. The book goes to great lengths to describe Donald Trump's mental instability and unpreparedness for his role as presidency, and it digs deep into the drama, controversies, and scandals that have dogged the current White House from day one. Flip to almost any chapter in the book, and readers can find an unbelievable story about the current administration, or a malicious quote from staffers, officials, and even Trump's top advisors.
For their part, the Trump administration has been adamant that Wolff's book is filled with lies and falsehoods. The president has tweeted about Fire and Fury several times, and prior to its publication, Trump's lawyers sent cease and desist orders to the author and publisher in an effort to prevent its release. In a response to the attempted censorship, Sargent sent a memo to employees about the book promising to defend its publication. "We will not allow any president to achieve by intimidation what our Constitution precludes him or her from achieving in court," the letter stated. "We need to respond strongly for Michael Wolff and his book, but also for all authors and all their books, now and in the future. And as citizens we must demand that President Trump understand and abide by the First Amendment of our Constitution."
Though news of Fire and Fury's TV adaptation was just announced today, the internet is already abuzz with casting suggestions. Others can't help but point out that Americans are already living the reality of Wolff's book, and a TV show will just be a reflection of our reality.
Endeavor Content is currently shopping around for a network, but it will likely be a while until Fire and Fury comes to a small-screen near you. In the meantime, we can all speculate over which actors will be cast in these soon-to-be iconic roles, and whether or not Trump will tune in.