Quotes About Fireworks For All Your July 4 Instagram Needs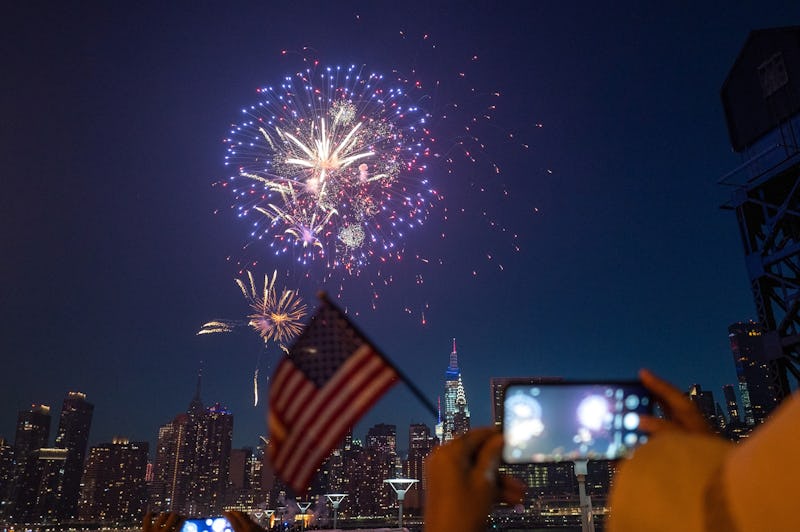 Alexi Rosenfeld/Getty Images Entertainment/Getty Images
Planning on catching a fireworks show this Jul. 4? These firework quotes for Instagram will provide you with the perfect captions for pairing with those pictures you know you're going to be posting. Fireworks, simply put, are mesmerizing. It can be hard to put into words just how beautiful they really are. Fortunately, the authors of these quotes do a pretty good job of it for us all.
It can be hard to caption a photo on Instagram. If a photo's worth a thousand words, then your caption had better be a good one if it wants to hold its own. Skip putting the pressure on yourself this Fourth of July and borrow some words from any of these poetically inclined authors below. From Taylor Swift and Gene Simmons to Natsuki Takaya and Sol Luckman, these authors come from many different backgrounds and are famous for many different things... the one thing they can all agree upon? Just how spectacular fireworks are!
Fireworks are the perfect subject to photograph on Jul. 4, and considering that they usually happen all across the country, from big cities to backyards, it shouldn't be too difficult to get your cameraphone on them this year. Make your 2017 Fourth Of July Instagram post one to remember by sharing a quote below... no hashtags needed.
1. "The fireworks went on for nearly half an hour, great pulsing strobes, fiery dandelions and starbursts of light brightening both sky and water. It was hard to tell which was reality and which was reflection, as if there were two displays, above and below, going on simultaneously — one in space-time, mused Max, and the other in time-space." — Sol Luckman
2. "In childhood the daylight always fails too soon — except when there are going to be fireworks; and then the sun dawdles intolerably on the threshold like a tedious guest." — Jan Struther
3. "Don't look to the sky for fireworks when you can watch them light up in the eyes of all the people passing by." — Tyler Kent
4. "In childhood the daylight always fails too soon — except when there are going to be fireworks." — Jan Struther
5. "If you stop and think about it, the form of propulsion used today hasn't changed in over a thousand years... since the invention of fireworks by the Chinese." — Peter Diamandis
6. "I'm captivated by you, baby, like a firework show." — Taylor Swift, "Sparks Fly"
7. "The world needed more fireworks — especially now that there was going to be a shortage of beautiful, useless things." — Scott Westerfeld
8. "You may be a redneck if... your lifetime goal is to own a fireworks stand." — Jeff Foxworthy
9. "July 4 fireworks exhale over the Hudson sadly. It is beautiful that they have to disappear." — Frederick Seidel
10. "KISS is a Fourth of July fireworks show with a backbeat." — Gene Simmons
11. "We shall go wild with fireworks... and they will plunge into the sky and shatter the darkness." — Natsuki Takaya
Images: Alexi Rosenfeld/Getty Images Entertainment/Getty Images; Giphy