Worrying Jeff Sessions Quotes From His Hearing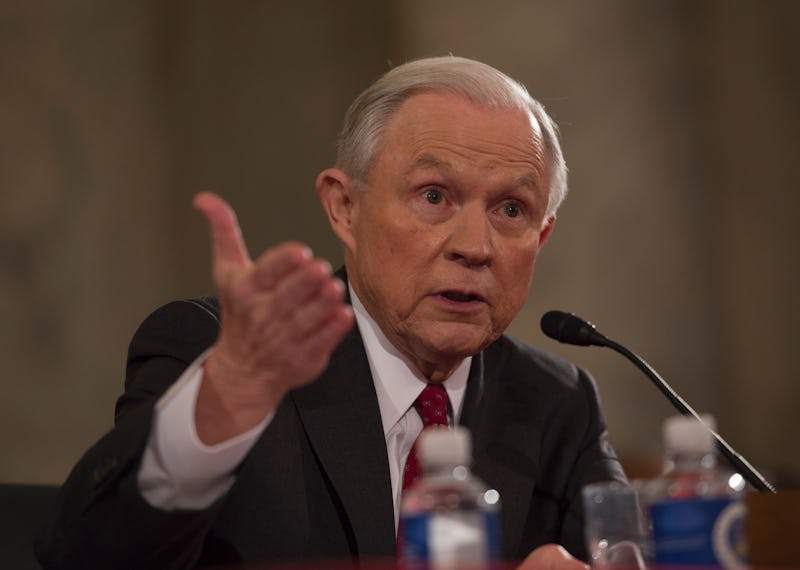 MOLLY RILEY/AFP/Getty Images
Tuesday marked an important day in the lead-up to the Donald Trump presidency. The first of the confirmation hearings for Trump's cabinet took place, with Jeff Sessions' appearance in front of the Senate Judiciary Committee. The hearings were full of significant moments, from protestors dressed as the KKK getting kicked out to Sen. Al Franken's tough questioning of the Alabama senator. What will stand out in many minds, however, are the things Sessions said that no American liberal wants to hear.
The appointment of Sessions, who has allegedly made a number of bigoted and insensitive remarks in the past, has been troubling many Americans since the Trump team announced their choice for attorney general back in November. And indeed, some of Sessions' remarks on Tuesday only confirmed liberals' fears that his track record promises nothing good for his possible time as the leader of law enforcement in the United States.
Though Sessions backtracked on remarks he made and votes he cast in the past, these first rounds of confirmation hearings probably did nothing to quell protests against his nominations. Senators asked Sessions about everything from voting rights to immigration to gun violence and more. Here are five of the more unsettling moments for liberals from the hearing.
On Voter Fraud
In response to Franken's question about whether Sessions agrees with Trump's claim that "millions of fraudulent votes were cast in the presidential election, Sessions replied:
I do believe we regularly have fraudulent activities occur during election cycles.
This, despite the fact that voter fraud is extremely rare. Many liberals fear that overblown concern about voter fraud could lead to stricter voter ID laws, which disproportionately disenfranchise racial minorities and the elderly.
On Policing
From Sessions' opening statement:
Approximately 90 percent of all law enforcement officers are not federal, but local and state. They are the ones on the front lines. They are better educated, trained, and equipped than ever before. They are the ones who we rely on to keep our neighborhoods and playgrounds and schools safe. But in the last several years, law enforcement as a whole has been unfairly maligned and blamed for the actions of a few bad actors and for allegations about police that were not true. They believe the political leadership of this country abandoned them. They felt they had become targets. Morale has suffered. And last year, while under intense public criticism, the number of police officers killed in the line of duty increased 10 percent over 2015. This is a wake-up call. This must not continue.
Sessions made a point of showing support for law enforcement. However, he made no mention of the widespread racial bias that leads to young, black men being killed by police officers more than any other demographic in America. Looking at the numbers, it's not hard to find fault with his claim that local and state law enforcement are "better educated, trained, and equipped than ever before." While many are calling for better implicit bias training and more transparency and police accountability, Sessions is apparently not one of those people.
On Trump's Proposed Banning of Muslims
Sessions stated that he is against an overall ban on Muslims entering the U.S. However, he also added, when asked by Senator Patrick Leahy why he voted against a resolution last year that would outlaw bans of people entering the country based on their religion:
Many people do have religious views that are inimical to the safety of the United States. I did not want to have a resolution that suggested that that could not be a factor in the vetting process before someone is admitted.
The idea that Islam is incompatible with American ideals has long been used to discriminate against Muslims. Sessions' statement did nothing to assure Americans that he will work to stamp out Islamophobia any time soon.
On The Violence Against Women Act
When asked by Leahy why he voted against the reauthorization of the Violence Against Women Act, Sessions replied that he was concerned about the act giving tribal authorities the power to prosecute non-natives who commit acts of sexual violence on tribal lands. Leahy went on to ask Sessions if he thinks the law, which is now in place, has been effective, to which Sessions replied:
I have no understanding of the results of it so far. I'm interested — first time I've heard it commented on.
It's undeniably troubling that Sessions would vote against this provision and then do absolutely no research into its effects when it is put into place. Many Americans will have to hear a much more serious and thoughtful response from Sessions on violence against women, especially racial and ethnic minorities, before they can support him as attorney general.
On Freedom Of The Press
When asked by Senator Amy Klobuchar if he would commit to the current attorney general's standards for transparency surrounding subpoenaing journalists and not jailing reporters for doing reporting work, Sessions replied:
I'm not sure. I have not studied those regulations... But for the most part there is a broadly recognized and proper deference to the news media. But you could have a situation in which media is not really the unbiased media we see today. And they could be a mechanism by which unlawful intelligence is obtained.
Similar to Sessions' statement on the Violence Against Women Act, his claiming lack of knowledge is far from comforting. And his introducing the possibility that freedom of the press could someday become a threat to American interests is not exactly what many Americans want to hear from their possible soon-to-be attorney general.
Overall, no liberals got a warm, fuzzy feeling from this hearing, but most likely none expected to. Sessions' Senate hearings will continue into Wednesday and promise even more unsettling remarks.