A Former ABC News Political Director Is Being Accused Of Sexual Harassment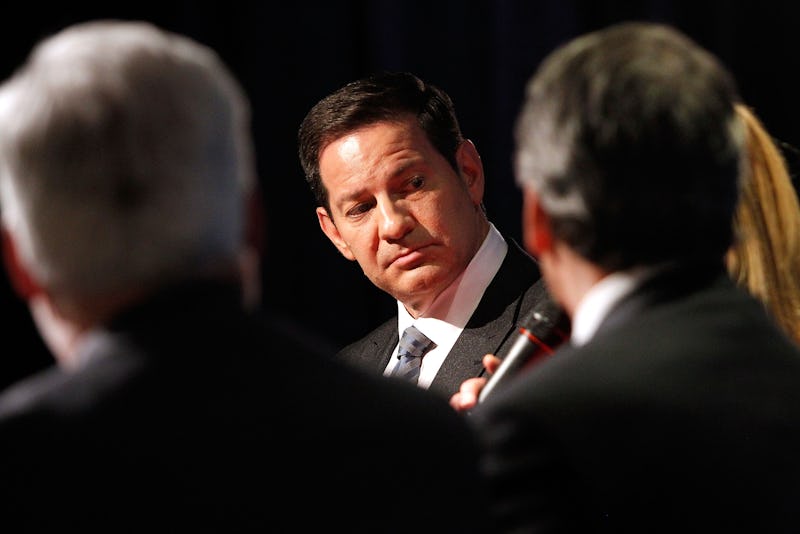 Paul Morigi/Getty Images Entertainment/Getty Images
Five women have opened up to CNN and accused 52-year-old journalist Mark Halperin of sexually harassing them during his time at ABC News. The political commentator is currently an analyst for NBC News and Bloomberg Television, makes appearances on MSNBC's Morning Joe segment, and is developing a project with HBO. NBC has not given a public statement on the accusations.
Following the allegations, Halperin said in a statement to CNN:
During this period, I did pursue relationships with women that I worked with, including some junior to me. I now understand from these accounts that my behavior was inappropriate and caused others pain. For that, I am deeply sorry and I apologize. Under the circumstances, I'm going to take a step back from my day-to-day work while I properly deal with this situation.
Halperin's alleged history of sexual harassment in the workplace reportedly began when he was working at ABC News, his employer from 1988 to 2007, where he moved up the ranks from desk assistant to political director. No one filed complaints against him during his tenure, said ABC News in a statement to CNN.
Five women have come forth with a range of accusations, including propositioning employees for sex, kissing and grabbing breasts without consent, and rubbing his erection against them; according to NPR, Halperin has denied the allegations of "inappropriate touching." The women said Halperin did not promise them anything in exchange for sex or threaten to retaliate if they did not submit to his advances.
Some of the women recounted tales where after rebuffing or fleeing their first incident of harassment, Halperin would continue to sexually pursue them. All of the women, former coworkers of Halperin's at ABC News, said they did not initially report these incidents out of fear of retribution. They have also chosen to remain anonymous out of embarrassment over what happened to them, and to protect themselves against Halperin's influence in politics and media, they said.
The accusations come after the Harvey Weinstein scandal shook Hollywood and beyond. Although a former assistant says there is reportedly a long and sordid history of Weinstein covering up his sexual harassment and assaults, it wasn't until The New York Times and The New Yorker reported substantial claims of sexual misconduct that a slew of women in the movie industry came forward with accusations against the movie-making mogul. The group of women who have gone public with reports of sexual harassment from Weinstein include Lupita Nyong'o, Gwyneth Paltrow, and Angelina Jolie. The stories inspired more women to announce if they had ever been sexually harassed — the #metoo movement — and also returned to surface President Trump's comments about women. Halperin once said people should be "skeptical and question the timing" of women who accused Trump of sexual harassment before the 2016 election.
The #metoo movement and Weinstein fallout has sprung open more allegations in other industries, notably the media and music industries. The Mark Halperin allegation is no standalone among journalists, for instance. Previous big-name allegations include the accusations against former Fox News chief Roger Ailes and former Fox News host Bill O'Reilly. In a statement to numerous news outlets, Ailes denounced former Fox News host Gretchen Carlson's allegations as "defamatory," "false," and retaliation for the network's decision to not renew her contract. O'Reilly denied the report he paid one woman $32 million to settle a sexual harassment allegation, first published in The New York Times, and accused the newspaper of running a "smear piece" and conspiracy against him.
Reports of sexual misconduct in the media industry aren't limited to the television news either. Mass media giant Condé Nast severed its relationship with photographer Terry Richardson. Just prior to the Halperin allegations, former editors and staffers of The New Republic, the 103-year-old political magazine, accused the magazine's literary editor Leon Wieseltier of harassment and inappropriate behavior that included unwanted kisses. Wieseltier has since issued a public apology; however, the major financial backer that was set to fund his next publishing project has suspended all ties with him.
The stream of allegations against men in the media, which aren't new, even inspired women to circulate a "Shitty Media Men" spreadsheet of rumored misconduct and the men who reportedly committed them. Some of the accused work at nationally-known newspapers, magazines, and websites, including BuzzFeed, the site that first reported on the list.
After the Halperin allegations and others in the media industry, it might not be long before the next women come forward with their stories.