Florida Mayor Giggles About Pointing A Gun At Reporters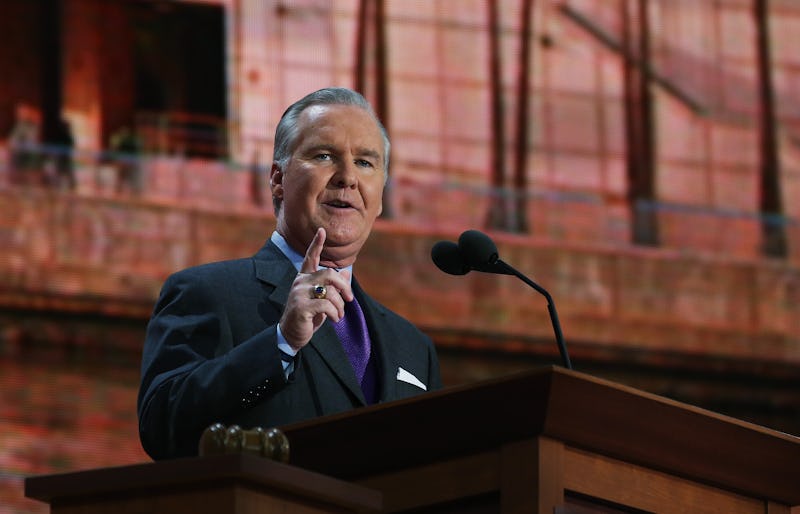 Chip Somodevilla/Getty Images News/Getty Images
Since President Donald Trump stepped into the White House in January, journalists have become increasingly concerned about the restriction of press freedom in the country. One only needs to look at how Trump talks about reporters being "unfair" to him, or how he calls outlets "fake news," to know that the freedom of the press doesn't always feel guaranteed. That attitude has apparently passed down to the state level. At a military conference last week, Florida mayor Bob Buckhorn joked about pointing a machine gun at reporters.
The joke referred to the past year's special operations forces industry conference demonstration, in which the Tampa mayor played a hostage who was rescued from his captors. As he stood on a navy warfare boat making his way safely to shore, Buckhorn fired blanks from the .50-caliber machine gun onboard. And though he did not aim it at anyone in particular, he joked about aiming it at reporters covering the demonstration.
According to the Tampa Bay Times, Buckhorn, who is a Democrat, spoke at the military conference last week and said, "And so the first place I point that gun is at the media. I've never seen grown men cry like little girls, for when that gun goes off, those media folks just hit the deck like no one's business. It's great payback. I love it."
It's an incredibly troubling remark, especially considering that some journalists do actually put themselves in harms way to conduct reporting from the trenches of war and bring Americans the information they need every day. According to the Committee to Protect Journalists, 1,237 journalists have been killed since 1992.
Weirdly, the Tampa Bay Times did acknowledge that Buckhorn usually has a pretty good relationship with the press, and noted that his own father was a wire service reporter. But that just makes the comments seem all the more tone-deaf.
The paper pointed out that the journalists who attended the demonstration last year did not actually duck or cry as Buckhorn fired the weapon, like he claimed they did. Buckhorn's office released an apology Monday afternoon, saying:
This was a story that he had told for three consecutive years, and at no time was it ever construed to be serious or an accurate portrayal of what occurred. It was merely a humorous tongue-in-cheek description. Clearly that does not translate on Twitter, and, in light of the current rhetoric at the national level aimed at the media, (it) inadvertently served to reinforce some of those sentiments. That was not his intention. In fact, as the son of a former wire service reporter, he has nothing but the highest regard for the work of journalists and their profession and he apologizes to those he offended.
Still, taken with the general air of distrust among politicians and reporters, threats of harm, even in jest, are not appropriate. President Trump and his administration have done enough to try to turn Americans against the press, and strange jokes like this about shooting them up for payback does not help. Obviously, the press and the government do not need to have a cozy relationship, but they both need to be able to do their jobs effectively and without threat of harm for America to run properly.