Florida Residents Are Scared They'll Get Fired If They Evacuate For Irma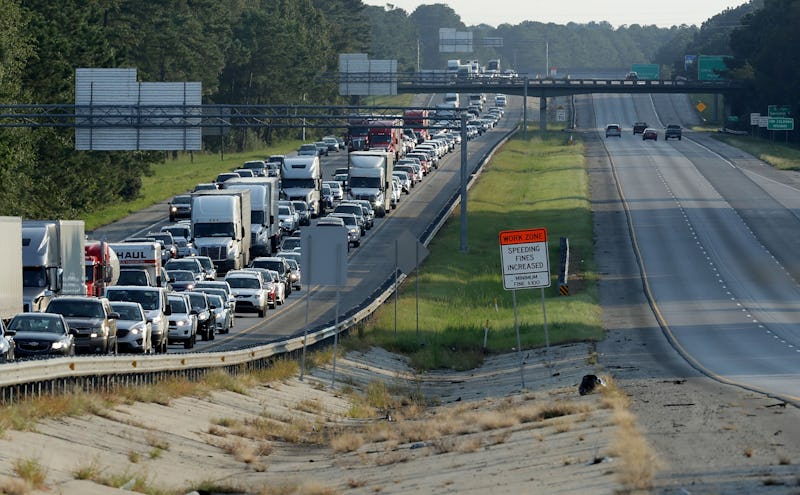 Chip Somodevilla/Getty Images News/Getty Images
If you're wondering if prioritizing your safety over your job is a fireable offense, you're not alone. Some Florida residents are not evacuating ahead of Hurricane Irma for fear of losing their jobs. Despite Florida Gov. Rick Scott urging south Florida residents to heed mandatory evacuation orders, the Washington Post reported that both municipal agencies and private businesses have threatened to fire employees who don't show up for work during what is predicted to be one of the most catastrophic storms the state has ever seen. And, it's perfectly legal.
In a press conference Friday afternoon, Gov. Scott stressed the seriousness of the situation, the Post reported. "You need to go now. This is a catastrophic storm that our state has never seen." The governor then asked business owners to be kind to their employees. "Please be compassionate with your employees as they prepare for this storm and evacuate."
According to Ben Yormak, a Bonita Springs employment lawyer, Florida is a right-to-work state, which means employees have few protections from being fired for failing to show up to their jobs. "Florida just doesn't have a specific law that says if there's a hurricane, you've got to let people go," Yormak told the Naples Daily News.
He added that a mandatory evacuation, or a state of emergency, could provide some protection for non-essential workers.
"Some employees — first responders, emergency room doctors, utility workers — are essential to the public and likely have few opportunities to leave. Government and nonprofit employees also likely have fewer protections," Yormak told the News. "Workers might have a good legal argument for leaving if they're evacuating from a community where there is a declared state of emergency, a hurricane watch, or a mandatory evacuation."
ABC News reported that currently more than one million Florida residents are under mandatory evacuation orders, and those not ordered to evacuate are under city and county-established curfews, which could make getting to work difficult and extremely dangerous during a category 5 hurricane.
According to Employment News Daily, while Florida does not have a law that prohibits employers from firing employees who refuse to work because of an impending hurricane, when a hurricane or other emergency occurs, numerous federal employment laws are implicated. Federal laws could provide some protection during disasters.
However, the decision could prove difficult for undocumented workers, or hourly employees who can't afford to take an unpaid day off. The concern is so high that a legal-advice megathread on Reddit has many people asking questions about their rights. Additionally, aside from fear of termination, evacuating likely means being gone for several days. For Florida residents living hand to mouth, the prospect of losing out on wages might cause them to risk their safety.
"People at the bottom of the income ladder are in a pretty tough spot," Mary Ziegler, an employment law professor at the Florida State University College of Law, told the Post.
However, Julius Getman, a professor and labor historian at the University of Texas School of Law, told the Post that public opinion might be on workers' sides for those who fear being fired for evacuating. "It'd be a chancy business for an employer to discharge somebody right now. This is a time when public opinion would be strongly against it."
Uncertainty is another factor, Mark Edelman, an attorney for the Morgan & Morgan firm, told news station WTVT. He said that each case is different, and decisions can be made on an individual basis.
"Let's say somebody is working outside. You can't expect a landscaping crew to work during a hurricane and that would implicate OSHA which is the federal law governing workplace safety," Edelman told WTVT. "Every case is going to be fact-specific. We're not going to know until we endure the situation to know who is right and who is wrong in a situation like this."