People Are Already Trying To Repeal The Laws That Parkland Activists Fought For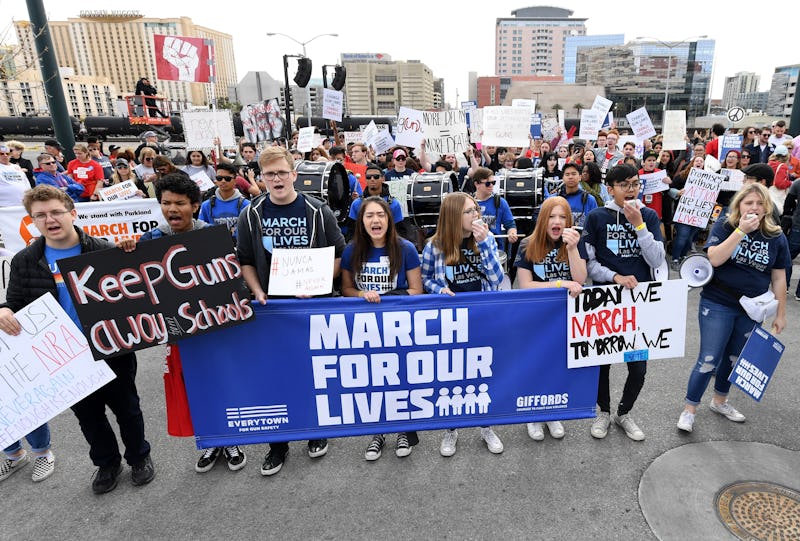 Ethan Miller/Getty Images News/Getty Images
The school shooting last year in Parkland, Florida was the impetus for a nationwide gun reform movement, as well as a comprehensive state law to prevent similar tragedies from occurring in the future. But now, Florida's Marjory Stoneman Douglas Public Safety Act could be in jeopardy because of a new statehouse bill filed on Monday. State Rep. Mike Hill proposed a bill to repeal many of the gun control measures, saying they violate Floridians' Second Amendment rights.
Three weeks after the shooting on Feb. 14, 2018, with the March For Our Lives movement just beginning, former Gov. Rick Scott signed the Marjory Stoneman Douglas Public Safety Act. The piece of legislation was a major win for student activists and their families who were pushing for stricter gun laws — it raised the legal age for gun purchases, imposed a three-day waiting period, and allowed for some school employees to be armed.
The new bill, HB 175, basically rolls back the new age requirement and waiting period for gun sales. It would also remove a ban on bump stocks and prevent law enforcement officials from confiscating firearms in cases where a person could pose a threat to themselves or others.
Hill told reporters he proposed the bill because of a commitment to the Constitution. "The law that was passed last year was a direct infringement upon our Second Amendment," Hill told WEAR TV. "So I was duty bound by my oath to file this legislation to protect and defend our Second Amendment rights." He added, "What was passed last year did absolutely nothing to stop what it intended to and that was mass shootings at our schools."
Hill is not the first to challenge the Marjory Stoneman Douglas Public Safety Act. Despite Scott touting the bill as a compromise for both sides of the gun debate, just hours after he signed it, the National Rifle Association (NRA) filed a lawsuit to block the legislation. The organization's argument was the same as Hill's — banning gun sales for 18- to 21-year-olds is a violation of Second Amendment rights as well as 14th Amendment rights, which guarantee citizens equal protection under the law.
But gun control activists don't appear willing to back down. Passing HB 175 would be "an absolute f**king disaster," Marjory Stoneman Douglas High School student and activist David Hogg said in a Twitter livestream on Tuesday, urging supporters to email Hill's office to voice their opposition. "For the thousands of kids who went up to Tallahassee and worked their a** off to get these laws passed, the least they could do is not try to reverse them their first year back in office."
HB 175 is still a long way from being signed into law, but it's one to watch since both chambers of the legislature, as well as the governorship, are Republican-controlled. The next step will be to assign it to a state legislature committee. Then, if it passes through the House and Senate, it will eventually land on the desk of Florida's new Republican governor, Ron DeSantis, for approval.