Finally, There's Some Pro-Choice Good News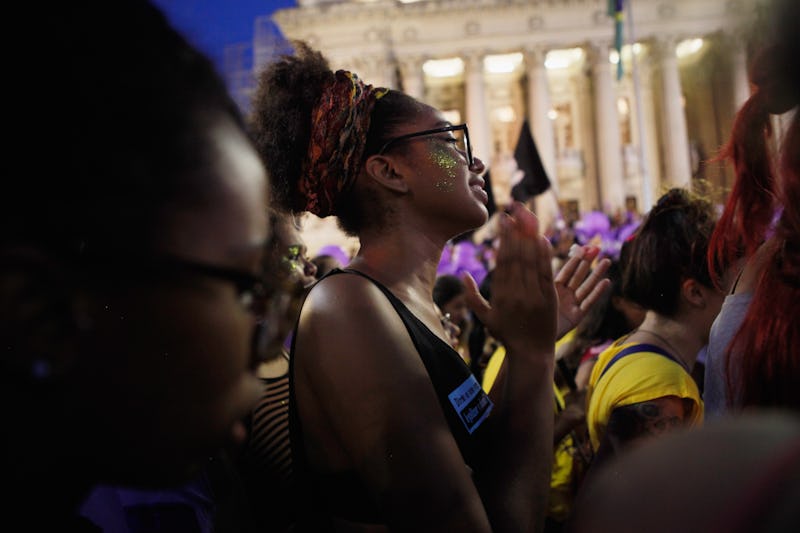 Mario Tama/Getty Images News/Getty Images
With the Trump administration seemingly determined to rollback reproductive rights at every possible turn, it's great to finally get some good news for pro-choice advocates. The Florida Supreme Court has ruled that the state's 24-hour waiting ban for abortions is likely unconstitutional, keeping in place a temporary injunction that had blocked enforcement of the law since April 2016. The judges ruled that the Mandatory Delay Law interfered with a woman's rights to privacy, thereby violating the Constitution.
In the ruling, the judges state that the mandatory 24-hour waiting period violated a woman's right to privacy, in that it often forced women to make return trips to medical facilities. These trips to and from a clinic would likely jeopardize a woman's right to keep her medical choices confidential. Under Florida's state Constitution, infringing upon this right must be done under a "compelling state interest." The judges concluded that the 24-hour waiting period offered no such compelling interest, and instead infringed on the right to privacy only.
Pro-choice advocates say that lengthy wait times also add an extra financial burden on women, since they would likely be making more than one trip. According to a report from ThinkProgress, women spent nearly $150 more on the return trips.
Nancy Abudu, a legal director for the ACLU of Florida, told CNN: "The burdens placed on a woman seeking an abortion by this mandatory delay law are medically unnecessary, potentially dangerous, and disproportionately burden poor and working women. This law had one purpose: to limit a woman's access to her constitutionally guaranteed medical care."
The judges also highlighted that no other medical procedure requires such a wait time. In addition, the court ruled that the state had not met the required burden of proof.
The state had argued that this wait time did not in any way deter women from receiving abortions.
And of course, an anti-choice man had to come in and mansplain the situation, saying that he isn't quite sure whether or not women "know what they're doing".
John Stemberger, the president of the Florida Family Policy Council, told the Orlando Sentinel that the Florida Supreme Court's ruling was unfounded: "This is an irreversible, life-changing decision which has physical, emotional and psychological consequences and to have a 24-hour waiting period to make sure a woman knows what she's doing is not a substantial burden."
Thankfully, the decision was up to the far more impartial court system, and not the Florida Family Policy Council.