Floridians Fleeing Hurricane Irma Are Caught In An Insane 780 Mile Traffic Jam — VIDEO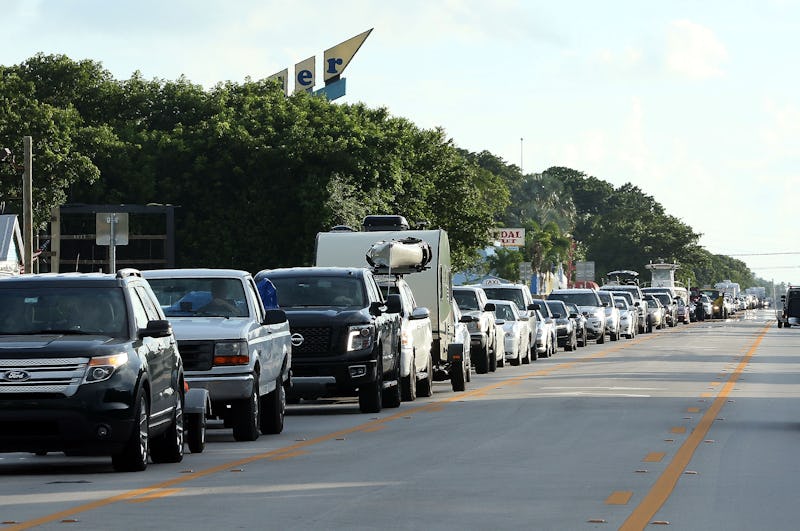 Marc Serota/Getty Images Sport/Getty Images
It's not just rain, wind, and floods: Hurricane Irma is causing insane traffic jams in Florida, as over a million residents under mandatory evacuation orders struggle to flee the state before the storm makes landfall. According to the Drive, traffic on Thursday stretched for a staggering 780 miles between Miami and Chattanooga, Tennessee. Irma is expected to hit Florida on Saturday and remain over the state until late Monday.
"If you're in an evacuation zone, you've got to get out. You can't wait. The roads will get worse," Florida Gov. Rick Scott said on Good Morning America Friday. "This thing's coming. It looks like it's going to go right through the middle of our state."
As a result of the mass exodus, Florida is experiencing serious fuel shortages. Around 40 percent of gas stations in Miami-Fort Lauderdale and West Palm Beach, as well as 58 percent of stations in the city of Gainesville, are out of fuel, according to the crowdsourcing platform GasBuddy. Fuel trucks heading to gas stations on evacuation routes are being accompanied by police escorts, and emergency contractors are re-routing 1.5 million gallons of gas from the state's western panhandle to areas at higher risk of being hit by the storm.
"We are aggressively working around the clock to bring more fuel to Florida gas stations," Scott said in a statement. "We have asked fuel companies to identify ships that are in route to our ports so we can arrange military escorts to get them here faster."
Although Irma's projected path and intensity are regularly being updated, its winds reached a sustained maximum of 155 miles per hour as of Friday afternoon, according to the Orlando Sentinel. A storm surge warning is in effect in in the Florida Keys and the Sebastian Inlet; storm surge is what happens when a hurricane "pushes" excess ocean water toward the shores as it approaches land, causing floods.
As of Friday, mandatory evacuation orders are in place in the cities of South Bay, Lake Harbor, Pahokee, Moore Haven, Clewiston, Belle Glade, and Canal Point; in addition, the counties of Brevard, Broward, Collier, Flagler, Glades, Hendry, Lee, Martin, Monroe, Palm Beach, Miami-Dade, St. Lucie, and Pinellas are all under partial mandatory evacuation orders.
Major airlines in South Florida will be suspending all flights by Friday evening, according to ABC News, while Orlando International Airport, Orlando Sanford International Airport, and Orlando Melbourne International Airport will continue commercial flights through Saturday evening.
Irma wrought havoc earlier in the week as it tore through the Caribbean en route to Florida. The hurricane — which was then a Category 5 storm but has since been downgraded to Category 4 — killed at least 20 people, and left the island of Barbuda "practically uninhabitable," according to Barbuda and Antigua Prime Minister Gaston Browne. The hurricane almost completely destroyed the island of St. Martin, according to the New York Times, and left around 60 percent of homes in Puerto Rico without power.
On Friday, the House of Representatives approved a measure to double funding for the Federal Emergency Management Agency and local block grands to $15.25 billion, as well as extend the National Flood Insurance Program through Dec. 5. The Senate did the same earlier, and President Trump is expected to sign a bill Friday. Had Congress not acted, FEMA's disaster assistance fund could have run out of money by the weekend.
Emergency shelters are open throughout the state; for a list of them, click here.
Make no mistake: Irma will cause catastrophic damage to Florida when it hits. If you're in the state, keep up to date on all local advisories, and take them seriously.