This Makeup Brand Was Intentionally Created For People Of All Genders & It's So Radical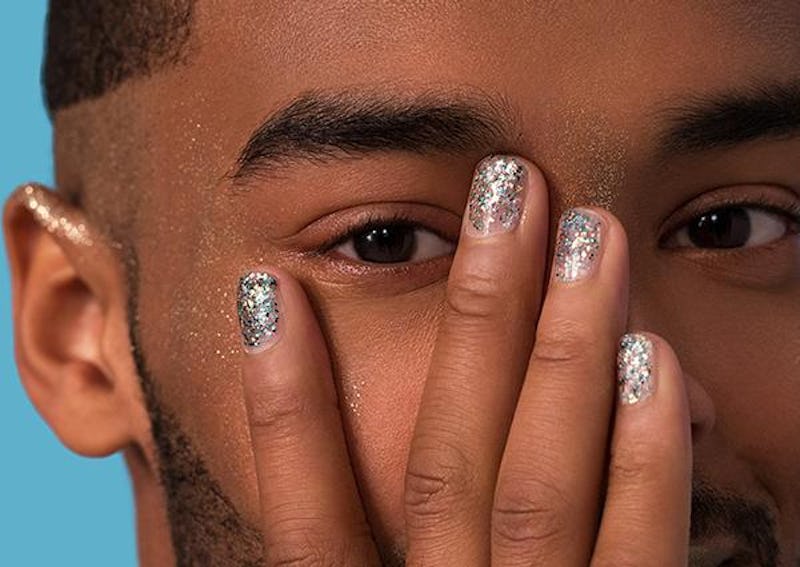 Fluide
Makeup is more than just fun lip colors and fabulous palettes. It's also used as a tool to express yourself, transform yourself, and become the person you want to be. Which is why it's such a bummer that so many makeup companies only market to women, pitching their shimmery highlighters and colorful shadows to just one gender. But one makeup brand is making it their mission to open up the cosmetics playing field to many more people. Fluide is addressing gender identity with their makeup collection, rewriting the script that only women would be interested in playing with makeup.
"Fluide is where we meet our irreverent, otherworldly selves," the brand writes in its mission statement. "An irresistible future where radical inventiveness & queer kinship thrives. To us, beauty is malleable, political, powerful, play. We are they. We are them. We are you. We are Fluide."
It's important not to limit makeup to a narrow gender identity, and instead, open it up as a viable tool for all to use. Which is why when you click over onto their site you'll see models of all genders and identities wearing blue lipstick, sparkly nail polish, and loose glitter.
In addition to their inclusive message, the brand also donates a percentage of their proceeds to LGBTQ organizations.
"Giving is central to our mission. Fluide donates a portion of all sales to organizations supporting the health and legal rights of the LGBTQ community," Fluide shares.
At the moment, the brand is supporting the LGBTQ health center Callen Lorde, which is the global leader in LGBTQ healthcare. The center provide health care to New York's lesbian, gay, bisexual, and transgender communities regardless of their ability to pay. Fluide is also supporting the Sylvia Rivera Law Project, which works to improve access to social, health, and legal services for low-income people and people of color who are transgender, intersex, or gender non-conforming.
In addition to supporting these organizations, Fluide encourages you to nominate any organizations that you specifically care about, as the brand is open to help more worthy causes.
As of right now, Fluide sells three different categories of products: liquid lipsticks, nail polishes, and loose glitters. Check out some of their best picks below.
Liquid Lipstick in Silver Future
Liquid Lipstick in Silver Future, $16, Fluide
This chrome lippie gives you some major molten vibes, but it goes on matte and lasts all day. Meant to be both coffee and kiss-proof, it also has the added benefit of being cruelty and paraben-free. It's also never sticky or uncomfortably wet, so you can slick it on and enjoy the shade all day.
2. Liquid Lipstick in Q-Train
Liquid Lipstick in Q-Train, $16, Fluide
If an electric blue lip is more your speed, then the "Q-Train" hue is perfect for your makeup drawer.
3. 7-Free Polish in New Year's Revolution
7-Free Polish in New Year's Revolution, $15, Fluide
Their polish is nontoxic, cruelty-free, and vegan, so you "can feel good whether you're waving across the bar or flipping someone off." If you're wondering what "7-free" means, it refers to the fact that you'll never find seven suspect ingredients in their formula that are traditionally used in nail polish including formaldehyde, Toulene, DBP, Xylene, Camphor, Phthalates, and TPHP. It's a great product all around, and comes in fun colors, like this sparkly one dubbed "New Year's Revolution."
4. Glitter in Silver
Glitter in Silver, $12, Fluide
Whether you add some shimmer to your lips or use it as eyeliner, there's a lot that you can use Fluide's loose glitter pigment for.
Other makeup brands take note: We all want to play with your products, so open up the playing field. If not, new brands like Fluide are coming for you.