Foil Brows Are The Newest Way To Decorate Your Arches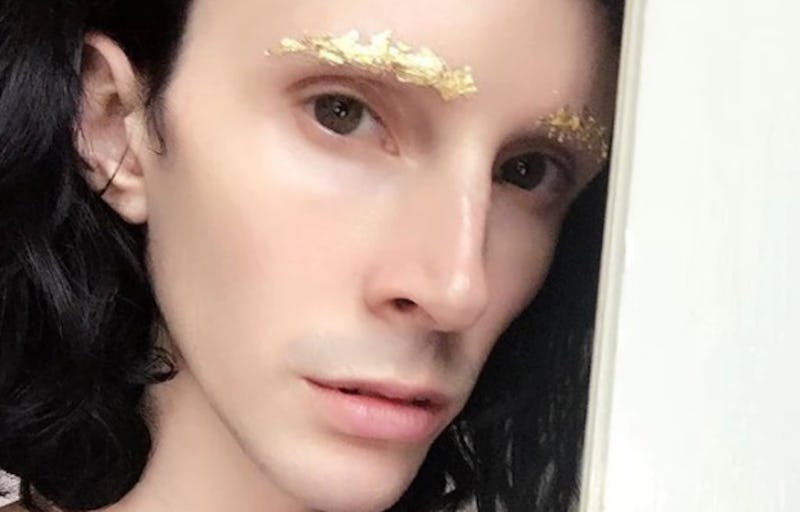 brandonvirga on Instagram
While filling in your arches with brown or blonde powder is great for the regular, day-to-day beauty routine, sometimes a person wants to shake things up and do something creative with their brows. That's where foil eyebrows come in, the newest Instagram trend to take makeup artists and beauty lovers by storm. Looking both runway-ready and like an art project all at the same time, they're not the most practical beauty look to come across vanity mirrors, but they sure are fun.
This beauty trend incorporates texture by skipping the usual metallic paints and shadows, and instead reaches for foil. "Artists are using gold foil, aluminum foil, or any other reflective, shiny material to create faux eyebrows," PopSugar reported. The idea is to turn your arches into a disco ball, where you cover them with a reflective surface and dazzle anyone who peeks your way. The fun thing about this trend is that there are so many iterations, meaning the sky is the limit and you can translate it any way you want. It really lets you flex those creative muscles. You can choose either silver or gold foil, and you can either break it up into bits and patch them over your arches, or put on one, smooth, metallic eyebrow cut-out over your whole brow.
In this particular look, the artist patched together tiny pieces of gold foil to create a thick and sharply arched brow. It's very neat and precise, and makes a big impact.
Or you can go a messier route and opt for jagged pieces of gold leaf slicked across your arches. They're a little more on-the-fly, but they still give you that metallic, artsy look. And seeing how the name of the game is "foil," you can choose silver, rose gold, and just about any color available to you at the craft store to pull this look off.
While this look is a little more fashion forward than a filled in eyebrow, it's a fun option for those days you're feeling sassy and creative. It would be fun to wear to a concert or a crazy night out, or even a great option to incorporate into your upcoming Halloween look. The point is to get artsy!