This Promo Video Shows Actual Footage Of Harry Styles' Haircut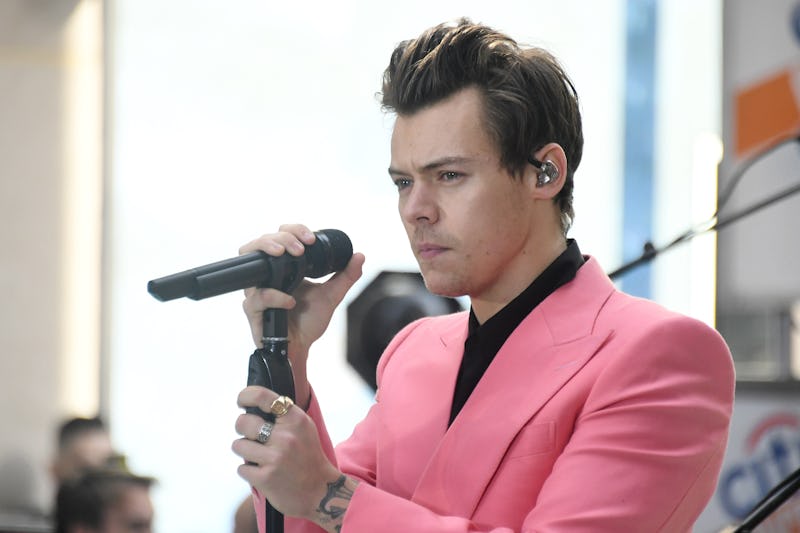 Mike Coppola/Getty Images Entertainment/Getty Images
I'm sure you all remember the day Harry Styles cut off his ponytail and then proceeded not to show what his 'do looked like for days (while you quietly panicked). Yeah. Good times. Well now, it's time to relive that haircut in an all-new way. Harry Styles showed footage of his haircut in a recent album teaser video, so get ready to mourn the loss of his locks all over again.
According to Instagram, Styles revealed his lobbed off ponytail to the world on May 6, 2016. Can you believe it's been an entire year since he had his long flowing mane? He's got his short hair and new music on the way, and that's precisely what this video is showcasing. According to Billboard, this is just a snippet to preview the Harry Styles: Behind The Album documentary coming to Apple Music on May 15, which is just three days after the album itself drops.
Not only do you get a glimpse of his journey to creating his first solo album, you also get a quick shot of his strands getting cut. In a voiceover he says, "Anytime you're doing anything different, it's quite scary," and he certainly is right about that. Now, in some small way, his fans get to experience the transitional period with him. Prepare to watch this video over and over again.
For the first time ever, you get to watch this major life change (his haircut, obviously) happen.
It's like reliving the experience.
No matter how you feel about the cut, it's still a little difficult to get used to.
Because it's hard to forget a moment like this.
You probably even remember when you first heard about about Styles' new 'do.
He went from having long locks to rocking a much shorter 'do in no time.
But, it was all part of a transitional period, and he's letting fans see that now.
Short strands, new music and a documentary? We can handle that, right, you guys?