These Anime Shows Should Ease The Wait Until 'Forest Of Piano' Season 2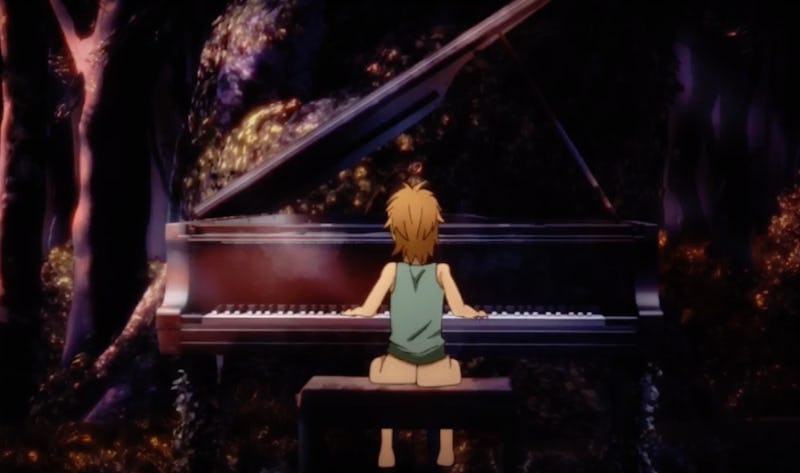 Screenshot/Youtube
Anime fanatics will have an emotional new show to marathon when Forest of Piano hits Netflix. The story follows two young boys, Kai Ichinose and Shūhei Amamiya, who bond after finding an abandoned piano in the woods. Despite coming from two very different socioeconomic backgrounds, they forge a connection through music. And, as reported by Anime News Network, their friendship will continue into their adult lives when Forest Of Piano returns for Season 2.
Forest Of Piano premiered on NHK, Japan's largest broadcaster, in April before debuting worldwide on Netflix Sept. 28. Those six months allowed time for people to translate the original series and record new voiceovers. If that math follows for Season 2, which is set to premiere in Japan in January, Netflix viewers can expect a second batch of episodes to go worldwide some time around June 2019. Such a long wait might be difficult for some, but Netflix's ever-expanding selection of anime means that there's always something new to watch between seasons of your fave shows. So, if you're in the mood for more series that revel in the power of music, keep an eye out for these titles next time you're scrolling through the site.
Lost Song
Premiering only a week after Forest Of Piano on Oct. 5, Lost Song takes a much more fantastical approach to music. It's a little less realistic than Forest Of Piano, but still makes for a perfect pairing, focusing on the friendship between two young women who bond over the magic of music. Like, literally — they sing songs to cast spells.
Your Lie In April
If you like both classical music and young love,Your Life In April is the show for you. It follows the story of former piano prodigy Kōsei Arima, who manages to fall back in love with music after encountering Kaori Miyazono. Be warned: You're going to want to have a box of tissues handy if you dive into this one.
Aggretsuko
Perhaps the exact opposite of Forest Of Piano's gorgeous piano, Aggretsuko explores the transformative power of heavy death metal karaoke. It aims for laughs more than it attempts to tug on heartstrings, but the show proves that music doesn't need to be traditionally "beautiful" for it to have a powerful emotional effect on its listener.
While Netflix has a variety of offerings that combine music and anime in the style of Forest Of Piano, those in search of other similar shows would do well to look on non-Netflix streaming services, too. Fans of classical music should keep an eye out for Nodame Cantabile on Crunchyroll, jazz-heads would likely enjoy Kids On The Slope on Hulu, and those looking for some breezy rock music should take a look at K-On!, also on Hulu. Watching other shows might not be able to speed up the release of Forest Of Piano Season 2, but it should serve as a welcome distraction while waiting for the next chapter of Kai Ichinose and Shūhei Amamiya's story.