Forever 21's Beauty Store Riley Rose Launched A Website That Sells Your Fave Hard-To-Find Brands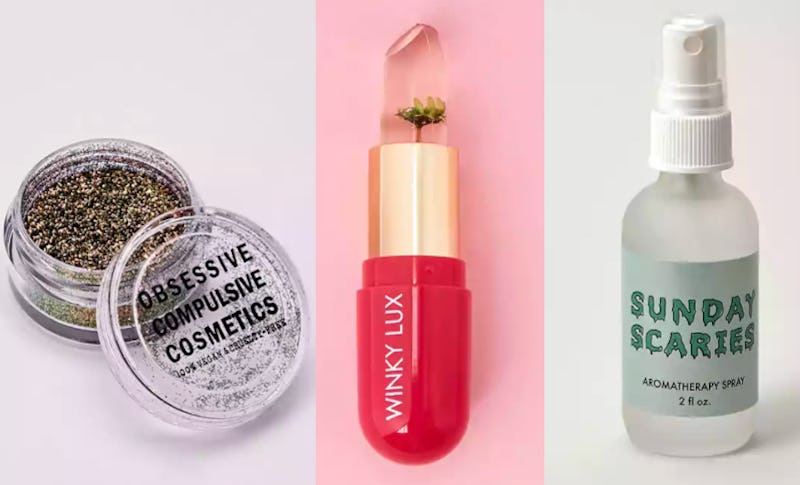 Riley Rose
If you don't reside near a Riley Rose store, don't fret. Forever 21's beauty and lifestyle one-stop stop has finally launched its website. All of the exclusive and hard-to-find brands sold in the boutiques are now available online via the Riley Rose website. You can point, click, shop, and stock up on affordable beauty products and other fun stuff.
The launch is accompanied by online tutorials and in-store events. But here's the best news — you get free shipping on orders over $50.
Forever 21's Esther and Linda Chang came up with the Riley Rose concept. They wanted to created a beauty hub that would attract millennials and customers in search of brands and products that aren't easily accessible at the local CVS or Walgreens.
Riley Rose also traffics heavily in K-beauty, which has become a prominent skin care trend and category over the past several years. The company also sells Instagram-loved beauty brands and cult faves that are highly sought-after, but often not easy to find.
Riley Rose stores are located in L.A. and Chicago, as well as San Antonio. There are outposts in Towson, Maryland, and Bridgewater, New Jersey, which are situated not too far from major cities. More boutiques will open in March 2018.
But now everyone can shop Riley Rose via the e-commerce site.
Some of the brands available via Riley Rose's site include B.ByBanila, Beauty Bakerie, Lemonhead, TonyMoly, Too Cool for School, and Winky Lux, among others.
The repertoire of brands is extensive, while the product offerings are expansive. Products start as low as $1.90 and can go as high and $189. Riley Rose collects a lot under one roof. From palettes to tools to applicators to face oils to suncare, Riley Rose will meet all your needs... and wants!
The Double R also sells candles, wall hangings, and other home goods. It's truly a lifestyle destination.
Here are some of the best finds at Riley Rose.
Lip Scrub
Caked Makeup Suga Suga Scrub, $12, Riley Rose
This millennial pink lip exfoliant looks yummy enough to eat. But it will banish dry flakes and leave your pout super supple. Oh, and it's vegan.
All-Purpose Balm
Dr. Paw Paw Original Balm, $10, Riley Rose
This miracle in a tube will condition lips, cuticles, nails, and skin.
Face Oil
I Woke Up Like This Hydra Luxurious Rose Oil, $39, Riley Rose
This majorly hydrating face oil is bolstered by the rose scent and nods to Beyonce.
Coconut Oil
CocoOil Body Oil, $20, Riley Rose
Of course Riley Rose sells coconut oil products. The bottle may be no frills but what's inside will pamper your skin. Slather it all over your body for maximum moisture.
Dry Shampoo
Lemonhead Los Angeles Space Dust, $22, Riley Rose
There are tons of amazingly scented dry shampoos lining the shelves of drugstores. This dry shampoo, however, includes biodegradable glitter for some additional sparkle and glimmer. Because yes.
Push Up Lotion
Sudsy Sweets Push Up Lotion Pop, $15, Riley Rose
Vanilla buttercream-scented lotion in a push up stick? What a concept! It smells delish and moisturizes from a controlled tube — that makes it a morning must-have.
Solid Perfume
TonyMoly Pocket Bunny Perfume Bars, $13, Riley Rose
This solid perfume features Bergamot, Lemon, Freesia, White Rose, and Sandalwood notes. The formula is moisturizing, too. You gotta love a product that pulls double duty.
Matte Liquid Lipstick
Lottie London Slay All Day Matte Liquid Lipstick in Werk It, $6, Riley Rose
Mattes remain a hot trend. This affordable brand offers transfer-proof liquid lippies in super sexy neutrals.
Black Liner
B.ByBanila Eyecrush Ink Liner, $14, Riley Rose
You can get black liquid eyeliner anywhere. But you can't get B.By Banila black liquid liner anywhere. Why not try out a new brand?
Riley Rose is truly a treasure trove of brands you likely never heard about but totally need in your life. Be prepared to spend hours discovering cult beauty offerings on the site.