Forever 21 Is Selling Necklaces For Less Than $1 & Statement Jackets For $8 On Cyber Monday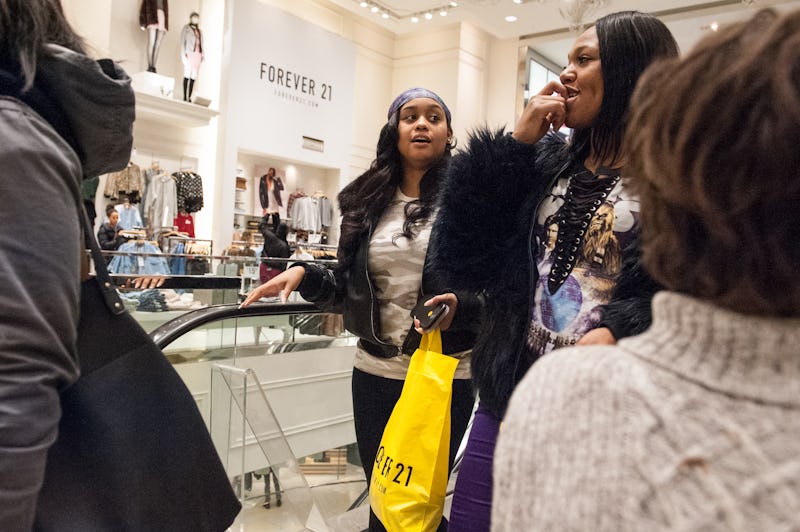 Stephanie Keith/Getty Images News/Getty Images
Black Friday may be long gone, but that doesn't mean the savings are no more. Cyber Monday sales are here to satisfy your craving to spend with some of the best deals shoppers have ever seen. So here's your chance to redeem yourself if your Black Friday wasn't a success.
If you didn't take advantage of Forever 21's post-Thanksgiving sale, you have one more shot at scoring a savings. And if you shopped 'til you dropped at the mass retailer known for affordable basics and trendy styles, feel free to do it all over again. This year's Forever 21 Cyber Monday sale offers a discount on every single item in the retailer's inventory, just like their Turkey Day deal.
Your hard earned dollars will stretch like never before when you head to Forever 21 online to enjoy a site-wide savings. The retailer is offering 21 percent off of all purchases, with absolutely no exclusions. Pick up your jaw because it probably just dropped.
Even the cheapest items are eligible for an extra discount, making F21's virtual shop the ultimate destination to snag outwear, accessories, and anything your heart desires for practically no money. With such unrivaled prices, Forever 21 is definitely coming for your wallet today.
Abstract Crepe Bomber Jacket, $10, Forever 21
Highlights from F21's cyber deal includes $10 jackets. Blazers, bombers, and more are all getting their prices cut dramatically, making stocking up on outwear worth your while.
Velvet V-Neck Mini Dress, $10, Forever 21
Let your Alexander Hamiltons work over time, because $10 dress are a thing now, too. Grab a classic LBD, an on-trend velvet dress, or a cozy sweater style for less. With such low prices, you may as well grab all three.
Plus Size Ribbed Off-the-Shoulder Sweater, $8. Forever 21
Forever's extra discount is making sweaters come in just under $10. You really can't beat that kind of savings on cold weather essentials. So go crazy loading up on knitted styles, whacky holiday designs, and more.
Faux Suede Choker, $1, Forever 21
Get the ultimate bang for your buck on stylish accessories. A cyber sale on jewelry and other F21 trinkets are slashing prices all the way down to a single George Washington. They'll make for the perfect stocking stuffers if not suitable for your own wardrobe.
If $1 chokers and $10 bombers sound too good to be true, things are about to get even more unreal. You'd think Forever 21 would leave their on sale clothing be, but the retailer's 21 percent off everything deal means you can apply the discount to those items, too. There's really no excuse not to fill your cart TF up because some accessories will even come in under $1.
If all of this cyber goodness leaves you so overwhelmed that you don't know where to start, leave it to Forever's Cyber Monday Fashion Picks page to guide you through the sale. While jackets, accessories, and sweaters are some of the major highlights of the day, that doesn't mean that's all you have to shop. A site-wide discount means you can snatch up that distressed denim you've been eyeing or the booties that just caught your attention without feeling guilty about the splurge.
Making it easier to throw your monies away, the retailer is even offering free shipping on all orders. So, enhancing your wardrobe or grabbing a few goodies to gift to loved ones won't make you break the bank.
It goes without saying that Forever 21 has really outdone itself. There has to be one hell of sale next year to even come close to the incredible savings happening right now.
Did you know that you can find Forever 21 coupon codes at the Bustle Coupons page? Bustle Coupons is a service provided by Groupon in collaboration with BDG Media, Inc. Each time you use a coupon or promo code from Bustle Coupons to make a purchase, Groupon and BDG Media, Inc. earn a small commission. This article was created independently from Bustle's sales department.