Forever 21 Launched A Size-Inclusive Denim Line Designed To Celebrate Women's Bodies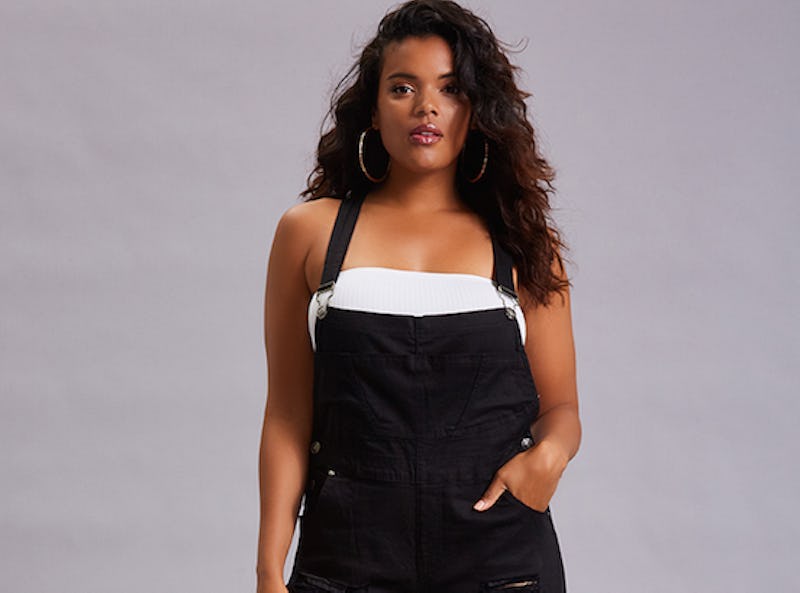 Courtesy Forever 21
Denim shopping is like trying to find the perfect glass slipper to fit into. Wouldn't it be awesome if the pants formed to fit you instead? Well, the fashion world is getting closer, and a favorite fast fashion brand is getting in on the size inclusion. Forever 21's new 12x12 Denim Line just debuted, and the range was designed to celebrate women's bodies. Say goodbye to struggling to find the perfect pair, because these jeans were made to fit you.
The 12x12 collection features high-rise, mid-rise and low-rise jeans in a variety of cuts and washes. Each one is designed to work with your body rather than make you form to the jeans.
The collection of trendy overalls and distressed denim is super affordable, too. You can snag all the styles on the Forever 21 website right now for $24.90 to $38. As of Aug. 22, some of the styles are almost sold out, so you'll want to stock up fast.
"We are pleased to introduce 12x12 Denim as a part of our continued focus on celebrating fashion for all sizes." says Linda Chang, Forever 21 vice president of merchandising, in a press release. "A key part of our mission is to empower our customers, to be confident with the bodies they have and for their fashion to be an extension of this."
While there's not a pair of pants for everyone, — the line ranges from extra-small to 3X — this is a big step for the brand.
Up until now, the only way to shop plus size fashion was through a separate tag on the website and a separate section in the store. Often times, that separate section held completely different styles than those offered to people size extra-small to large.
Now, the brand is offering the same exact styles in straight and plus sizes.
Plus Size 12x12 Distressed Overalls, $35, forever21.com
The brand brought together models Sarina Nowak, Sierra Skye, Yasmin Geurts and Yvonne Simone for the campaign.
According to the brand, inclusion was the heart of the campaign. From the sizes and styles to the models chosen to participate in the campaign, this is a line almost everyone can love.
The brand has yet to announce if this will be a permanent collection on their website or if it's limited edition. But hopefully the 12x12 Collection is sticking around for a while, because inclusion is never out of style.