'Bach' Alum Kaitlyn Has A Strong Message For Anyone Questioning Her Relationship With Shawn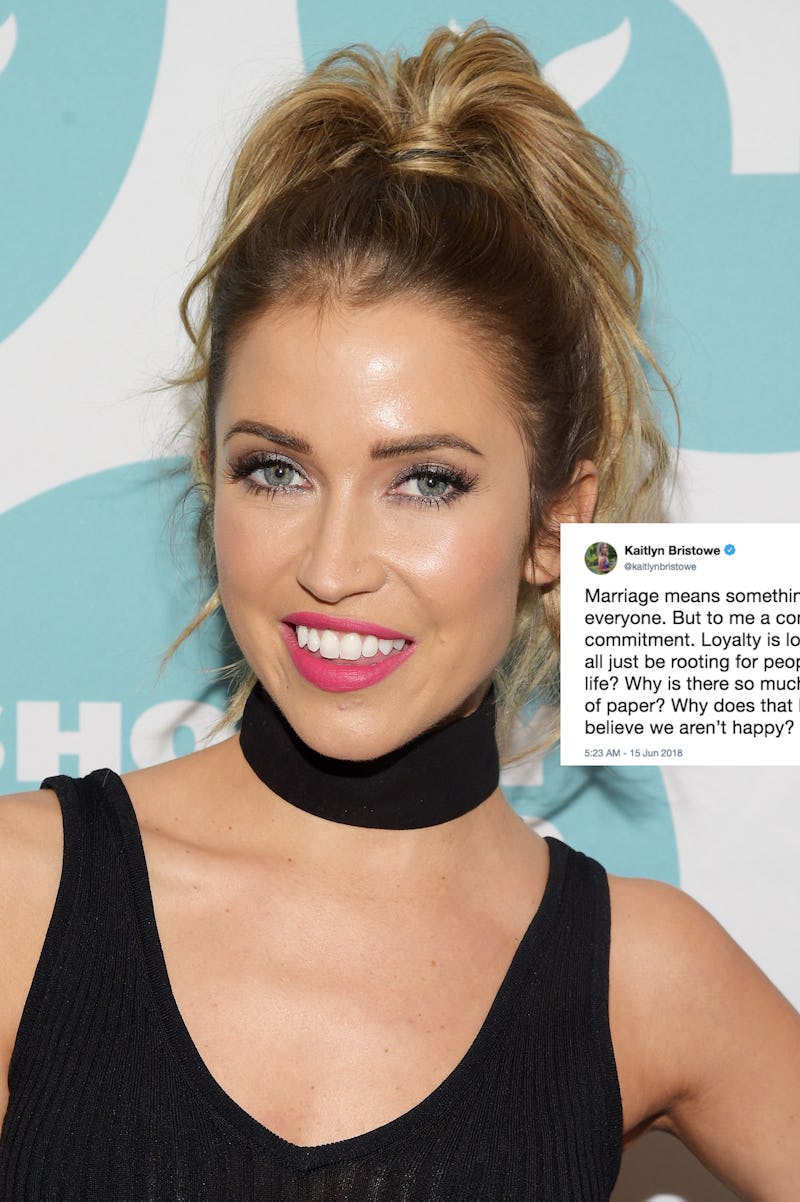 Jason Kempin/Getty Images Entertainment/Getty Images; Kaitlyn Bristowe/Twitter
One Bachelor Nation alum has a little something to say to those worried about her relationship. Former Bachelorette Kaitlyn Bristowe went off on Twitter when some questioned whether she and fiancé Shawn Booth were on the rocks. And in the process, she made the best point about commitment.
In the early hours of June 15, Kaitlyn posed an important question to her followers, "What's the FREAKIN diff, if you're married, or engaged, if you're happy?" She then got into the issue she's been facing, an issue that concerns her relationship with Shawn. The former reality star said that it's exhausting to have to deal with naysayers wondering if she and her beau were going to break up whenever they don't see the couple together (Kaitlyn was recently away filming two live podcasts while Shawn stayed home to care for their dog).
According to her tweets, those breakup worries turn into "'oh they have been together for 3 years and haven't set a date' when everyone's love story is different." Throughout her spiel, Kaitlyn's main point of concern had to do with those questioning the nature of her and Shawn's relationship simply because they aren't married just yet.
"Marriage means something different to everyone. But to me a commitment is a commitment," she wrote, "Loyalty is loyalty. Shouldn't we all just be rooting for people to be happy in life?" She's exactly right. If both of them are happy in their relationship, who is anyone else to judge them? Marriage just might not be in the cards for them right now, but that doesn't mean that they're not devoted to one another.
Kaitlyn ended her tweet spree with a message to people who think there's something wrong with her and Shawn's relationship, whether that's because they're spending time apart or not posting a lot on social media: "Maybe the problem is YOUR beliefs and what YOU find important."
As she described on Twitter, the Bachelorette alums have been going strong for three years now. The two fell in love during Season 11 of the reality show, with Shawn getting down on one knee at the end of it all. Even though they got engaged on the finale of The Bachelorette, they're not in a rush to head down the aisle. Based on Kaitlyn's recent Twitter comments, and the many statements they've each made about their relationship in the past, there's no need for a wedding to happen right away. They're committed to each other, whether they're married or not.
In an interview with Us Weekly, Kaitlyn revealed that there's something else on the couple's mind at the moment, and no, it's not a wedding. "We always tell everybody that we talk more about kids and a family more than a wedding," she told the publication, "We don't know how many, but we know we want them and we know we want them in the next few years." So, there's a good chance that the former reality TV contestants could take a major (baby)step in their relationship before they even exchange vows.
Still, that doesn't mean that they're not thinking about their wedding. Kaitlyn also told Us Weekly that there's one very tropical destination they're considering. "We talk about doing it in Hawaii." As for any concrete details about their nuptials, it's still pretty much up in the air. She also said that they "go back and forth with if we want it big or small, we haven't made the decision on that."
No matter what they decide on for their wedding, one thing is for certain: Kaitlyn and Shawn are happy with the state of their relationship right now, which is really the only thing that matters.