Former Bernie Sanders Staffers Want To Address Sexual Harassment On The 2016 Campaign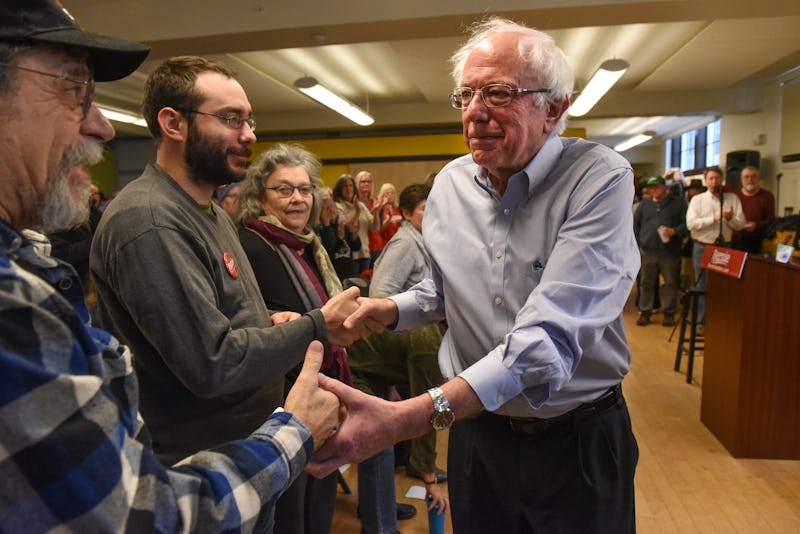 Stephanie Keith/Getty Images News/Getty Images
As Sen. Bernie Sanders mulls over a potential 2020 presidential bid, a number of people who worked on his previous presidential campaign are asking for a meeting. But Sanders 2016 campaign alumni aren't looking to discuss potential jobs. According to an exclusive Politico report, dozens of Sanders alumni want to discuss "issues of sexual violence and harassment" that they alleged happened on his 2016 campaign.
"In recent weeks there has been an ongoing conversation on social media, in texts, and in person, about the untenable and dangerous dynamic that developed during our campaign," Politico, which reportedly obtained a copy of the letter, quoted more than 24 staffers from Sanders' 2016 campaign as having written in a letter sent Sunday to Sanders' office. "We the undersigned request a meeting with Senator Sanders and his leadership team to discuss the issues of sexual violence and harassment on the 2016 campaign, for the purpose of planning to mitigate the issue in the upcoming presidential cycle."
The 2016 campaign alumni do not detail specific instances of alleged sexual violence or harassment in their letter, nor do they elaborate on the general types of sexual harassment and violence allegedly encountered. What's more, they told Politico that they never intended for their letter to Sanders' office to be made public.
In a statement sent to Politico, Friends of Bernie Sanders, which operates as Sanders' principal campaign committee, thanked those behind the letter "for their willingness to engage in this incredibly important discussion" and said they "always welcome hearing the experiences and views" of former staff.
"Harassment of any kind is intolerable," Friends of Bernie Sanders said in their statement, which was also sent to Bustle when we requested additional comment. "Hearing the experiences and thoughts of individuals who worked on Bernie's 2016 campaign is a vital part of our commitment to work within our progressive community to improve the lives of all people."
They claimed that during the 2016 campaign "there were a number of HR actions taken," ranging "from employee counseling to immediate termination from the campaign." The committee, however, refused to discuss those HR actions individually. What's more, they did not respond to Bustle's inquiry regarding exactly how many HR actions were taken by the 2016 campaign on matters related to allegations or complaints of sexual violence and harassment.
Friends of Bernie Sanders also told Politico that, since the 2016 campaign, they've implemented what they called "more robust policies and processes regarding discrimination and harassment." The campaign committee said it would continue to examine the policies and processes it has in place now and make "any necessary changes."
While the former 2016 Sanders campaign staffers responsible for the letter don't elaborate on their "sexual violence and harassment" allegations, Sanders' campaign was plagued by so-called "Bernie Bros." The term became a popular way to refer to the white male supporters who targeted anyone they saw to be criticizing or challenging their chosen candidate with attacks often found to be sexist in nature.
To his credit, Sanders once called Bernie Bros' behavior "disgusting," telling CNN's Jake Tapper that "we don't want that crap" and "that is not what this campaign is about."
The Friends of Bernie Sanders did not respond to Bustle's inquiry as to whether Sanders would actually meet with the former staffers behind the letter as requested, but said, "We share in the urgency for all of us to do better."