Mallory Hagan Took On Miss America's Leadership — Now, She's Taking On The Country's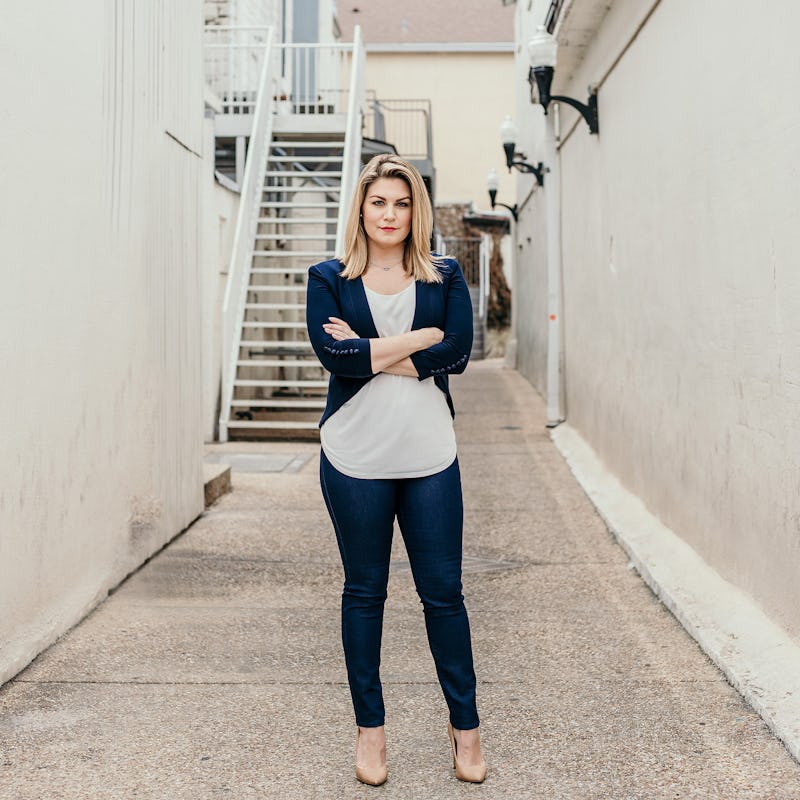 Mallory Hagan for Congress
One year ago this week, the #MeToo movement hadn't become a national force, and former Miss America Mallory Hagan had no idea she'd be running for Congress in her home state of Alabama. Her run started — as all great political stories do — with emails. In December 2017, two months after the sexual misconduct allegations against Harvey Weinstein came out, HuffPost published emails sent between Miss America Organization CEO Sam Haskell and others at the organization, in which they disparaged Hagan's body, relationships, and character.
Like many women around the country, Hagan saw that moment as "the one chance I had to make it stop" — when people would listen and believe her, she tells Bustle.
"I was just very adamant that nobody who runs a women's empowerment organization should be discussing the women within that organization the way that Sam Haskell was," she says. "I've never had a problem standing up for myself, I've never had a problem standing up for other people, and I just knew that was my one shot."
Within days, Haskell and two other Miss America executives resigned. Gretchen Carlson, Miss America 1989 — whose allegations against former Fox chairman Roger Ailes predated #MeToo — took over as the organization's chairwoman.
And then Hagan's life really started to change.
Hagan competed for Miss America as Miss New York, having moved there for college, and eventually ended up in Georgia to work as a local news anchor. But she was also the only child of a family that's spent seven generations in Alabama. With everything going on, she decided to move back to her home state, securing a position with her local NBC affiliate station.
I know that my goal at hand is much bigger than any individual criticism I could face.
Back home, she was asked by people from her county to run for Congress as a Democrat. "I think that they saw me as someone who wasn't afraid to really fight, and that's what we need in a representative," Hagan says. Seeing that there were only four women under 40 in Congress, Hagan, 29, decided to give it a shot. With a laugh, Hagan explains, "My thought process at the time was if I could put everything that Sam Haskell did to me and stand up for myself in the process, then being a representative can't be too much more difficult."
It's been nonstop work since then meeting with constituents in listening sessions and roundtables, creating a platform, hosting events, and generally campaigning in her attempt to represent Alabama's 3rd Congressional District, which has been represented by Republican Mike Rogers, 60, for 15 years.
Campaigning, Hagan says, made her "fall in love with Alabama all over again" as she saw people energized to get involved in politics and make progress — especially after the election of Sen. Doug Jones over Roy Moore, which happened a week before the Haskell emails came out. Still, she notices the state's shortcomings — including in the "culture," which partially prompted her to move out as a teenager — particularly when it comes to race.
"Alabama unfortunately is still really segregated. There are still very racially tense places in our state," she tells Bustle. "Unfortunately, we have failed to embrace our history and in many ways failed to learn from our history." This is one of the spaces where she hopes politicians can lead by example "in the way that they approach addressing the community and working with one another."
As for other issues Hagan is concerned about and hopes to address in office? Well, "Alabama has been controlled by Republicans both statewide and from a federal perspective for the last 20 years, and ... we are in the bottom five for education, health care, government transparency, quality of life, infrastructure — I mean, the list goes on." (U.S. News ranks Alabama in the bottom 20 for infrastructure.) First and foremost though, should she win the seat, she intends to listen and make herself available to constituents, countering the complaints she's heard about Rogers.
While she has policy ideas, Hagan is also thinking about what she could do as a role model; it's not lost on her that the president used to own Miss America's arguable competitor and has also said disparaging things about women.
"I think we have leadership across the country — not just our president — who we would never want our kids to emulate, and yet, they are still in positions of power," she says. "In many ways, my running is a response to just poor leadership skills across the board. I think that we need to have people in office that we want our kids to be like, and if we don't want our kids to be like President Trump, then we need to hold him accountable to that."
And if the president — or anybody else — wants to take aim at Hagan for being a woman who put herself forward in an effort to help her state, she's not afraid. After all, she's already faced more than enough public scrutiny as Miss America.
"I know that my goal at hand is much bigger than any individual criticism I could face," Hagan says. "I'm worried about making sure that the people in my district have health care, that they don't have to drive an hour to the hospital, that their baby doesn't die because we didn't expand Medicaid and our infant mortality rate is awful. So I can handle a little public criticism along the way if in the end I'm a representative who's making sure that my focus is on other people."