Two Former Redskins Cheerleaders Want You To Know Their Names — Here's Why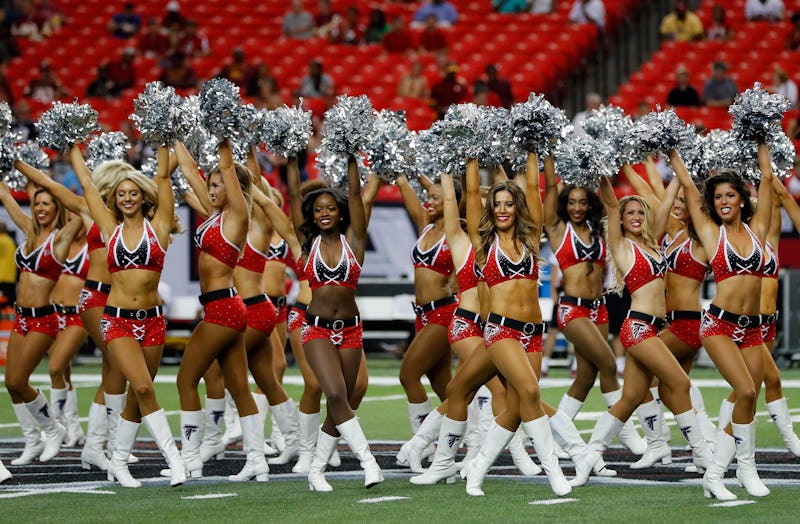 Kevin C. Cox/Getty Images Sport/Getty Images
Cheerleaders are a familiar and embedded part of American sports, and yet there's very little discussion of what their jobs are actually like. Recent reports from cheerleaders and former cheerleaders have come out showing how they work under strict, seemingly outdated rules and get paid very little for the difficult job that they do. Now, two former Redskins cheerleaders are now publicly speaking out against working conditions that they claim subjected them to harassment, intimidation, and a generally degrading environment.
"Our main goal was for the Redskins to make a safe working environment for the cheerleaders," said Rebecca Cummings, a former Washington Redskins cheerleader who spoke with the New York Times. She and fellow former cheerleader Allison Cassidy were some of a group of women who spoke to the Times back in May about a particular situation that they claimed was particularly difficult. When they initially spoke to the Times, they remained anonymous. The Redskins, the women claimed, forced the cheerleaders to pose topless and then act as escorts to a group of men at a resort in Mexico. The New York Post then reported that the Redskins carried out an internal inquiry, finding that the cheerleaders' reports were "greatly exaggerated" but still promising to improve cheerleaders' working conditions.
Bustle has reached out to the Redskins for comment.
"But even after we laid out all the shady situations we were forced to be in, the team failed to really fix things," Cummings now tells the Times. The changes that the Redskins reportedly offered — like, for example, uniforms that offered more coverage — were not enough to get rid of the problematic culture that exists at the time, according to Cummings and Cassidy.
They are not the first cheerleaders to speak out about what they call toxic working conditions, but it's still notable that they've put their names to their stories. Bustle, for example, also spoke with Bailey Davis, a former New Orleans Saints cheerleader who was fired from the squad for posting what the team deemed as an inappropriate photo on Instagram.
"We don't even have the opportunity to make more than minimum wage," Davis told Bustle. "Then we're given more rules and more guidelines, and it completely consumes our lives. We say it's a part-time job with full-time responsibilities, and it is."
The problem of working conditions for cheerleaders has now become public enough that three NFL officials met with a lawyer in August, USA Today reported, with the aim of fixing that problem.
"The league office has undertaken a renewed effort this offseason to encourage clubs with cheerleader programs to review those programs to ensure that they are both lawful and appropriate," an NFL spokesman told USA Today. "We will continue to work with those clubs to share information and ideas."
So far, though, speaking out publicly does come with some legal risk for Cummings and Cassidy. Both signed nondisclosure agreements when they joined the squad, so the team could have legal grounds to act against, them, the Times reported — plus, they said, they've received shame from fellow cheerleaders and fans for having spoken out in a way that drew so much negative attention to the profession. Both women, however, told the Times that it was worth it.
"I'm not OK with how I was treated, and I hope I can light a fire under teams to make real changes and inspire other women to speak up, too," Cummings said. "This is more than just a story about Redskins cheerleading."