The 'Factor' Logo No Longer Includes Bill O'Reilly's Name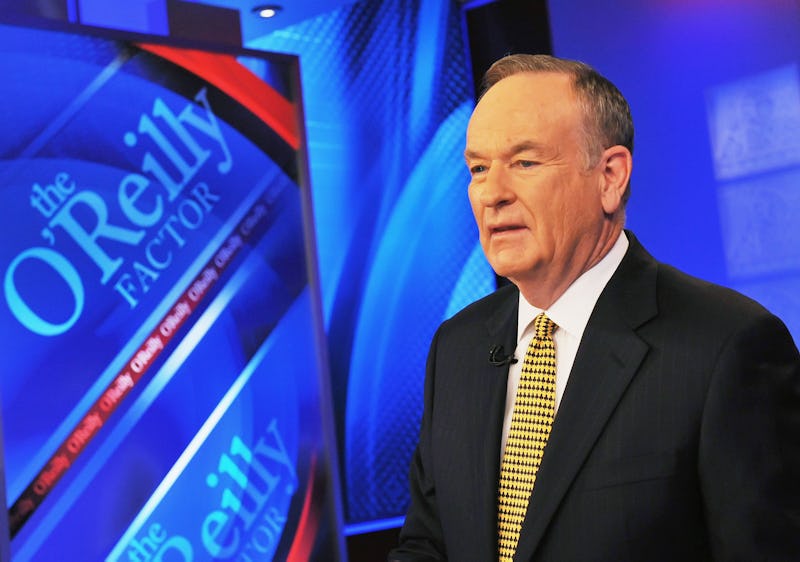 Slaven Vlasic/Getty Images Entertainment/Getty Images
After a number of sexual harassment allegations dating back to 2004 surfaced against conservative talk show host Bill O'Reilly, Fox News confirmed on Wednesday morning that he would not be returning to the network. And they apparently wasted no time severing ties. The Wednesday evening broadcast of The O'Reilly Factor noticeably excluded O'Reilly's name from the logo of the show that he hosted for over two decades. Following his ouster, O'Reilly maintained that the allegations against him were unfounded.
The episode, which aired just hours after O'Reilly's dismissal earlier in the day, displayed a title card that simply read The Factor. Fox News commentator Dana Perino began the newly re-named show by addressing O'Reilly's absence in a statement to viewers.
Before we get to the other big stories of the day, we want to address a situation many of you may already be aware of. Bill O'Reilly, who hosted this program for 20 years, is leaving the Fox News Channel. We know that you, his very loyal viewers, will have a lot of feelings about this and we will talk more about it later on in the program.
O'Reilly's name has not only been scrubbed from the show's logo, but also from the Fox News website. O'Reilly is no longer listed as a member of the Fox team online, and the former website for The O'Reilly Factor now redirects to a general Fox News page.
21st Century Fox made the decision to let go of O'Reilly after mounting pressure from advertisers, many of whom pulled their ads from The O'Reilly Factor after The New York Times reported on April 1 that O'Reilly and the network paid up to $13 million in settlements over the past 14 years to women who accused the talk show host of sexually harassing them. The network eventually chose to oust O'Reilly, despite the fact that he leads the network's ratings, after "a thorough and careful review of the allegations."
Again, O'Reilly denies the claims against him. In a statement released on Wednesday after his dismissal, he doubled down on his claims that the allegations were unfounded.
It is tremendously disheartening that we part ways due to completely unfounded claims. But that is the reality that many of us in the public eye must live with today. I will always look back on my time at Fox with great pride in the unprecedented success we achieved and with my deepest gratitude to all my dedicated viewers. I wish only the best for Fox News Channel.
Fellow Fox News commentator Tucker Carlson will replace O'Reilly in the 8 p.m. EST prime-time slot beginning Monday.