Frances McDormand's 'Good Omens' Role Sounds Absolutely Divine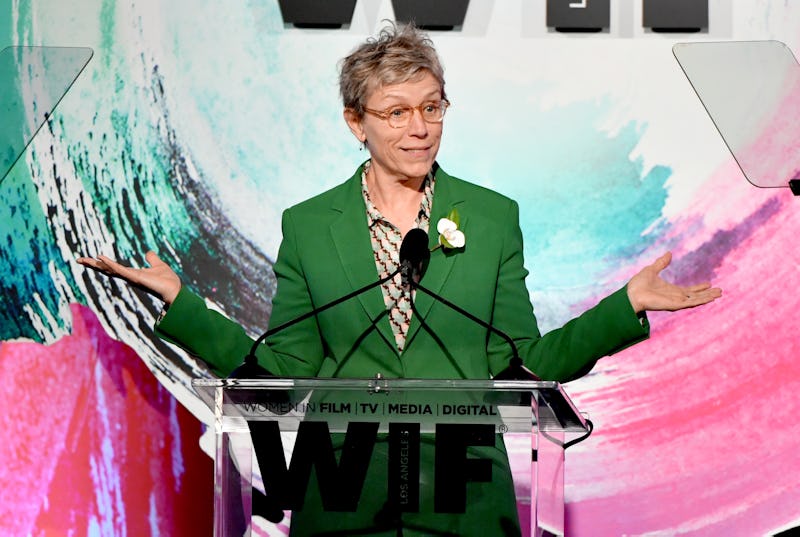 Emma McIntyre/Getty Images Entertainment/Getty Images
When she speaks, we listen. This is why it's perfectly fitting that Oscar winner Frances McDormand will play the voice of God in Good Omens, an upcoming Amazon series. The six-part, live-action adaptation of Neil Gaiman and the late Terry Pratchett's 1990 comedic fantasy novel will star McDormand as a series regular and narrator. When the teaser premiered at Comic-Con last Friday, McDormand emerged and further proved why the divine role was practically made for her.
After Gaiman previewed some footage at the convention, McDormand's role was revealed as she told the crowd, "You've earned your place in Heaven, I'll have my people take to your people," according to Deadline. Gaiman, who will serve as the series' showrunner, told The Hollywood Reporter that it was imperative for a female to be cast in this role. "We knew God had to be a woman," he said. "We were talking about great American actresses because we knew we wanted it to be an American voice."
Gaiman told the Comic-Con crowd how McDormand's casting came to be, and it really did seem like divine intervention. According to Deadline, the actor's role came after she sent Gaiman a totally random email asking if she could stay at his Scotland pad. From there, it was fate.
Per THR, Amazon describes the series as such:
"The end of the world is coming, which means a fussy Angel and a loose-living Demon who've become overly fond of life on Earth are forced to form an unlikely alliance to stop Armageddon. But they have lost the Antichrist, an 11-year-old boy unaware he's meant to bring upon the end of days, forcing them to embark on an adventure to find him and save the world before it's too late."
The novel describes the character as: "The Voice of God. But not the voice of God. An entity in its own right. Rather like a Presidential spokesman." McDormand joins Michael Sheen as the angel Aziraphale, David Tennant as the demon Crowley, and Jon Hamm as the archangel Gabriel. The eclectic Good Omens poster includes the saying, "The end is nigh" and promises to be a totally unique show.
It makes complete sense for McDormand to take on a powerful role like this, especially coming off of her epic Oscar win and a speech that was instantly iconic. After winning the Academy Award for Best Actress for her role in Three Billboards Outside Ebbing, Missouri, the actor made a show-stopping, feminist statement regarding Time's Up and the entertainment industry.
"We all have stories to tell and projects we need financed," she told the crowd. "Don't talk to us about it at the parties tonight. Invite us into your office in a couple days, or you can come to ours, whatever suits you best, and we'll tell you all about them."
She also powerfully ended her speech with the words "inclusion rider," bringing the overlooked element of movie-making to light. On Twitter, Whitney Cummings explained inclusion riders as "something actors put into their contracts to ensure gender and racial equality in hiring on movie sets." She continued, "We should support this for a billion reasons, but if you can't find a reason to, here's one: it will make movies better." Needless to say, McDormand doesn't take her platform lightly.
Additional Good Omens cast members include: Anna Maxwell Martin as the Dark Lord Beelzebub, Jack Whitehall as the witchfinder Newton Pulsifer, Miranda Richardson as the medium Madame Tracy, and Nick Offerman as the U.S. Ambassador. Hopefully, they're all ready to be ruled by the one and only voice of God, Frances McDormand, as the rest of us are.