You Have To See Frank Ocean With Pink Hair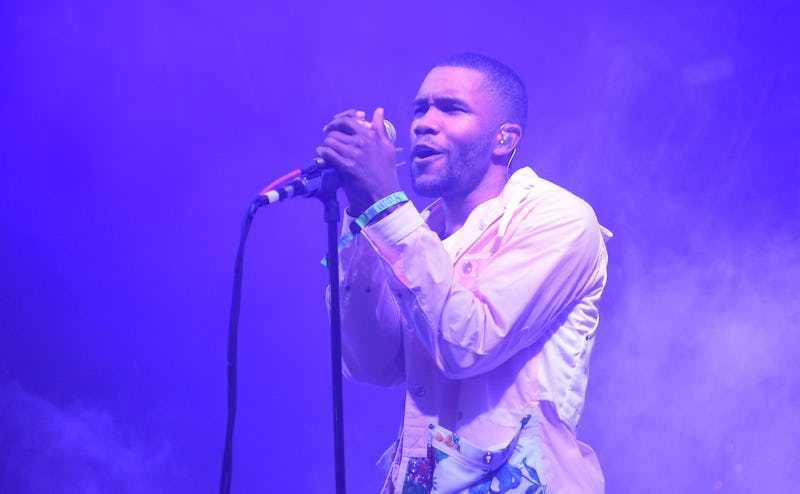 Jason Merritt/Getty Images Entertainment/Getty Images
From TV stars, to Insta-famous runway models, to mega pop singers, there's a certain style that's been getting a lot of play lately: pastel hair. And guess who's the latest celebrity to take on the exciting trend? Well, Frank Ocean officially has pink hair now — and the Internet's kind of going crazy.
Yep, following in the footsteps of people like Hilary Duff, Kylie Jenner, and Katy Perry who took on the pale pink hair trend before him, Ocean recently debuted his own take on the look — and it's pretty darn killer (not to mention here just in time for summer). He was first spotted sporting his new 'do whilst out and about in New York City with Kendall Jenner and fashion stylist Luka Sabbat — the three all looking enviably cool together, of course. Ocean's hair color made for quite the statement, the pale, near-neon shade of pink creating a striking contrast with his dark facial hair.
At any rate, Ocean's newly cotton candy pink hair comes as a pretty major departure from his old hairstyle, which had a more classic vibe. Still, it's not the first time he's experimented with colors — in fact, he rocked a pretty darn awesome shade of green on the cover of his last album.
Most of the time, though? He tends to keep things simple and classic on the hair front.
So, ready to take a look at the new style in action? See for yourself — of course, green juice makes for the perfect accessory.
And, perhaps best of all, are you ready to see what the notoriously opinionated Twitter masses think of Ocean's pink hair?
His fans really like it...
...thousands and counting, to be exact.
A few threw shade at the hype around the look.
Many found it inspirational.
While others were just plain jealous.
What do you think of his new look? All in all, the new style seems like the perfect way to celebrate the fact that "Slide," a Calvin Harris-produced song he was featured on, along with Migos has just gone Platinum.