Yep, Freddie Mercury Was The Ultimate Cat Dad IRL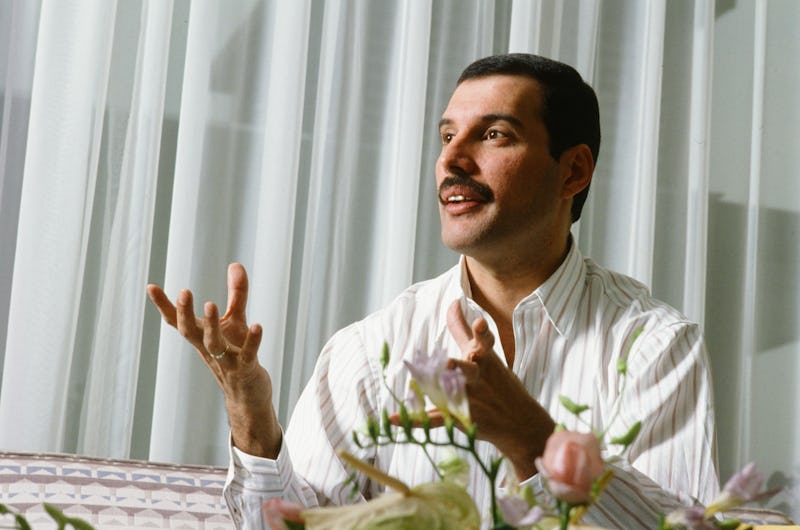 Koh Hasebe/Shinko Music/Hulton Archive/Getty Images
If you're a big Freddie Mercury fan, you probably already know how much the Queen singer adored his four-legged pets. And if you're just beginning to learn about the legend's personal life, this is just another reason to love him. The upcoming biopic Bohemian Rhapsody captures Mercury's doting cat dad moments, showing how at one point he even ended up living in a mansion filled with as many as 10 cats at a time. The film does give fans a good idea of how much cats meant to him, but it turns out that Freddie Mercury's cats played an even larger role in his real life.
In his memoir Mister Mercury, Mercury's live-in personal assistant Peter Freestone wrote about how much the singer cared about his cats. "He'd get to a hotel, we'd dial through and he really would talk to his cats," writes Freestone. "Mary [Austin] would hold Tom and Jerry in turn up to the receiver to listen to Freddie talking. This continued throughout the years with succeeding feline occupants of his houses."
In fact, Mercury dedicated his liner notes in his 1985 solo album Mr. Bad Guy specifically to Jerry, also mentioning the other cats. It reads, "This album is dedicated to my cat Jerry—also Tom, Oscar, and Tiffany and all the cat lovers across the universe—screw everybody else!"
Mary Austin, who was Mercury's girlfriend at the time, had bought him the pair of cats in the early '70s while they were together. According to The Telegraph, the pair remained close long after their romantic relationship dissolved, with Austin often housesitting for Mercury and taking care of the cats. Years after giving him Tom and Jerry, she gifted him another cat: Tiffany, a longhaired bluepoint.
But, as the ultimate cat dad, Mercury couldn't stop at just three cats. After Tiffany came Oscar, who initially belonged to one of his partners, but the singer decided to keep him. The Telegraph also noted that Mercury loved rescuing cats from the Blue Cross shelter. This included Miko, Romeo, Lily, and Goliath.
Mercury loved them all, but his love for them didn't match what he felt for his absolute favorite: Delilah. He adopted her in 1987, and the tabby swiftly stole his heart. The Queen singer loved her so much that in Innuendo, the band's last album before Mercury's death, he dedicated a song and named it after her. At first, it seems like a love song, as Mercury sings about her being irresistible and making him smile. But it quickly shifts to specifying mischievous cat things she does, like biting and clawing when she's moody, and peeing all over his Chippendale suit.
He also proudly showed his appreciation towards his cats by wearing a waistcoat covered in cats for the 1991 video for "These Are the Days of Our Lives," which ended up being Queen's last music video. The Telegraph reported that his friend Donald McKenzie created it for Mercury, painting his cats on it.
Mercury was fiercely devoted to his cats till his death. From his lyrics and tales by friends, it's clear that his cats brought him joy even during the toughest times, showing that dogs don't have the monopoly on being man's best friend.