11 Finds From Walmart.com That Will Totally Refresh Your Post-Workout Routine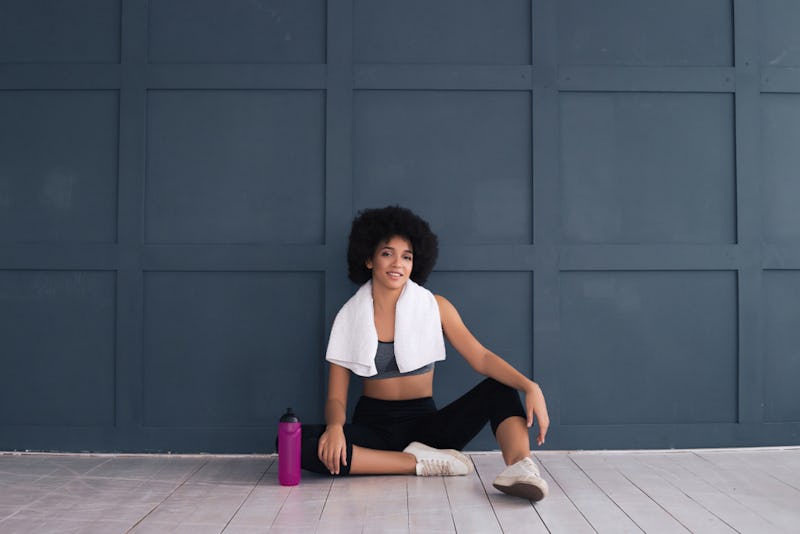 Shutterstock/ StaceStock
Working out can be super energizing and the post-workout feels are amazing. Not only did you find time in your super-packed schedule to get a workout in, but you actually showed up and rocked it. And while that feeling of accomplishment is awesome, the slightly sticky, smelly aftermath is, well, not so amazing. That's why it's good to have a few ways to freshen up post-workout ready to go. You don't want to run into a friend on the street or meet up with your boyfriend for coffee when you still smell like the weight room and feel like your clothes are stuck to you. The struggle is real.
If you want to clean up after a workout without taking a shower, there are a ton of quick and easy ways to get fresh fast — whether it's applying a bit of lightweight makeup or finding a hair care product that takes your hair from slightly sweaty to sleek and shiny. From refreshing facial sprays to texturizing dry shampoos, blotting papers, and more, we've found 11 of the best products on Walmart.com that will help you feel clean — even if you're kind of not.
This 8-in-1 Beauty Balm Will Make You Look Made-Up In Seconds
This Beachy Dry Shampoo Will Absorb Oil and Texturize Hair
These Feminine Cleansing Wipes Will Make Sure Your Whole Body is Feeling Fresh
This Loose Finishing Powder Will Make You Look Prepped With One Sweep
Bustle may receive a portion of sales from products purchased from this article, which was created independently from Bustle's editorial and sales departments. This article reflects price at publication and may change.