'Frozen 2' Won't Take Place In Arendelle & Fans Are Just Going To Have To "Let It Go"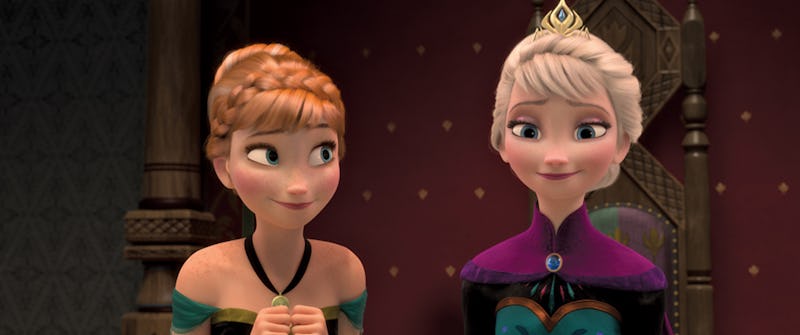 Walt Disney Studios Motion Pictures
Frozen was, at its heart, about the strong bond between two sisters, Anna and Elsa. And while the two princesses were responsible for most of the film's charm, the setting of the fictional kingdom Arendelle also played a huge part in making the movie unforgettable. So it might surprise some to find out that the highly anticipated sequel, Frozen 2 won't take place in Arendelle. And the Arendelle setting isn't the only things fans will have to let go for the sequel.
Speaking to Variety at the Ralph Breaks The Internet premiere in L.A., held Nov. 5, Jennifer Lee, the co-director of Frozen and Frozen 2, had some fun info to share about the upcoming sequel. "They're [Anna and Elsa] going to go far out of Arendelle," Lee told Variety. She also said the next movie is going to be "bigger, more epic" than Frozen. The first was definitely one to remember, so anything bigger might be hard to imagine. And just how far out of Arendelle will they go?
When the audience last saw Elsa and Anna, all was well in Arendelle as the newly crowned Queen Elsa had learned how to harness her powers for good. So it will be interesting to see what could happen to the sisters to lead them away from their home in the sequel. This would be a big step for Elsa, an ice queen who isolated herself in her room and then her ice castle in the North Mountain. How will her powers be received out of Arendelle?
On top of teasing where the Frozen duo will be in the sequel, Lee also talked about the songs written for the sequel, specifically one that might top "Let It Go." Husband and wife team Robert Lopez and Kristen Anderson-Lopez will return as songwriters for Frozen 2, and Lee teased that they just turned in something that might become a new Disney classic. "We have a new song that I think is an evolution," Lee teased. "It's its own song…Bobby and Kristen just delivered it three weeks ago. We've been working with them for two years and this song just came in and I love it." She also noted that it's one of four songs currently set for the movie, with three more left to write.
Lopez and Anderson-Lopez also wrote the songs for another Disney favorite, Coco, as well as new songs for the popular Broadway version of Frozen, like "Monster" and "What Do You Know About Love?" So, with the duo returning to work on the sequel, it's sure that the new songs for Anna, Elsa, Kristoff, and Olaf are going to be showstoppers.
Kristen Bell, who plays the vibrant younger sister Anna, also teased that she knew the new Frozen 2 songs during an appearance on The Ellen DeGeneres Show. "I have recorded the movie," she told Ellen DeGeneres in April. "There will be edits before it's finished, but I know the songs, I know the story, it's very good — I can't say much more than that or I'll get in trouble!" Still, if Lee was getting new songs just three weeks ago, it's likely that Bell has another recording session or two in her future.
No doubt once Bell hears the new finished tracks, she'll be as emotional as the fans, because it sure sounds like Frozen 2 is aiming to be even better than the original.