The Full Text Of The Senate's AHCA Draft Has Been Released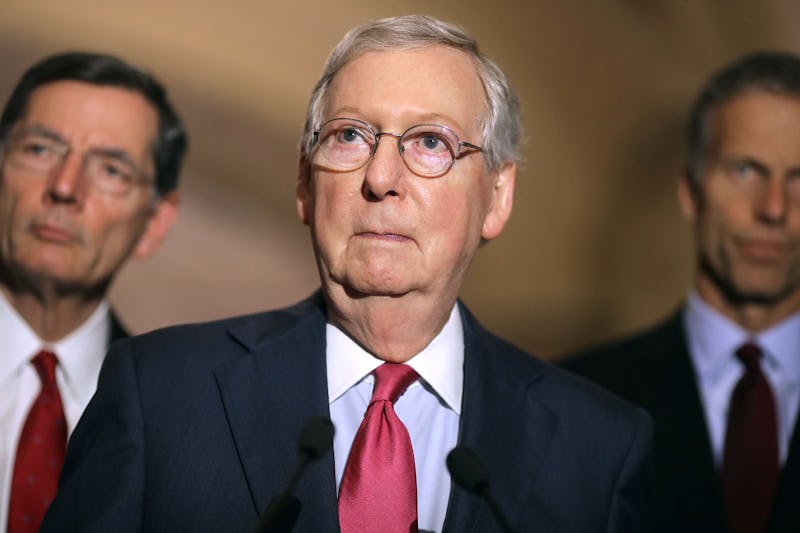 Chip Somodevilla/Getty Images News/Getty Images
Senate Republicans released the full text of the American Health Care Act draft on Thursday morning, one week away from a potential vote.
The new bill take on a new name, the "Better Care Reconciliation Act of 2017," and the full draft is 142 pages. Major points in the bill include deeply cutting Medicaid expansion and eliminating the Affordable Care Act's individual mandate that Americans have health insurance or pay a fine. This would likely lead to fewer healthy Americans signing up for health insurance, thereby potentially raising the cost for the sick. The bill also would allow states to opt out of previously-mandatory insurance benefits, such as maternity care and mental health treatment.
Like the House's version, the Senate bill sends cuts to the expansion of Medicaid, but differs in that the cuts wouldn't go into effect until after 2020. However, its long-term cuts are greater because it limits how much states can receive.
As previously reported, a likely feature of the Senate health care bill is a tax cut offered mostly to the rich by eliminating pretty much all of the taxes introduced by the ACA to fund the health insurance market, according to The New York Times. The bill would also establish tax credits based on income rather than age, which was the proposal from the House, to help people afford insurance on the individual market, according to NBC News.
Additionally, the bill would defund Planned Parenthood for a year, and bans federal funds from health care plans that cover abortion.
According to Vox, the Senate health care bill would also reduce the subsidies offered to Americans with incomes below 350 percent of the poverty line, which is about $41,000 for individuals and about $85,000 for a family of four. The ACA established subsidies for those under 400 percent of the poverty line — about $47,000 per person or around $97,000 for a family of four.
Senate Majority Leader Mitch McConnell is hoping to put the bill to a vote as early as next week. However, this is the first time that the majority of the Senate, including many Republicans, have seen the Senate health care bill, and there could stil be a few sticking points between conservative and moderate Republicans that could threaten its passing.
Republicans need at least 50 votes for the bill to pass, and with only 52 Republicans in the Senate, it might be a difficult battle, considering no Democrats have supported the bill or are expected to do so. And even if the Senate version passes, Congress would have to work to pass a compromise with the Senate and House before it could reach President Donald Trump's desk.