FYI, You Have More In Common With Senator Kirsten Gillibrand Than You Think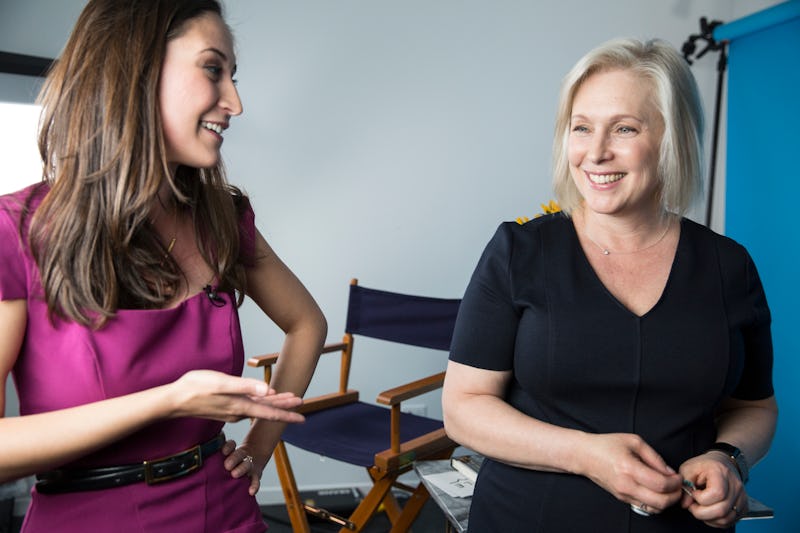 Joanie Tobin / Bustle
When Democratic New York Sen. Kirsten Gillibrand enters the room, it's difficult to ignore her easy attitude and zest for life. Short in stature with straight blonde hair and piercing blue eyes, she carries a demeanor both affable yet fierce, curious yet stubborn. She refuses to take no for an answer, and she refuses to backdown against even her fiercest GOP rivals.
At Bustle's headquarters in New York City, Bustle employees gathered to hear the senator's advice on everything from summer reads to not apologizing for being ambitious. In a rally cry befitting a women's rights activist, Gillibrand made a call to arms to inspire others to fight for the issues they care about.
"Women are finally realizing how vital their voices are"
"It's sad to say it took the Trump presidency, but women are finally realizing how vital their voices are and how important their worldview is," she says. And demanding action from lawmakers in Washington, D.C., is exactly what this moment in history is all about — women have to be heard "because their worldview is very different than President Trump's," Gillibrand adds.
Her endless confidence and her deep desire to raise other women's voices make sense — Gillibrand is one of only 20 women in the male-dominated Senate. And she's a fierce proponent of progressive causes, from leading the fight to reform the justice system for sexual assault survivors to creating a bipartisan bill to push for stricter gun control regulations.
During her interview with Bustle, Gillibrand discusses some of her passion points: healthcare, paid family leave, bipartisanship. And while she expanded on some of the toughest policy issues, everyone also wanted to know the answers to some, well, more fun questions. After all, Gillibrand isn't just a senator — she's an author, a mother, and a self-proclaimed terrible singer.
In a rapid-fire Q&A session, Bustle asked Gillibrand for one-word answers to the most critical of questions.
Her favorite ice cream flavor is coffee (yum!). Her favorite thing about New York City is the food — who doesn't love a $1 slice?!
When asked about her go-to karaoke song, Gillibrand lets out a laugh and a long pause, considering her options. "I don't know!" she laughs. "Respect," she finally answers — referencing the classic Aretha Franklin song.
She reveals that her mentor, Hillary Clinton, loves the color yellow — the walls of Clinton's former senatorial office were yellow when Gillibrand moved in, so she painted them blue. And one of Gillibrand's favorite children books is a A Wrinkle in Time, which she just finished reading to her youngest son, Henry.
Finally, when asked what superpower she'd want, Gillibrand responds, "All of them that Wonder Woman has," from her super strength to that insane invisible plane. Her answer leaves us wondering: how would Wonder Woman take on the Senate? We can only imagine…