Gabby Douglas Apologizes For Her Tweet & Says She Was Abused, Too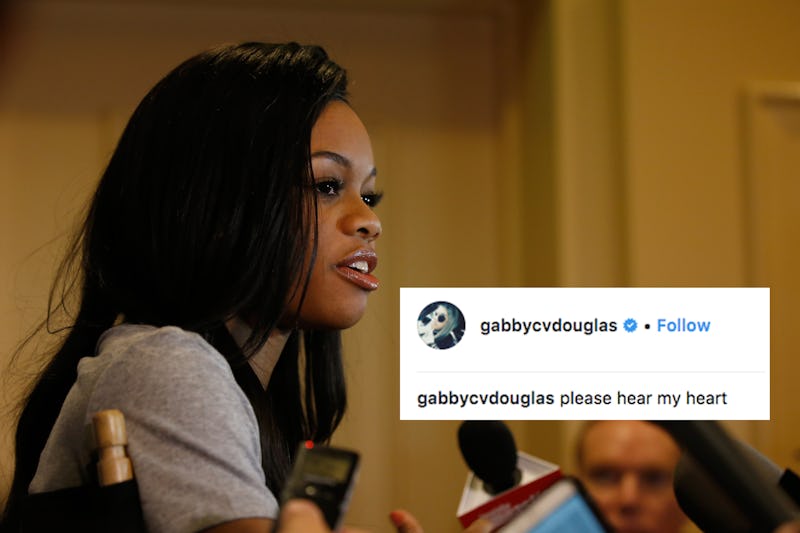 Todd Warshaw/Getty Images Sport/Getty Images
In an Instagram post published Tuesday afternoon, Olympic gold medalist Gabby Douglas alleges that she was sexually harassed by her former team doctor. In the statement, Douglas apologized for "responding the way [she] did" to a comment that one of her teammates had posted, a reference to recent comments that women should "dress modestly" and "be classy" so as not to attract "the wrong crowd." Douglas made the comments via Twitter, in response to her former teammate Aly Raisman, who wrote that the way women dress does not entitle men to sexually assault them.
Douglas added in her new statement that she didn't view her comments as victim shaming "because I know that no matter what you wear, it NEVER gives anyone the right to harass or abuse you. It would be like saying that because of the leotards we wore, it was our fault that we were abused by Larry Nassar." Nassar has denied any inappropriate conduct with the gymnasts.
She wrote that she never publicly shared her experience — until now — "because for years we were conditioned to stay silent and honestly some things were extremely painful."
Douglas' statement comes about a week after Raisman told 60 Minutes that she was among the gymnasts to be sexually abused by team doctor Larry Nassar. Nassar is currently facing criminal charges that he molested other gymnasts, along with counts of possessing child pornography. He has denied the charges.
In her 60 Minutes appearance, Raisman alleged that many of Nassar's victims are scared to come forward because of the pressure placed on them by USA Gynmastics.
What did USA Gymnastics do and Larry Nassar do to manipulate these girls so much that they are so afraid to speak up?
Douglas alluded to the abuse in a recent Twitter post, in which she wrote that she was "deeply sorry for coming off like I don't stand alongside my teammates" and that "abuse under any circumstance is never acceptable," adding the hashtag #metoo (meant to signify the magnitude of the sexual abuse problem).
The allegations against Nassar first publicly surfaced around 2016, but Nassar had been accused of sexual assault long before that, with court records alleging that he began sexually abusing the six–year–old daughter of a family friend in 1998. In 2000, a student–athlete at Michigan State University, where Nassar worked at the time, reported concerns regarding the doctor to trainers and coaches, though she said the school ultimately "failed to take any action."
The abuse allegedly continued unabated until more allegations began to surface, with Nassar ultimately relieved of his duties at MSU in 2016. In December of that year, Nassar was formally indicted on federal child pornography charges. In January 2017, 18 alleged victims sued both Nassar and MSU, claiming that the university conducted no investigations into at least two claims of sexual assault.
In October, another of Douglas' former teammates, McKayla Maroney, said Nassar had sexually abused her for years, beginning when she was 13 years old. In addition to alleging that Nassar sexually abused her twice while competing in the Summer 2012 Olympics, Maroney claimed he once gave her a sleeping pill before giving her a "treatment" in his hotel room.
So far, Nassar has been accused of serial sexual abuse by more than 140 women and girls.
In February, USA Gymnastics — the sport's national governing body —acknowledged that it delayed reporting a sex abuse allegation against Nassar for more than five weeks while it conducted an internal investigation. An investigation by The Indianapolis Star found the organization failed to alert authorities to many of the allegations.
In response to the allegations, Sen. Dianne Feinstein (D-Calif.) has sponsored legislation that would require national governing bodies like USA Gymnastics to report any allegations of sex-abuse allegations to law enforcement.