Giffords Hit Back At Town Hall-Avoiding Republican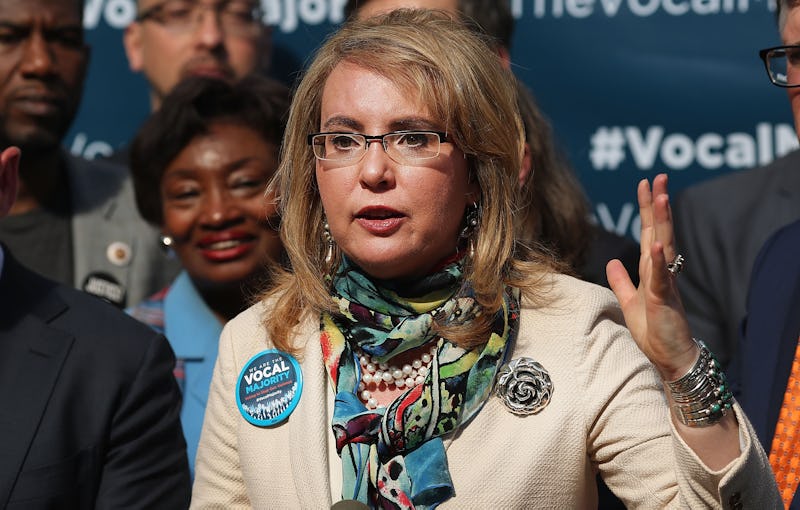 Spencer Platt/Getty Images News/Getty Images
In an attempt to explain why he was avoiding town hall meetings with his constituents, Texas Rep. Louie Gohmert cited the 2011 shooting of Gabrielle Giffords, the former representative of Arizona who has become a leading gun control advocate, as part of his excuse. In a letter sent to his constituents on Tuesday, Gohmert said, "Unfortunately, at this time there are groups from the more violent strains of the leftist ideology, some even being paid, who are preying on public town halls to wreak havoc and threaten public safety." He added "the House Sergeant at Arms advised us after former Congresswoman Gabby Giffords was shot at a public appearance, that civilian attendees at congressional public events stand the most chance of being harmed or killed — just as happened there."
But Giffords was having none of it. "To the politicians who have abandoned their civic obligations, I say this: Have some courage. Face your constituents. Hold town halls," she said in a statement on Thursday. Rather than simply (albeit effectively) shaming the crowd-shy Republican, Giffords attempted to teach a lesson in civic duty:
Town halls and countless constituent meetings were a hallmark of my tenure in Congress. It's how I was able to serve the people of southern Arizona. I believed that listening to my constituents was the most basic and core tenant of the job I was hired to do.
Giffords stressed that neither she nor her colleagues used the tragedy to stop them from their work. "I was shot on a Saturday morning. By Monday morning my offices were open to the public," her statement went on to say. "Ron Barber – at my side that Saturday, who was shot multiple times, then elected to Congress in my stead – held town halls. It's what the people deserve in a representative."
Giffords' efforts to combat gun violence in the years since the shooting have been inspiring. As she notes in her statement, "In the past year, campaigning for gun safety, I have held over 50 public events."
In other words: Gohmert, time to step up and face the music. If you are really trying to learn from Giffords' example, face your constituents and listen to their needs.