Gabrielle Union & Dwyane Wade Just Announced Their First Child With The Sweetest Photos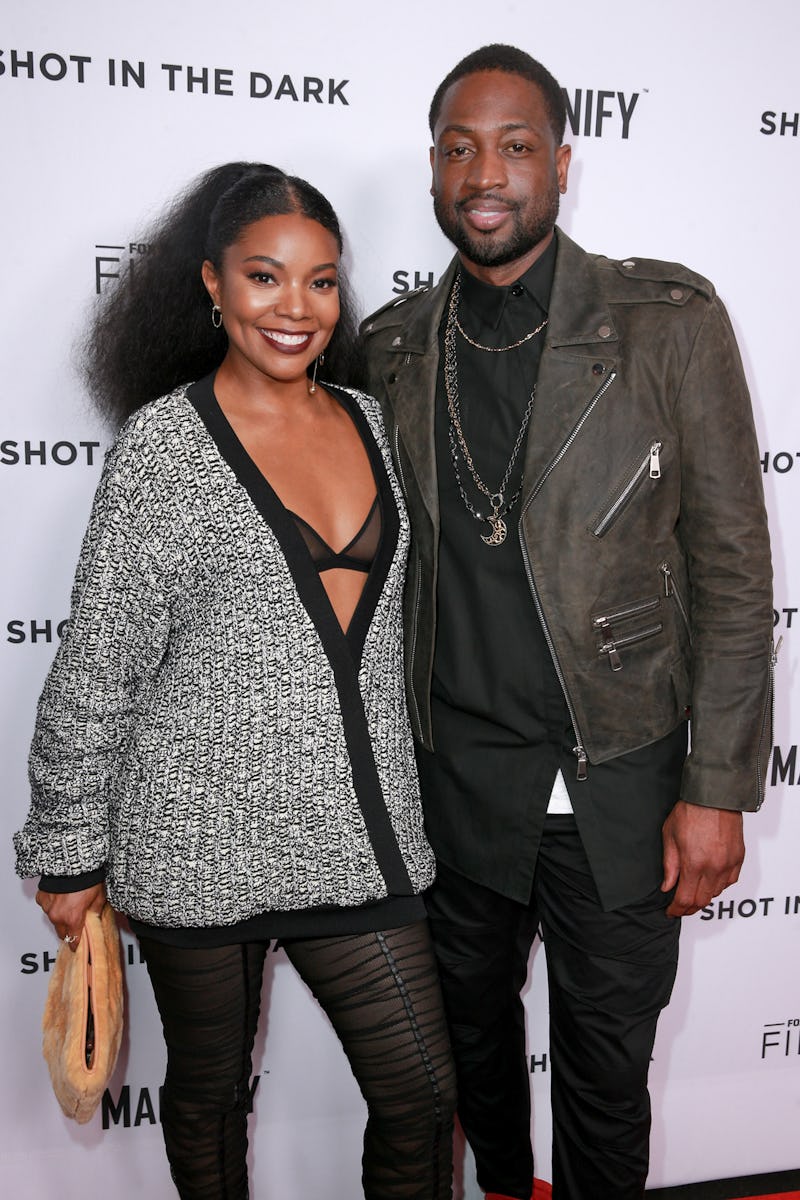 Rich Fury/Getty Images Entertainment/Getty Images
In an exciting dose of baby news, Gabrielle Union and Dwyane Wade welcomed their first child via surrogate on Wednesday, Nov. 7. Union and Wade announced their daughter's arrival the following day with a sweet series of photos from the hospital and a heartfelt message, posted to Instagram and Twitter.
The proud parents wrote,
"A LOVELY DAY 👶🏾👶🏾👶🏾 We are sleepless and delirious but so excited to share that our miracle baby arrived last night via surrogate and 11/7 will forever be etched in our hearts as the most loveliest of all the lovely days. Welcome to the party sweet girl! #onelastdance #skintoskin"
Their posts also included lyrics from Bill Withers' song "Lovely Day," which read:
"When I wake up in the mornin' love / And the sunlight hurts my eyes / And there's something without warning, love / Bears heavy on my mind / Then I look at you / And the world's alright with me / Just one look at you / And I know its gonna be / A lovely day / A lovely day"
Clearly the couple couldn't be more thrilled to welcome their little one into the world, and the reactions in the IG comments section prove fans are equally excited.
This is the first child for Union and Wade's fourth child. The basketball player has three sons, Zaire and Zion from a previous relationship with Siohvaughn Funches, and another son named Xavier, according to E! News. The couple, who have been married since 2014, are also raising the athlete's nephew, Dahveon Morris, together.
Union has been vocal about her journey to become a parent. In her book, We're Going To Need More Wine, which was released in October 2017, the actor opened up about her struggles with IVF treatments. According to People, she wrote in her book:
"I have had eight or nine miscarriages. For three years, my body has been a prisoner of trying to get pregnant — I've either been about to go into an IVF cycle, in the middle of an IVF cycle, or coming out of an IVF cycle."
The publication noted that Union and Wade were staying positive about their journey to have a child together. They reported that she also wrote that they "remain bursting with love and ready to do anything to meet the child we've both dreamed of."
Prior to this happy baby news, Union also opened up about her desire to become a mother to Redbook magazine in February. She told the publication that she loves being a stepmom to Wade's children but she is also eager to welcome a child herself. She said:
"The only things that have not come to pass are a cosmetics line, Machu Picchu, and a baby... I'll put those things back on this year's board and see what happens."
Considering all that Union has gone through in her journey to become a mother, it's so amazing to hear that she has welcomed her first child with her husband. And just based on their Instagram caption announcing the news, the parents are clearly over the moon about the lovely new addition to their family.