You Need To Hear Gal Gadot's Strong Message For "Misogynist Sexists"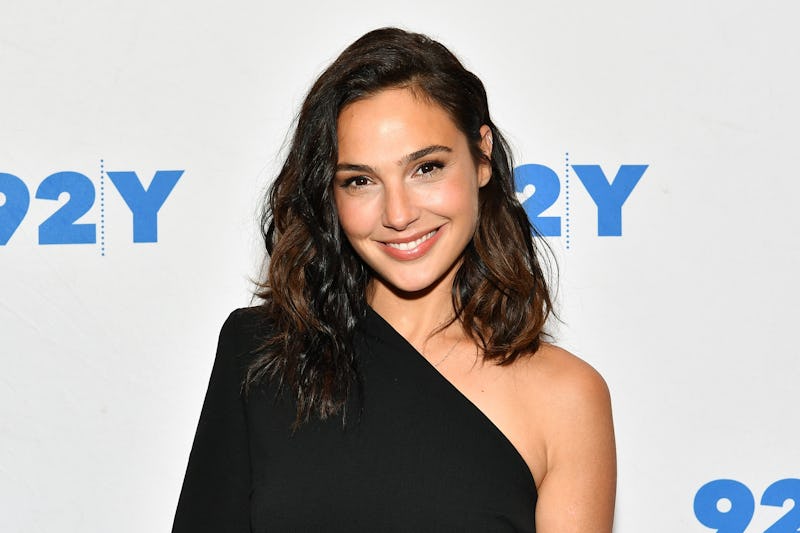 Dia Dipasupil/Getty Images Entertainment/Getty Images
Gal Gadot is once again proving that she not only portrays Wonder Woman on the big screen, but she's a Wonder Woman in real life, too. In an interview with IGN to promote her new movie Justice League, Gal Gadot had a message for "misogynist sexists" and the patriarchy that are super bad-ass in light of everything that's going on in Hollywood right now regarding sexual misconduct. Her words were aimed at not only in Hollywood, but the world at large. Take note of Gadot's comments, everyone, because it's becoming clear that you should not mess with Wonder Woman.
Gadot and her co-star Ezra Miller actually got to interview each other for a change and the whole video is honestly delightful. It includes the two really getting into their interviewer roles and an impressive Batman impression from Miller. The two also discuss heroes they grew up with and the actress makes a great point that, when she was growing up, there weren't so many superheroes to look up to. Instead, there were only princesses to look up to. "You felt the deficit of heroes that you have now filled," Miller tells her in the video. "The void you have now filled." She responds: "I don't want to take the entire credit, because there's going to be more, but I'm happy we did it."
That discussion led Miller to ask Gadot an important question that centered on the topic of the patriarchy. He said, "The last couple hundred years of human history has been so male-dominated in a way that has not always served us. Clearly, here we are on the brink of destruction." He then asked Gadot to make a statement to those in the "hetero-patriarchy" to tell them that their time at the helm of the world is done.
Gadot gladly obliged and put her own spin on the statement. She looked straight into the camera and said, "Misogynist sexists, your wrath upon this world is over." That sounds like it could be dialogue straight out of Wonder Woman.
Gadot's comment shows that she is not going to be here for any "misogynist sexists" in the world and that it's time for this "hetero-patriarchy", that Miller describes as "straight men ruling everything", to come to an end. Her comment aligns the actress with Wonder Woman's own values of justice and equality, seeing as she's largely a feminist icon and hero. It's so great that the actress, who portrays such a strong and iconic character, also exhibits some of those similar values that the hero holds.
This isn't the first time that Gadot has shown that she is just as feminist and strong as princess of Themyscira in real life. Her wonderful comments here come on the heels of rumors that the actress will only make another Wonder Woman film if Brett Ratner, who has been accused by multiple women of alleged sexual misconduct, isn't involved in the project. Bustle reached out to reps for Gadot, Ratner, and Warner Bros. for comment and have not heard back.
According to an unnamed source at Page Six, Gadot does not want to be involved with Ratner in the project and believes that this hold-out will prompt Warner Bros. to cut ties with the director. The unnamed source said that the actress is "tough and stands by her principles ... They can't have a movie rooted in women's empowerment being part-financed by a man accused of sexual misconduct against women."
It's a bold move on her part but one in which she made because she felt it was the right thing to do, which is a total Diana move. So, not only are Gadot's comments indicative of her superheroic values, but her action here is also an indicator of her real-life Wonder Woman-esque ways.
When Gadot's done filming in her classic Themyscira garb, it seems that she's not exactly done being a super hero. Her comments and actions show that she just might be Wonder Woman all the time.