Gal Gadot Shows The Importance Of 'Wonder Woman'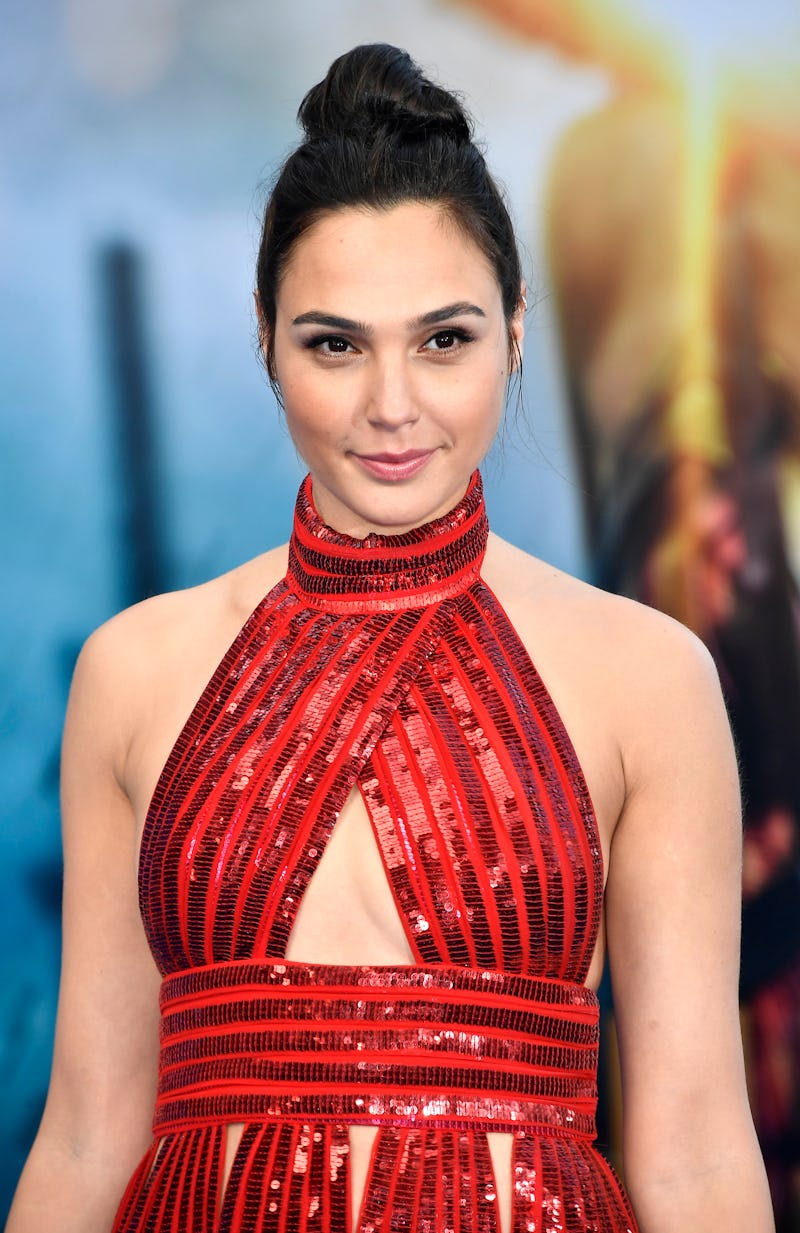 Frazer Harrison/Getty Images Entertainment/Getty Images
After making a ton of headlines long before it's release, Wonder Woman is finally here. Ahead of the film's premiere, some men took issue with the woman-led movie on social media, especially after a Texas theater announced a woman's-only screening. This type of response only highlights the urgency of the film, which is the first major superhero movie to star a woman in over a decade and the first superhero movie directed by a woman. Nobody understands the importance of such a film more than its star, Gal Gadot. In many interviews over the last year, Gadot discussed the significance of her Wonder Woman role. As an actor, an academic, and a mother, she recognizes how crucial representation can be, and how dynamic female roles have been all but missing from superhero blockbusters of the previous years. She also emphasizes the importance of a production staff comprised of predominately of women, which is rare in Hollywood.
The star behind Wonder Woman embodies the ideals of the character. Gadot promises that her superhero isn't just a strong female character trope, but a full, nuanced being. Wonder Woman is powerful in a multitude of ways, some beyond the physical, which makes her a unique pop culture figure. It's not often that woman get to see themselves in the role of the hero, never mind one who has complexity. It's a responsibility Gadot doesn't take lightly, and it's clear from many of her quotes that she understands the timeliness and weight of such a character. Check out some of her best quotes on the role below.
On Wonder Woman's Many Character Traits
"I feel like Diana is really accessible," Gadot told Entertainment Weekly. "It's very easy to relate to her. She has the heart of a human so she can be emotional, she's curious, she's compassionate, she loves people. And then she has the powers of a goddess. She's all for good, she fights for good, she believes in great. I want to be her. And in Wonder Woman, she has this naiveté in her. It isn't stupid, it's magical."
In this interview, Gadot stresses that Wonder Woman, or Diana, is an idealistic but relatable character. Her compassion and commitment to justice are part of her power. While Gadot seemed confident in her ability to capture all these qualities, the role wasn't without its pressures.
On Taking On An Iconic Role
"I feel very privileged that I got the opportunity to portray such an iconic, strong female character," she said in another interview for EW. "I adore this character and everything that she stands for and everything that she symbolizes. But of course this character is so big and iconic, and the expectations that all of the fans have for it are huge. Hopefully after they watch the movie they'll be pleased."
While fans can be tough critics, Gadot was more concerned about a different audience: her daughter. In her previous EW interview, she recalled her daughter watching Sleeping Beauty, and questioning why the princess was so weak. For Gadot, this movie is a chance to give young girls someone strong to aspire to.
On Being A Role Model
"I feel that I've got the opportunity to set a great role model for girls to look up to a strong, active, compassionate, loving, positive woman and I think it's so important," Gadot told the magazine. "It's about time that somebody will do that and I'm very privileged and honored to be the one."
On Creating A Complex Character
"At the end of the day she's the most-powerful warrior. Strength and power are usually qualities that are being shown by men in films," Gadot told AZ Central. "It was very important for us to give her feminine qualities, as well, so she's very, very warm and she's full of compassion and she's very loving."
In this Q&A, the interviewer asked whether or not it was important that the character isn't just "a woman doing guy stuff" and Gadot said that it was. She wanted the character to have many traits, so she isn't one-dimensional.
On Being A Woman In Hollywood
"Eight years ago when I became an actress I used to travel to Los Angeles and take general meetings with different producers, writers, and directors, and they kept on asking me the same question over and over again, 'What's your dream role?' I kept on saying, 'I'm open to all genres as long as the story is interesting enough, but if you really ask me, what would I like to do is to show the stronger side of women, because I feel that there's not enough stories being told about strong women, independent women'," Gadot told Refinery 29. "Little did I know that five years later I would land this part."
The long road to this role proves that there is a lack of opportunity for women in Hollywood. While men have endless casting options, a whole variety of fulfilling roles to chose from in action movies and elsewhere, this is not often a reality for women. It's about time that women are given versatile stories, and if anyone doesn't believe this is important, they only have to look at how the representation resonates with audiences.
On The Importance Of Active Female Characters
"I feel very proud that finally this movie is being made because all of the guys, all men, all boys, always had a figure to look up to. Whether it's Superman or Batman or Spider-Man or whatever it is, they always had heroes to look up to, and for girls it's always the princesses who are being saved, who are being passive," Gadot said to Refinery 29. "Finally, there's Wonder Woman. She's fierce, she's proactive, she believes in herself, she believes she can do everything, and that's a true woman to me."
Wonder Woman will be the first summer blockbuster in a long, long time to put a female superhero at its center. Gadot's interviews are an enlightening look at her character, and it's clear that she believes Diana is the complex, powerful hero that women have been waiting for.