'Game Of Thrones' Alum Iwan Rheon Has No Interest In Playing Another Ramsay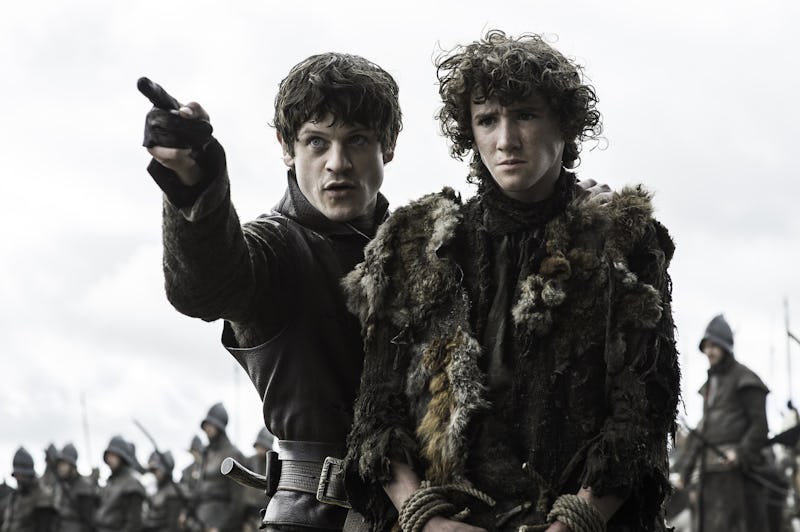 Helen Sloan/HBO
Most fans were happy to see Ramsay Bolton finally die on Game Of Thrones — and so was the actor who played Ramsay, Iwan Rheon. In fact, during an interview with Bustle's Kelsea Stahler at San Diego Comic-Con, Rheon says that won't be playing another Ramsay any time soon, thank you very much. However, that doesn't mean he won't play a villain, because some have already identified Rheon's Inhumans character Maximus as the bad guy. Unlike Ramsay, though, Rheon says that there's more to Maximus than just being evil.
When Rheon was first asked to play the role of Maximus, the ambitious brother of Black Bolt, he was a "little bit unsure" because he was afraid that he was embarking on too familiar territory. "I thought, 'Oh no, here we go, he's another one of these guys and I'm just going to be playing the same role again,'" the actor says. But he saw Maximus' humanity and realized that he wasn't necessarily all bad.
"I've played one villain, really," he continues. "If you listen to the ideas that [Maximus] has, a sort of political ideology that he is proposing, you might agree with him. I don't think he's evil in any way at all."
Maximus lives in the shadow of his brother, the king of the Inhumans, whose voice is so powerful that even his whisper could destroy the whole world. To make Maximus' inferiority complex worse, he's lost his own powers and feels like the other Inhumans look down on him. On top of all of that, Rheon explains to Bustle that Maximus feels he's part of a "very archaic society with a caste system that is wrong and that the people at the bottom live a terrible life, digging mines so that the royal family can live in luxury." He knows that, without his powers, the only thing that keeps him from digging those mines is his brother's status.
From that perspective, Rheon believes there will be those who agree with Maximus' mission; he's not out to sabotage his brother, but to save the people from him. "He's a forward thinking guy," the actor says of his character, who he also describes as a "young, charismatic politician" who wants to change things for the better. This puts him in a very different class than Ramsay, a sadist who was out for revenge. There were no gray areas with the black-hearted Ramsay, while Maximus is way more complicated.
This difference between the two characters is something that fans will will get to see throughout the first season of Inhumans, which premieres on ABC on Sept. 29. But, even better, Inhumans will show that Rheon is more than just Ramsay Bolton — which should be a relief to any Game Of Thrones fan.
Additional reporting from Kelsea Stahler