Why Your 'Game Of Thrones' Season 8 Finale Spoilers Might Be Way, Way Wrong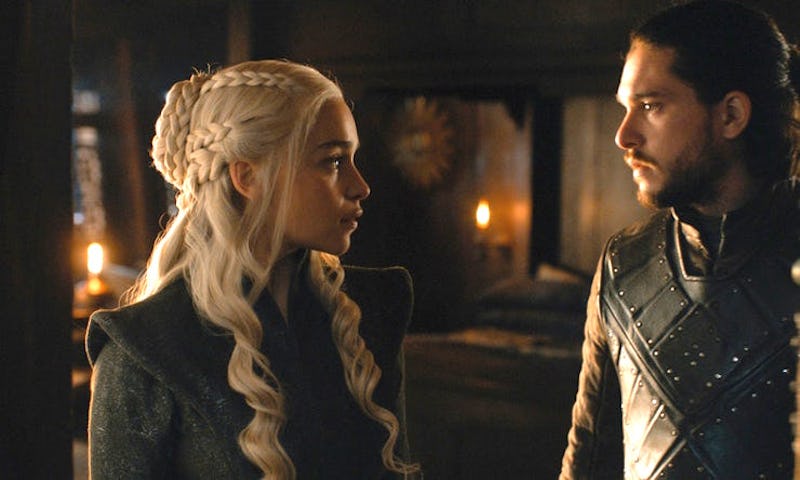 HBO
With just one season left, fans still don't know how Game Of Thrones will end —  and HBO would like to keep it that way. The network revealed that it will be filming multiple Game Of Thrones Season 8 endings to keep leakers from ruining the surprise. Apparently, like Jon Snow, we will all know nothing until the series finale airs in 2019. Even the cast and crew will be left in the dark about the real ending in hopes of keeping leaks to a minimum. And this is something HBO has done before.
While speaking at Moravian College in Pennsylvania, HBO president of programming Casey Bloys confirmed that Game of Thrones will shoot "multiple versions" of the series finale "so that nobody really knows what happens." According to local Pennsylvania website, The Caller, Bloys said that you have to do that on a long show. "Because when you're shooting something, people know," he said. "So they're going to shoot multiple versions so that there's no real definitive answer until the end."
Previously, Kit Harington told Jimmy Kimmel in July that, to keep leakers on their toes, Game Of Thrones filmed fake Season 7 scenes so paparazzi would take shots and post them. This included a shot of Jon Snow petting a dragon on the beach. "I trip myself up all over the place," the actor said about mixing up the fake scenes he shoots with the real scenes.
Throughout its previous seven seasons Game Of Thrones has gone to great lengths to keep fans free of spoilers. Recently, Vulture reported that, in 2015, Sibel Kikeli, who played Shae, visited the set. Despite her character being dead, she put on a costume in hopes of trolling anyone looking for spoilers. But with so much attention paid to Game Of Thrones, you can't blame HBO for being a little paranoid. Especially since hackers have been trying for years to spoil all the fun.
This past season, hackers leaked scripts and episodes, including a full outline of the season finale. "Game of Thrones is filmed on several continents with hundreds of cast and crew members so, though it would be ideal to not have spoilers online, it is very difficult to contain all information on a production of this scale," Jeff Cusson, HBO's executive vice president of corporate affairs, told Vulture.
HBO will always try to limit leaks, but Cusson said that he believes "fans of Game of Thrones have very little appetite for it." He seems to be right, since the Season 7 finale was the most watched episode of Game Of Thrones ever with over 12 million viewers, according to The Verge.
With a finale, there is more at stake to keep it under wraps. That's why ,for years now, HBO has shot multiple endings for its high profile finales. Director David Chase reportedly filmed three different endings for the Sopranos to keep fans guessing until the very end. Crazy? Maybe, but it worked. Fans were certainly surprised to see the screen cut to black right before they could find out Tony Soprano's fate. Let's just hope the real Game of Thrones ending isn't anywhere near as polarizing because I don't think the internet could handle it.
Bloys, though, seemed in favor of an ambiguous ending telling the Moravian College crowd, "The thing that was interesting about The Sopranos was it did make you think. In a way everybody got their own version of it." Maybe this is a clue that Game Of Thrones could get a Sopranos ending or maybe Bloys is already working on his misdirection. Either way, it's unlikely to keep fans from tuning in to see who wins the game.