The 'GoT' Fandom Has Gotten So Big That It's Getting Its Own College Class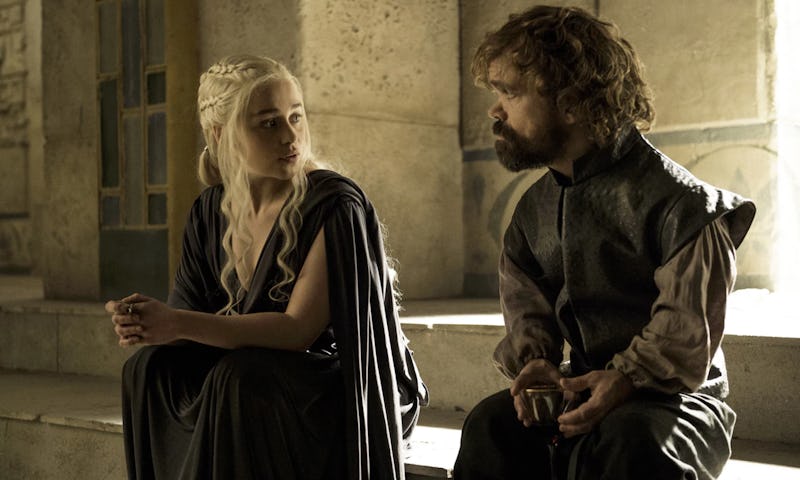 Helen Sloan/HBO
Since its premiere back in 2011, Game of Thrones has built a reputation for storylines so rich, twist-packed, and expansive that they're arguably some of the most hotly debated in TV history, and apparently, the world of academia agrees. As reported exclusively by Time, Harvard will offer a Game of Thrones college course this fall. Yep, you read that right, Harvard students will soon be able take a class based on one of the most popular shows on television.
According to a description provided to Time, the folklore and mythology course will examine the way both George R.R. Martin's books — which GoT is based on — and the series itself echo, adapt, and distort "the history and culture of the 'medieval world' of Eurasia from c. 400 to 1500 CE" by exploring " a set of archetypal characters at the heart of Game of Thrones — the king, the good wife, the second son, the adventurer, and so on — with distinct analogues in medieval history, literature, religion, and legend."
It will be taught by Sean Gilsdorf, a medieval historian, alongside assistant professor Racha Kirakosian. Gilsdorf told Time that in addition to the A Song of Ice and Fire novels and Game of Thrones episodes, focus will be heavily centered around medieval biographies of queens, while Kirakosian noted they'll also touch upon epics like Nibelungenlied, which share similar themes with GoT and give students an idea of what family rivalries were like in the Middle Ages.
Notably, this isn't the first time Westoros' fantasy world has served as source material for college classes. In April, UC Berkeley announced they would offer a six week course tied to the show's fictional linguistics this summer.
And it's also not as far-fetched an idea as it may sound. Game of Thrones has been known to draw upon real history, making it surprisingly ripe with educational touchstones. Beyond that, there's plenty to be dissected about its cultural impact, too (hey professors, are you getting that?).
So brace yourselves, Harvard students: Game of Thrones' biggest fan club is about to overtake your campus.