Kit Harington's Reaction To His Final 'Game Of Thrones' Scene Will Break Your Heart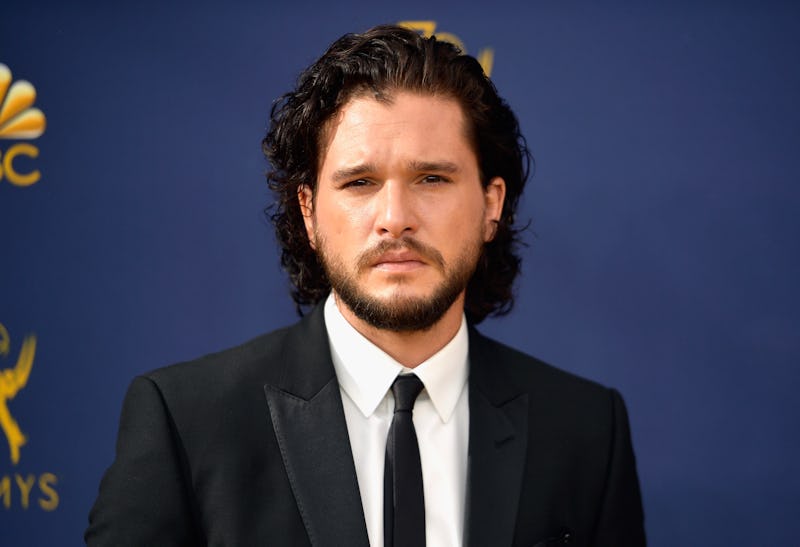 Matt Winkelmeyer/Getty Images Entertainment/Getty Images
For Game of Thrones fans, season eight still seems an eternity away (it's actually airing in four months, but please just allow me to be dramatic). But for its cast and crew, the show's all but wrapped up — and the farewells were as difficult as you'd expect. Game of Thrones' Kit Harington "burst into tears" after filming his final scene for the show, as Digital Spy reports. Speaking to BBC Breakfast, the actor explained that while he was glad to let the show go, saying goodbye remained an acutely emotional experience.
"It's a weird thing, I'm not sad about it ending. I feel very joyous about it ending and having completed it," Harington said. "It doesn't make it any less emotional." It's not hard to understand why emotions were running quite so high: while the series made its TV debut in 2011, filming started way back in 2009, meaning the Game of Thrones team were bidding farewell to an almost decade-long commitment.
Earlier this month, Harington told Entertainment Weekly that he also got choked up during the two-day table read for season eight, after choosing not to read the scripts in advance. "I walked in saying, 'Don't tell me, I don't want to know,'" he told the magazine. "What's the point of reading it to myself in my own head when I can listen to people do it and find out with my friends?"
The result? Two instances of tears, the first of which Harington didn't detail for fear of disclosing spoilers. "The second time was the very end," he said. "Every season, you read at the end of the last script 'End of Season 1,' or 'End of Season 2,' the actor explained. 'This read 'End of Game of Thrones.' And you realise, OK, it's really happening."
During his BBC Breakfast interview, Harington also revealed that the Game of Thrones pilot was a "disaster" — though he hasn't yet seen it himself. "I had no idea that it was going to be big or a success or anything," he said. "They blackmail me every now and again threatening that they'll release bits on YouTube because apparently it was terrible, and I had this awful wig." Still, the actor had some sage words about the whole affair: "Sometimes with things that end up being huge successes, they start with huge failures." Would someone like to put that on an motivational poster?
And then the interview took an unexpected turn. You might already be aware that Kit Harington is related to Robert Catesby, leader of the 1605 Gunpowder Plot, who he played in 2017 miniseries Gunpowder. But did you know he's also related to John Harington, prominent member of Queen Elizabeth I's court and inventor of the flushing toilet? When the topic of his ancestry came up, Harington offered another lovely sentiment worthy of a framed poster, or perhaps an elegant cross-stitch to hang above your bed: "I have no personal feelings about John Harington and the flushing toilet." Beautiful.