'Game Of Thrones' Fans Will Soon Be Able To Plan A Trip To Westeros IRL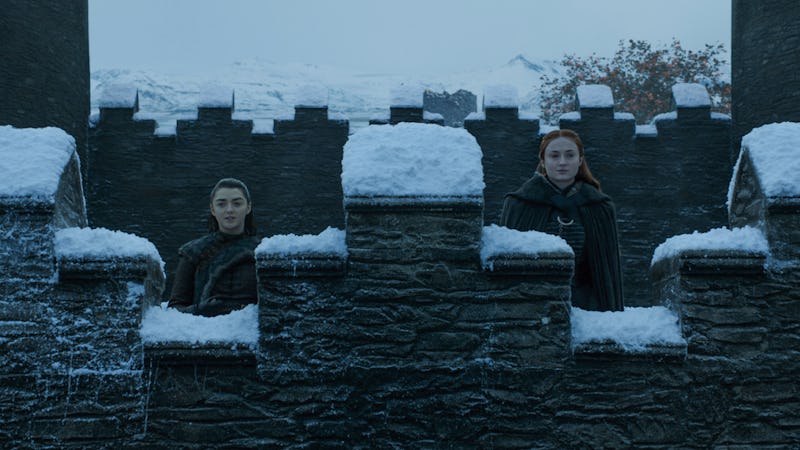 HBO
Game of Thrones may be a fantasy series, but HBO is doing everything in its power to bring this mystical realm into the real world. The network announced on Monday its plans to convert multiple Game of Thrones filming locations into tourist attractions that'll be called Game of Thrones Legacy, meaning you can start planning your dream getaway to Westeros as soon as possible. Vacation is coming.
As of now, the current locations that are set to be part of this attraction extravaganza are all in Belfast and the Northern Ireland region. And while it's not uncommon for fans to visit the famous filming sites without the help of any tours, Legacy's goal is to fully immerse the public into the world of the Seven Kingdoms by offering visitors a behind the scenes look at costumes, props, weapons, set dressing, concept art, and so much more.
"We look forward to opening the gates and sharing the excitement of stepping inside these amazing sets with Game of Thrones fans from around the world," Jeff Peters, Vice President of Licensing and Retail at HBO said in a statement, according to Mashable. "The opportunity to celebrate Northern Ireland's pivotal role in the life and legacy of the show and share its culture, beauty, and warmth is also a huge inspiration behind these Legacy projects."
It's possible that, if successful, these attractions could expand to other filming locations as well, but for now the current standing sets that are being considered for the tour are some of your favorite Westeros hot spots, including:
Winterfell
With the Starks now back in power, who wouldn't want to snuggle up to a fire, pet a direwolf or two, and watch Sansa and Arya be the badass rulers that they are? Winterfell is sure to be number one on every fans list as far as GoT locations to visit, and now they'll hopefully get the chance to do so.
Castle Black
You can start your training immediately to become a member of the Night's Watch at Castle Black. Or just see where Jon Snow's been ruling this whole time.
King's Landing
The Lannisters may rule this place with an iron fist, but it's impossible not to want to wander the lavish halls and perhaps even sit upon the highly coveted Iron Throne.
In a press release that was obtained by Mashable, HBO stated that "A description of the full scope of the Game of Thrones Legacy project will be revealed at a later date after the exploratory process is completed." So clearly, this is all still in the very early stages of development, which is said to begin in 2019, according to IndieWire, but it's exciting to think that even when Game of Thrones does come to an end in its eighth and final season, the world of George R.R. Martin will live on.
"While fans have seen the stunning landscapes, coastlines and mountains in the series, we are thrilled they will now have the opportunity to fully experience the charm of Northern Ireland and immerse themselves into the world of Westeros," chief executive of Tourism Northern Ireland, John McGrillen, said in a statement, as reported by The Huffington Post.
One can only hope that this is just the beginning and the many more locations will open up in the months and years to come. Who knows, maybe one day you'll be able to check out the Moon Door at The Vale of Arryn:
Or visit Dany's home over at Dragonstone:
The possibilities for Game of Thrones locations and sets to preserve are endless. Let's just hope the White Walkers don't end up coming in and destroying it all.